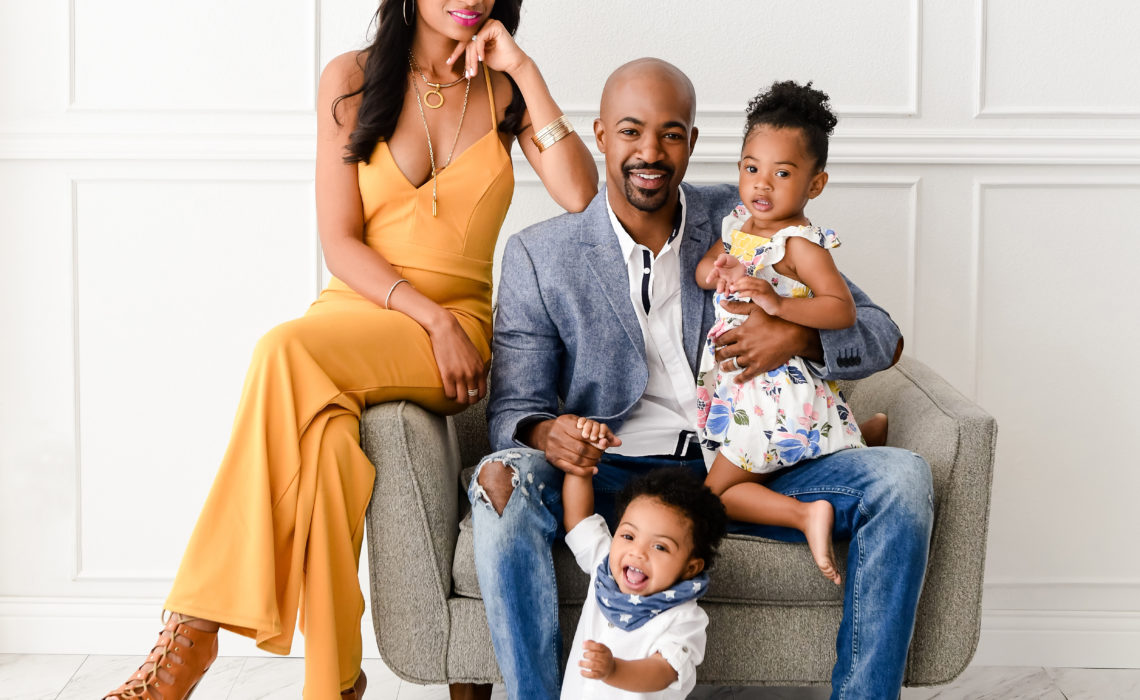 As much as we love the art of photography itself, there are many other factors that go into creating a portrait. And as a full service family portrait studio, we guide each client every step of the way in crafting the perfect image! For this beautiful Los Angeles family (pictured below), we did a very in-depth session design meeting, planning each element of the photoshoot.
Style & Outfits
We began by talking about the overall style and mood at our full service family portrait studio. Once we figured out that we wanted a fresh, modern vibe that's dressy but still semi-casual, the outfits started coming together. We saw a picture of this hot mama on Instagram wearing a fabulous golden yellow dress, and that became our inspiration, and foundation for the shoot. We found the most gorgeous yellow romper for her and then started shopping for dad to coordinate. H&M for Men had really great semi-casual options for men, including this sport coat. It fit him like a glove and was the perfect style to balance mom's look. For the kids, we did a little mixing and matching of H&M Baby and Carter's clothes to pull together all of the colors. It looked so gorgeous all together!
Posing
Knowing that this was a family with a one-year-old and a toddler, we had an inkling that "sitting still" was not going to be on the menu on the day of the photoshoot. So, we had all hands on deck at our full service family portrait studio!! And rather than trying to get a nice super-posed shot of everyone, we decided to go with a more candid, fun, feel! When it comes to kids at this age, it's really nice to embrace movement and capture that in the photos.
Go with the flow!
What does that look like? Well, when your three-year-old just wants to "be free" and jump around, play with that! We had dad play this up by swinging her by the arms. She was giggling up a storm! Baby boy not wanting to sit in anyone's lap or be held at all? Let him free! Even if he's crawling off the set, it makes for fun and storytelling images. Even more somber expressions are a nice break from "smile, smile, smile, smile," and it showcases more than one side of a kid's personality.
Schedule your Session!
Give us a call at 310-391-4500 to set up a consultation with your photographer and be sure to follow us on our Blog, Facebook and Instagram to see what we've been up to, or explore our YouTube page for more!