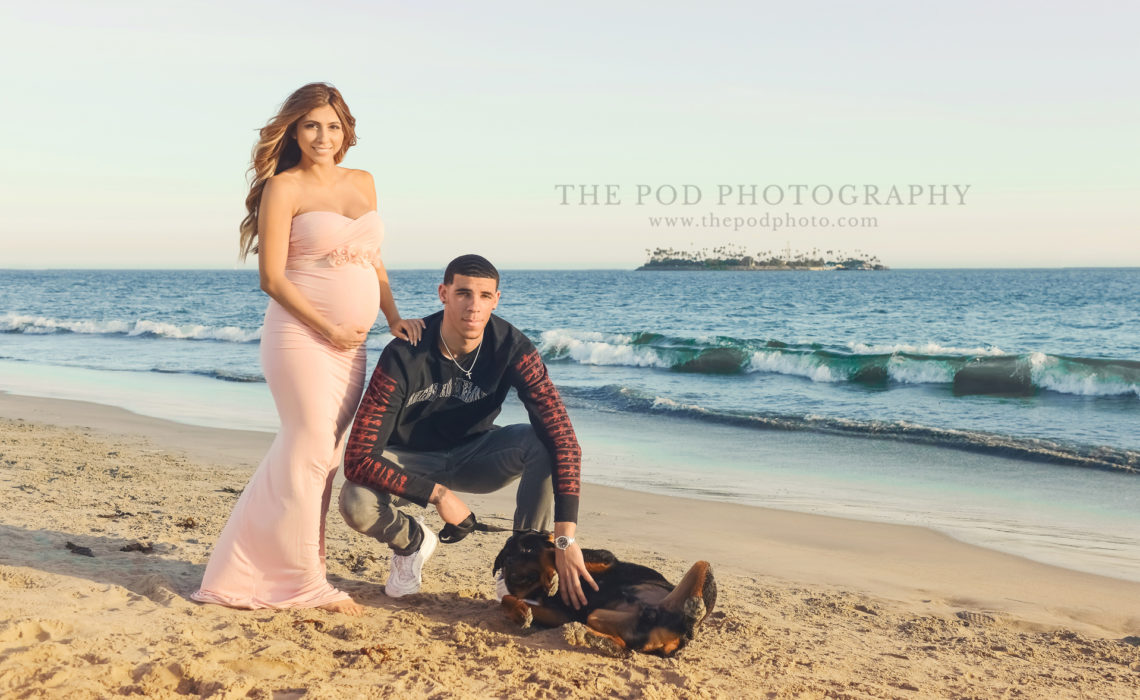 We recently had the opportunity to photograph Lonzo Ball (Point Guard for the Lakers) and Denise Garcia for their pregnancy portraits. It is always a treat when celebrities hire us for their pictures, especially when they are as attractive as these two! This time, Erika was both behind and in front of the camera since the photo shoot was also filmed for their reality show Ball in the Family.
You can see Erika in action and the filmed photo shoot on their show  HERE
Celebrity Maternity Photographer
The clients picked Long Beach beach because it is a pet friendly beach and they wanted their new puppy in the pictures with them. As you can imagine, their young pup was more interested in running into the water and chasing balls, but we did manage to get him to stay still for a few pictures.
The biggest challenge we faced was this couple's height difference. Denise is a petite little thing, but as you an imagine, as a professional basketball player Zo is pretty tall. When photographing their couple's maternity pictures together it was tough to find angles where Zo could stand up tall and not need to crouch down. We played with all different standing, sitting, and crouching poses so that we could get nice variety in their pictures.
For Denise's outfits, we brought several for her to pick from. She decided to go with one conservative outfit – a skin tight maternity gown – and then a second sexy black lace kimono that belonged to the studio's wardrobe. She worked both of those outfits so elegantly, keeping perfect mermaid leg form!
Family Portrait Photography for Professional Athletes
Professional athletes are out favorite clientele, and we are lucky enough to have several repeat clients from the LA Kings, Rams and the Clippers to name a few. These niche celebrities seek us out for our five star portrait experience  with professional staff, state of the art studio and quality photography.
You don't have to be a celebrity to hire us, we love everyone who likes our brand and digs our photos! Give us a call at our Los Angeles, CA photo studio at 310-391-4500 to discuss your maternity pictures with our celebrity portrait photographer, Erika.