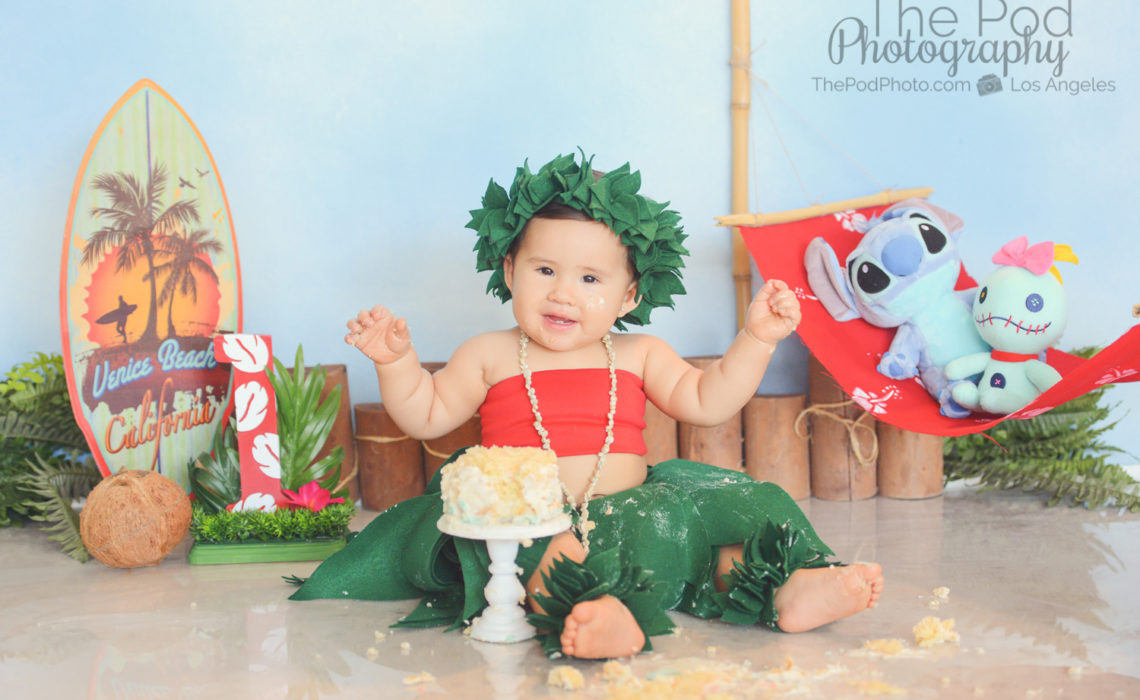 As you may know, us girls at The Pod Photography absolutely LOVE to custom design photo sets for babies! It's such a fun challenge to find everything that we need in a miniature size, and the end result is always adorable!
We love that Miss Annikah below took a different spin on her birthday theme and instead of going with princesses, she had a Lilo & Stitch theme! Her mom even custom sewed a little Hawaiian outfit for her which went perfectly with our beach set. And even at the last minute, we were running all around Los Angeles trying to find some red Hawaiian print fabric, and since we couldn't find any, I stayed up late painting little flowers on a red piece of fabric to make her a hammock!
For her custom SusieCakes smash cake, we went with a simple beachy design with waves, sand and a touch of pink for a little added girlishness. We love Annikah's playful Lilo & Stitch photos so much – this girl certainly knew how to smash a cake!
We love going the extra mile at our Los Angeles baby photography studio to create one-of-a-kind portraits for your family to enjoy for years.  Don't miss out on documenting your baby's big milestones and book your portrait session with the best portrait studio in Los Angeles, The Pod Photography! 
Give us a call at 310-391-4500 to set up a consultation with your photographer and be sure to follow us on our Blog, Facebook, Instagram and Google+ to see what we've been up to, or explore out YouTube page and Pinterest Boards for more!