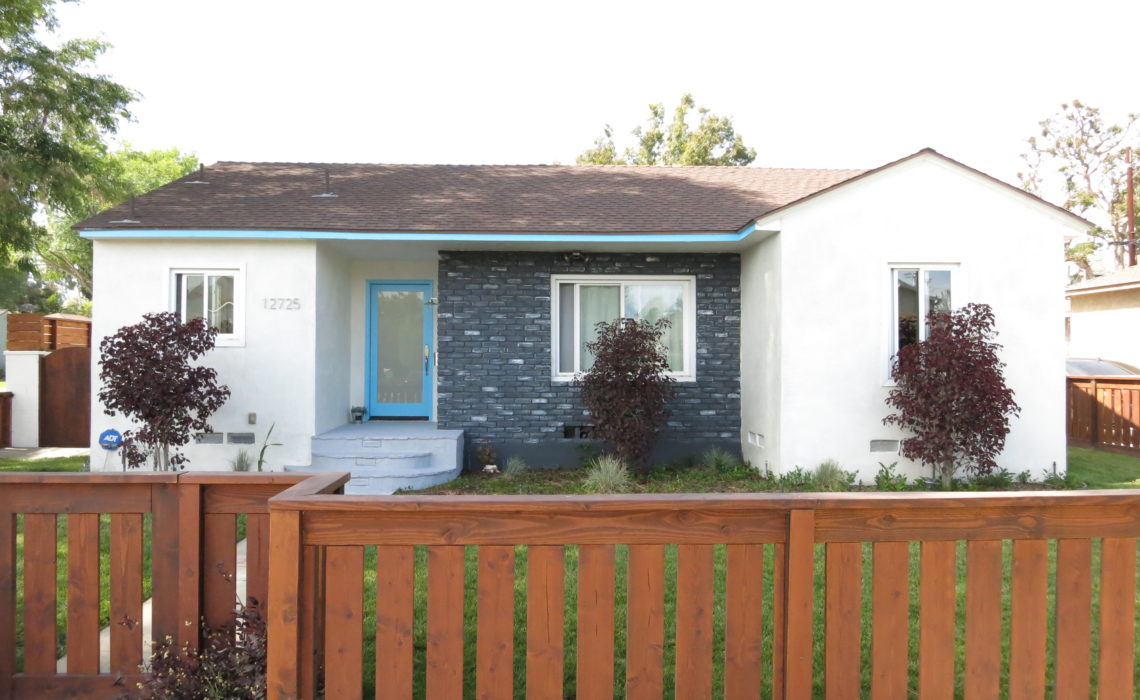 As many of your know, I, Erika bought my first home this past December in the gorgeous Mar Vista neighborhood. We are loving our home, the hilly neighborhood, the friendly "dog people" neighbors and its proximity to all the things we love on the West side. My husband Scott and I love to get on our bikes and take a ride down to Santa Monica or grab a bite to eat on Abbot Kinney – and since moving to Mar Vista we've also learned about all the awesome restaurants on Washington Blvd. in the West Washington district as well as the funky shops and eateries in downtown Mar Vista…. not to mention the fantastic Sunday morning farmer's market that we go to religiously.
Well, when we bought the house we knew that there were several things we wanted to do to it to make it our "dream" home, and we consciously bought a project house.  One of the absolute must haves we were looking for in a house was a seamless indoor-outdoor layout, u-shaped ranch style floor plan with the entire house looking out toward the backyard. We found that and more with this house and I'll be chronicling our renovation in blog posts over the next few months.
The first project we tackled was the exterior of the house. Phase one of the house exterior remodel entailed re-painting the front door, brick and steps. Phase two is building very modern concrete planters and a cool new concrete walkway as well as putting Venice style wood planks over the brick facade. At some point in between these phases as well as after the next planters come in, we 'll also do the landscaping. Our contractor is adamant that we do everything in the correct order, and unfortunately that means waiting for a few months to finish the front facade. Phase two of the entire house re-model entails adding on a master bedroom and removing two of the exterior walls and so our contractor insists that we don't do any concrete or woodwork to the house until that is finished since the house will be shifting during the construction and all that pretty new concrete we will have lain will crack.  Sigh, so with phase one Scott and I wanted to at least put some personal touches on the front so that it makes it easier to wait out the next few months until we can create the facade we really want.
Scott and I am very handy people, and so we tackled the painting of the house over the weekend. First we painted gray over all of the brick, next we painted the front door blue (since the first thing you see when you walk into the house is a straight shot to the backyard and our pool).  We had planned on stopping there, but then Scott said "what is we painted the top trim of the house blue to tie in the blue door" and then it just snowballed to re-painting the steps because now the red flagstone didn't look right with the gray brick and then the brick looked too flat all gray and so I hand painted white onto each individual brick to bring in the texture.  Several hours and a wicked sunburn later – our house and phase one of the front is complete! Landscaping coming soon…
Stay tuned for the kitchen re-model – I'll be blogging that one next week 🙂