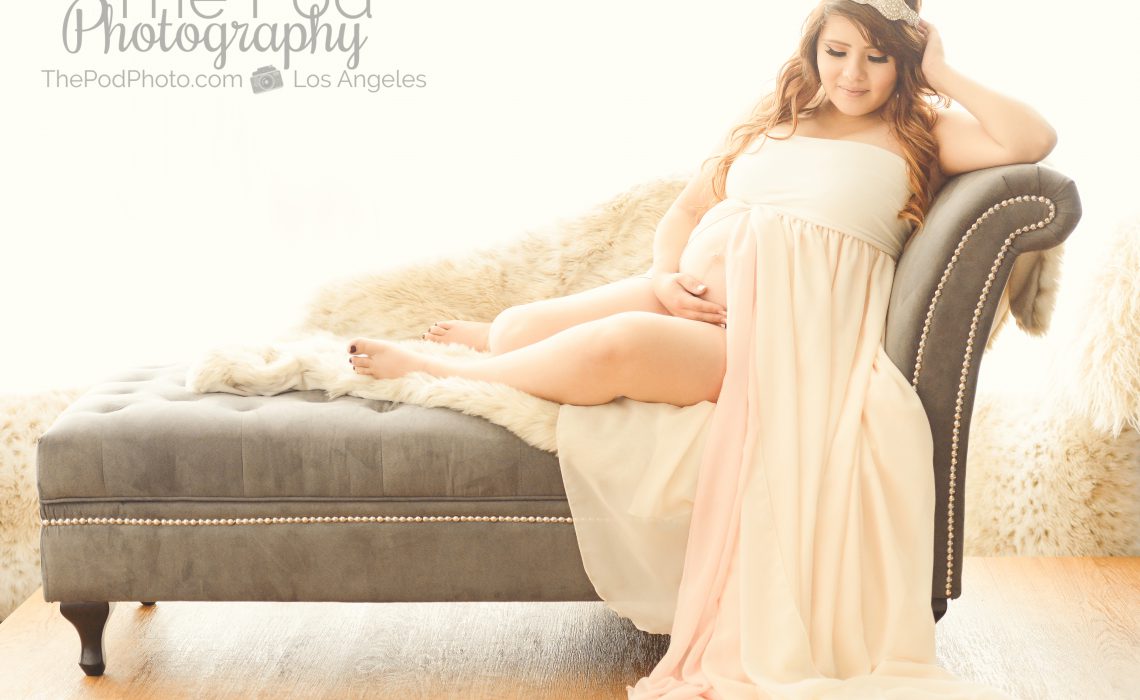 An inspiring subject always makes capturing maternity photos all the more fun! This couple was so sweetly shy, but at the same time open to all of my ideas and willing to push beyond their comfort zone. When they first arrived at our Los Angeles maternity studio this mama-to-be was a little hesitant to show her belly since she didn't feel that every angle was picture perfect – but I assured her that we would touch up anything that needed to be and that she would look gorgeous! Thankfully she put her trust in me and we were able to capture these stunning maternity portraits of her.
People ask me all the time why I got into maternity photography, since it is such a specific little niche. The reason is that I love to show women how beautiful they are and to celebrate them as the amazing life-giving goddesses that we are! Pregnancy is an incredible miracle, and our bodies should be documented and loved when they are in their amazing pregnant state. When I first started out as a young photographer I made my living for a few years photographing models for agencies and clothing companies. It was fun because I got to work with a hair and makeup team, I had stylists pulling cool high-fashion clothing and of course the models were always gorgeous! We would all work together to create these amazing images of the model and then when we were done it was like "now what?!" The photos had no meaning or real value to the model, they weren't ones she wanted to hang on her walls, show to her family or were photos she would look back on and cherish. They were just that – pretty pictures.  It was about the time I made that realization that I started looking for new subjects to photograph – and maternity photography was just the thing! I could still photograph women and make them look beautiful – but now my subjects would love and cherish their images, they would become a valued artifact of a family's history, the images would become artwork that brought joy when these mamas saw them every day, and the images would touch multiple generations since the babies would one day grow up to see their mother's gorgeous maternity photos. After just a few maternity shoots I was hooked and I still love and get excited about every one of my maternity shoots 🙂
Interested in having our Los Angeles maternity photographer, Erika, capture your pregnant belly photos? Give us a call at 310-391-4500 and check out our website!