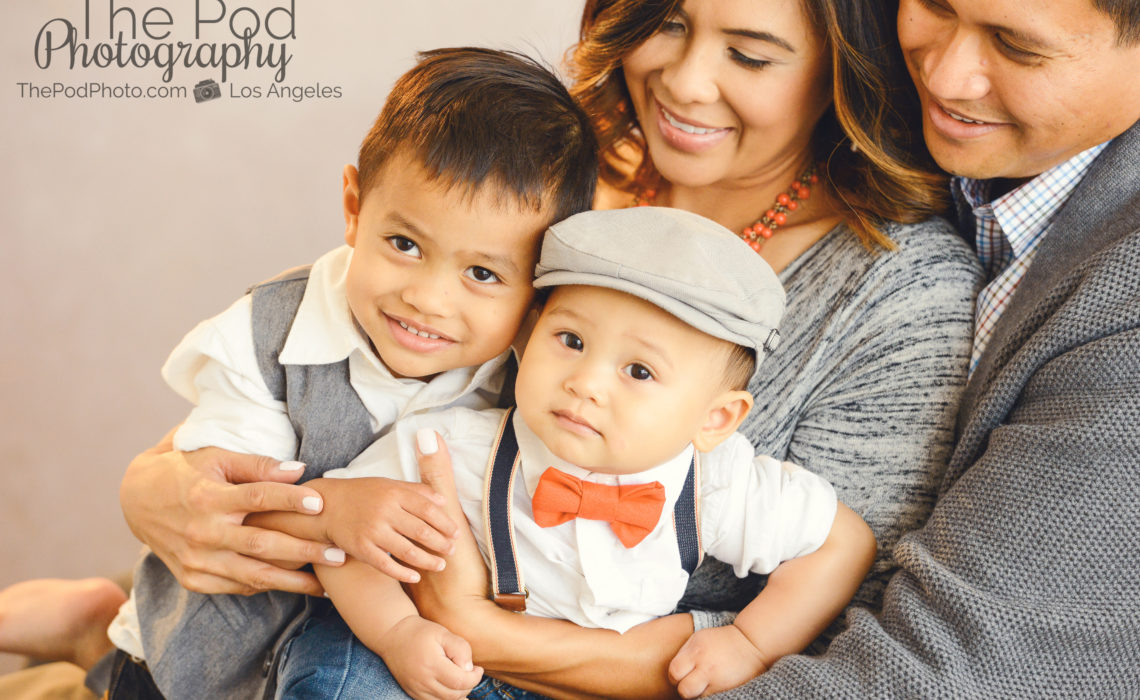 It's that time of year again, and us girls at the studio have been loving this holiday rush! The hustle and bustle of the holiday spirit is certainly in the air – we've been shooting adorable holiday themed photos, designing amazing holiday cards, and creating custom artwork for families to gift to all the grandparents, aunts and uncles!
One of my favorite ways to style a holiday session is by keeping a pretty neutral color palette and bringing in just touches of color or holiday zest! What I love about this particular session is that we tied in just a little bit of red – not only to hint that these are their Christmas portraits, but also to go with the style of their home! When we first met for our session design consultation, we talked about creating a piece of artwork for their living room.  Since they style their main living space with black and white with pops of red, we thought this gray, white, and red color scheme would suit them perfectly!
One thing that makes sessions with us really fun and easy, is that we have pretty much everything you need for the kiddos here at the studio. All mom and dad have to do is show up looking amazing (which these good lookin' parents did!) and then us girls styled these handsome little dudes in hats, suspenders, bowties and vests! We even have little jeans and button downs in every size.  🙂
Miss the window for Holiday Portraits? Don't sweat it! One really popular option is to send out New Years cards in January. We have tons of really cool ideas to celebrate 2016 in style! Give us a call at 310-391-4500 to schedule your appointment today!