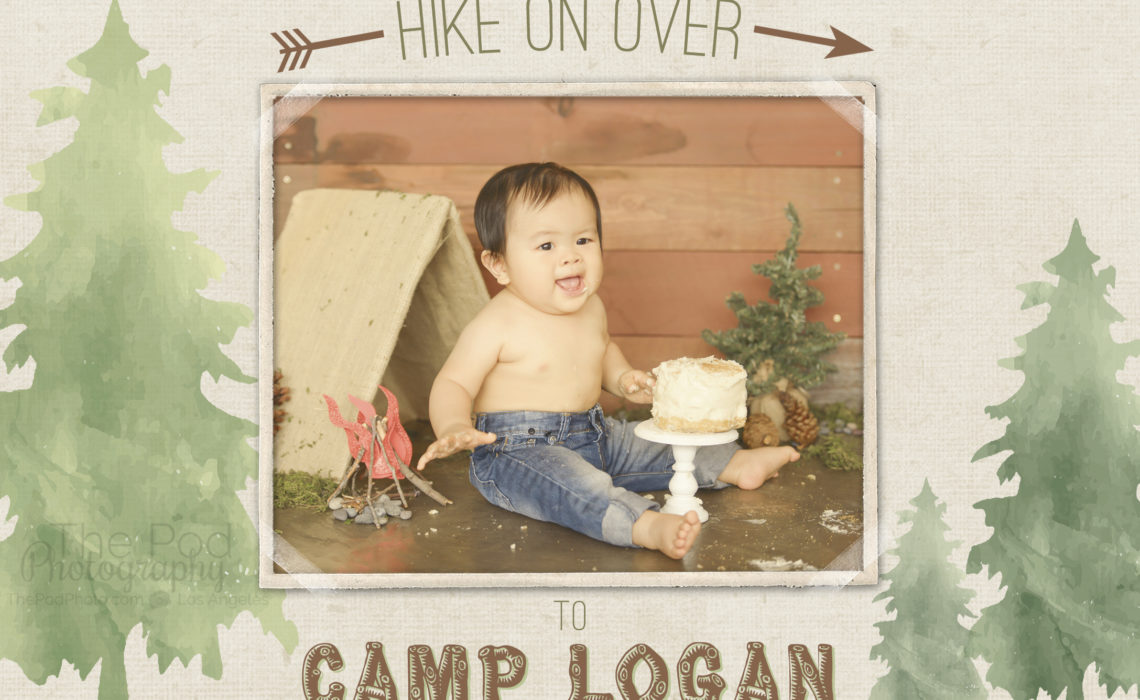 Here at The Pod Photography, themed over-the-top sets are our specialty! So when one of our Pod Moms comes to us with an idea and a party theme, it is up to us to create an amazing one-of-a-kind set for her little peanut and their big one year milestone photo shoot!
In the case of Mr. Logan below, mom came into her consultation saying "I have no idea how to do this stuff. All I know is that I want his party to be a camping theme and his cake to look like a marshmallow!"
And off we went – to build a little rustic camping set including a tent, bonfire, and pine trees.
He was so perfect wearing a pair of jeans we had here at the studio, and he even let us dress him up for some family photos in little suspenders.
In our Ultimate Birthday package, not only do we custom design every detail of the photo session, backgrounds, props, outfits, and even smash cake – but our designer will create beautiful party invitations and thank you cards for you as well!
Planning your little one's first birthday party? Don't miss out on having Los Angeles' most creative photographers provide you with the best experience you can imagine and photographs to last a lifetime! Call us today at 310-391-4500 to schedule your consultation and meet The Pod Team!
In the meantime, be sure to follow us on our Blog, Facebook, Instagram and Google+ to see what we've been up to, or explore our YouTube and Pinterest Boards for more inspiration and party ideas!