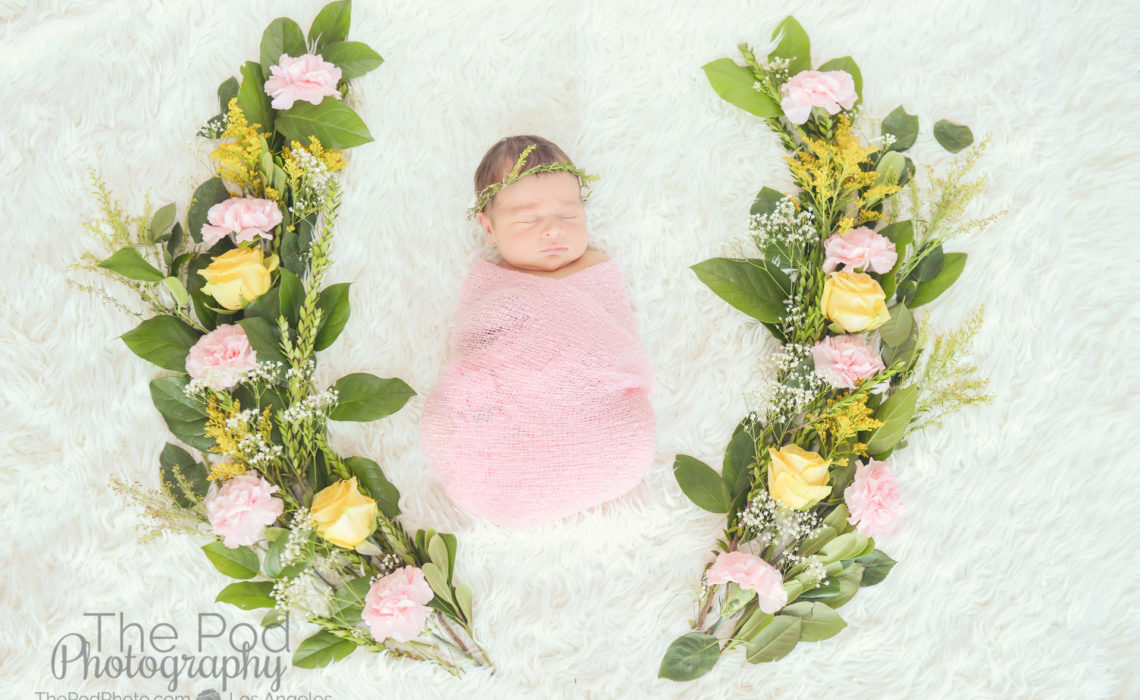 We are always on the hunt for unique ideas for our newborn photography.  You should see Leah and I when we are out prop shopping – we literally say "can we fit a baby in that?" every other minute. We are hearing more and more from the clients who come to our Culver City photo studio that they want "clean, fresh and modern for their baby's first portraits. When it comes to girls – people still love girly styling, but more and more we are bringing in frilly, lacy and girly fabrics in ivories and peach tones since clients want only a touch of girly in their pictures instead of over the top giant headbands, bright pinks and over the top sets. Our recent flower wreaths are becoming more and more popular with exactly this type of client: when they want a modern take on girly newborn pictures.
And so , with a modern approach to newborn styling, we designed the sets for this lovely family.  This family came to us for their son's newborn pictures – and we were thrilled when they called us to let us know that there was a little girl on the way less than three years later.
Some of my favorite photos from this session, however – are the sibling images. The picture where big brother is cuddling up to his baby sister is so beyond sweet and amazing.
We would love to get to know your family and capture amazing memories of your children as well! Our Culver City,  photography studio specializes in maternity, newborn, kids, family, first birthday, event photography and high school senior portraits. We service the entire Los Angeles area in addition to these locations. Check out our website and give us a call at 310-391-4500 as well!