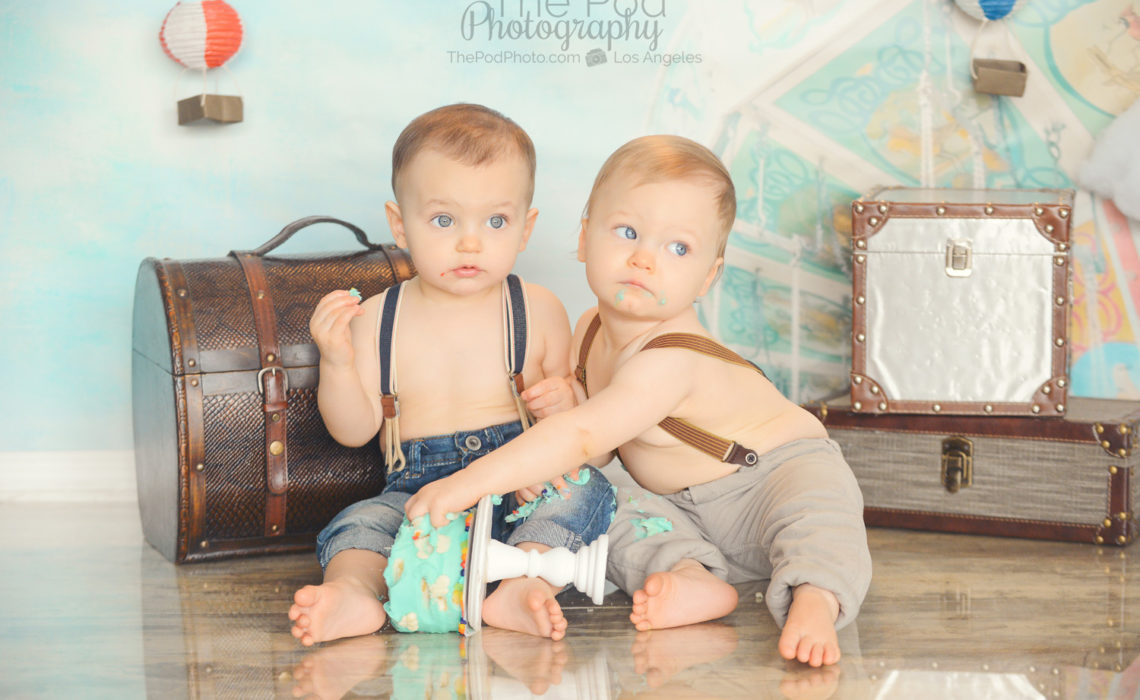 It's pretty obvious that we love first birthday cake smash sessions here at our West Los Angeles photography studio, but what do we love even more, you ask?
We were so excited to meet babies William and Chapman for their one year portraits, and boy oh boy did we have a blast with them! It was so fun planning out the photo shoot with mom and dad who had an adorable hot air balloon themed first birthday party for them. So of course we had to do a little travel theme! We talked a lot about the styling and if we wanted to have them smash one cake together, or have each of the boys with their own. And even though almost every other cake smash photographer out there does two cakes for twins, I suggested going with just one.
The reason why I chose photographing these adorable twin boys with one cake versus two, is because I wanted the session to be more storytelling. With one cake, it gave the boys something to interact with together rather than each of them doing their own thing. It was so perfect to see the cake topple over into Chapman's lap and William reaching over to steal some from him! Or when one of them was interested in eating the cake, the other was trying to eat the cake stand! These photos turned out so darn cute, we can hardly contain our excitement!
Our West Los Angeles portrait studio specializes in first birthday cake smash photography, family photography, maternity photography, newborn photography, senior portrait photography and event photography. Give us a call at 310-391-4500 to set up a consultation with your photographer and be sure to follow us on our Blog, Facebook, Instagram and Google+ to see what we've been up to, or explore out YouTube page for more!