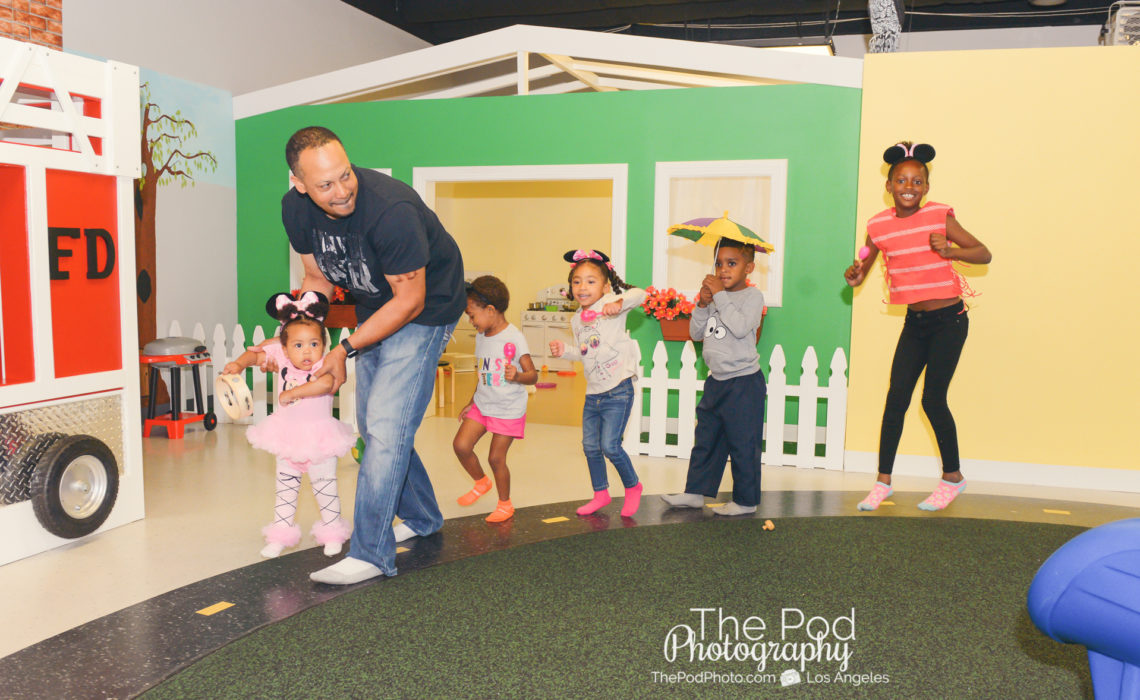 This was my first time photographing a children's birthday party at Kiddie City in Los Angeles and I think I had just as much fun as the kiddos did! There are various children's indoor playgrounds across Los Angeles but what makes this spot unique is all the well-thought out details are visible as soon as you walk in. Every room is carefully designed with a different interactive theme in mind. From a hair salon to a fire fighter and police station, to the miniature grocery store room with miniature carts and food which was the biggest hit (I would have totally spent all my time taking photos of the in this room if I could). The mini party guests that arrived for Baby Laila's first birthday party were preoccupied with all these different activities and you could instantly see their imaginations at work, which was so much fun documenting all those emotions through a camera!
Another of my favorite activities that occurred was the birthday parade. Everyone grabbed a prop and marched around the play space to the happy birthday song and the kids had THE best time – especially Baby Laila! Even though she couldn't quite march around independently, her dad was sweet to assist her and join the parade fun. Laila and her family are constantly in-between Los Angeles and Northern California so the birthday girl's Minnie Mouse first birthday party was a fantastic reason to get photos with family members that she doesn't see all the time – she even had an aunt that flew all the way out from Texas!
I loved this family the moment I met them but I loved getting to document this little peanut's first birthday party and all the very happy party guests that joined! Thank you Laila for having The Pod Photography take your first birthday party photos, we hope to see you and your family again soon!
First birthday photography is a great way to document your little one's milestone. We service all of Los Angeles including Studio City, Westlake Village, Westwood, Brentwood, Malibu, Santa Monica, Manhattan Beach and more. Call us at (310) 391-4500 or visit our website at www.ThePodPhoto.com to start planning your child's birthday party photography today!