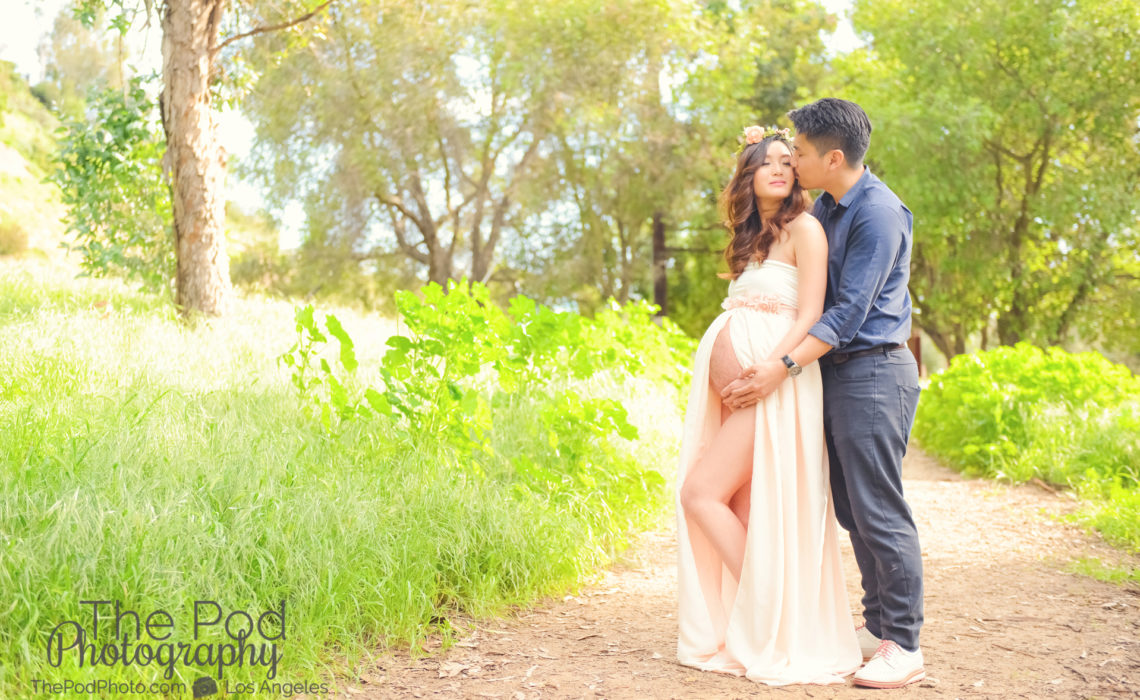 Dressing for a maternity photo session is very important – and that is why I always have a session design meeting with my clients before their photo session. During this initial meeting, we talk about many things: the story the couple wants to portray in their pictures, their goals – like and album or artwork in their home – after the session and of course their outfits!  At our studio we have a fabulous maternity wardrobe, full of form fitting pregnancy gowns, slit gowns, fabric wraps and cute tops and skirts. It's our philosophy as a professional photography studio that we should be full service and provide everything during our clients' portrait experience.
This lovely expecting couple wanted to go all out for their maternity pictures, and so we started at our Hermosa Beach photo studio and then went up to the Pacific Palisades for the second half of their photo session. The fun thing about doing pictures both in studio and on location is that you get a little bit of everything. Many of our maternity mamas-to-be love to start their session in the studio because they feel comfortable showing their belly off in the privacy of the studio. Then, when we go to our destination, they will typically be wearing something a little less revealing. This location is one of my favorites for pregnancy pictures because it has gorgeous rustic feeling tress – which are prefect for those people who want a more natural, bohemian feel to their maternity portraits.
Interested in finding out more? Check out our website and then come meet our Hermosa Beach maternity photographers for a tour of our studio! Also give us a call at 310-391-4500.