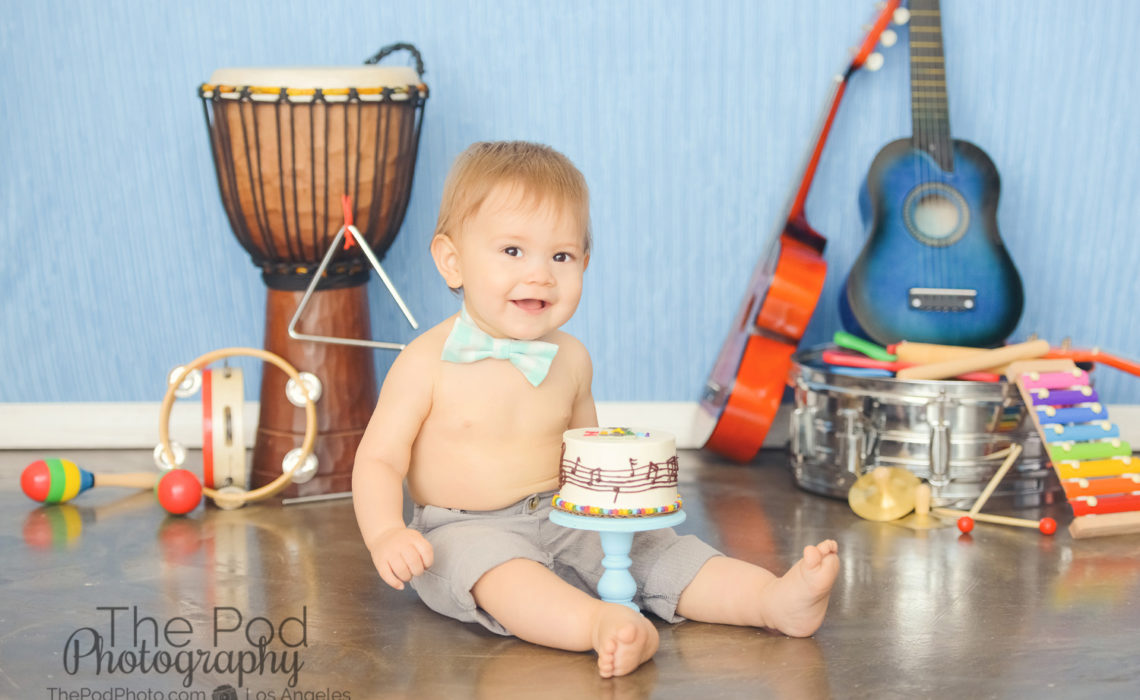 Photographing first birthday cake smash and splash sessions is one of the most popular things to do in Silver Lake in Los Angeles, and us girls here at our portrait studio just a few miles from Silver Lake absolutely love seeing all of the amazing themes that parents come up with for their baby's big milestone!
This handsome little 12-month-old baby boy below loves music so much that it ended up being the theme for his first birthday party, and so we incorporated that into his little smash cake!  Isaac had so much fun shaking his maracas and singing along with us to "Wheels On The Bus" and "Happy And You Know It", which are our two go-to jams to get smiles from little ones this age.  After awhile though, kiddos get bored with hearing the same two songs over and over, so we researched the Top Ten Toddler Tunes and were surprised that our go-to's didn't even make the list!
Top Ten Toddler Tunes according to LetsPlayKidsMusic.com:
4. Twinkle Twinkle Little Star
8. 5 Little Monkeys Jumping On The Bed
 9. This Is The Way The Lady Rides
10. 5 Little Ducks Went Swimming One Day
I love what they said about music:
Music is a language, and since all children are born being unable to talk, it is an invaluable tool in building language skills and communication. These Top 10 Tunes For Toddlers have been put together after many years of teaching music to small children. People have often asked me which are the best nursery rhymes for toddlers – and it's very difficult to pick only ten songs when there are so many hundreds to choose from! Everyone will have their own ideas on the subject, but these are the ones that never fail for me. These songs all have fantastic educational benefits, they are loads of fun and kids never tire of them.
When songs are this popular you'll find them easy to sing frequently. Try to incorporate them into your every day activities. Although it's great to have a special time for music too,  you'll find that favourite songs and rhymes can make even the dullest chores seem fun, and then they'll seem to take no time at all! The list below will take you to a separate post for each song, with all the individual words, music, chime bar clip, actions as well as the educational benefits.
We use songs all the time, especially during photoshoots when we need to "wrangle" the kiddos to have them stay in one spot.  Since no toddler likes to be told what to do, we try to make it fun, make it a game, and we often find ourselves singing the actions we are doing, like "we're going to sit over here, boop boop bee boop, sitting is fun, la la la" until they are entertained.  And it works!
Have our rockstar team use all of our amazing tricks while photographing your little one's big milestone!  Call us at our Silver Lake photography studio at 310-391-4500 to set up a consultation with your photographer and be sure to follow us on our Blog, Facebook, Instagram and Google+ to see what we've been up to, or explore our YouTube page for more!