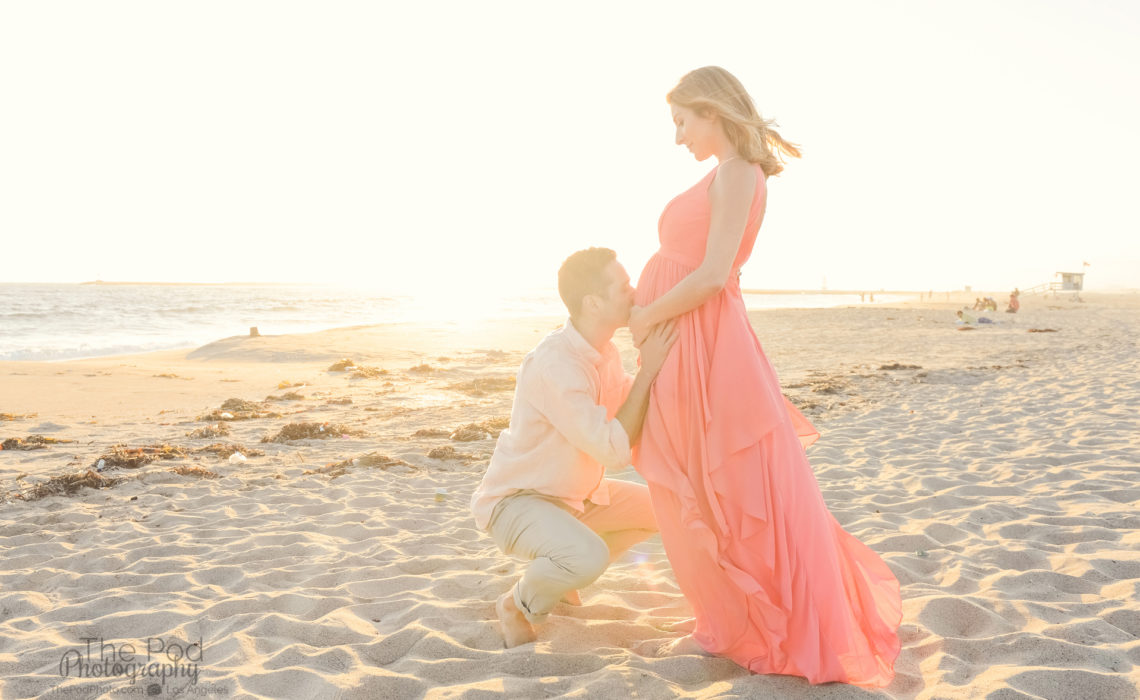 As any of us who have gone through a pregnancy (or are at the tail end of one like I am!) know that working out while expecting is pretty tough! I have been walking everyday, but all of my yoga, spinning and aspirations to do a Pilates class went out the window when my first trimester morning sickness kicked in and lasted for five months. I'm eating healthy and still feeling great in spite of the extra weight – but hey, the weight is a right of passage and part of the fun of being pregnant, right?! (I'm going to keep telling myself that!)
This maternity client of ours – however – looked stunning at about thirty weeks during her pregnancy photo shoot. She is an avid work-out enthusiast and impressed me when she said she's still taking Pilates classes – and not even ones meant for pregnant ladies! Her slender form and super cute baby bump looked gorgeous when we went on location to the beach for her maternity photos. We love to shoot our pictures either at our studio or on location, and service the Pasadena area in addition to the greater Los Angeles area.
This mama-to-be didn't need much coaxing or posing help to look gorgeous, but one of the reasons that you want to hire a professional maternity photographer is to help those of us who don't have perfect angles from every direction. It is very important to photograph a pregnant belly from just the right side angle so the the expecting mom looks full and lovely, and not just wide. Hand placement in a photo shoot is also very important. Hands and arms can strategically hid back fat, or the little rolls that we all get when we turn our belly one direction and our hips the other to get a nice profile shot. Our pregnant bodies are beautiful at this stage, but we still need a little help to look our best!
Our professional Pasadena maternity photographers are experts in documenting your amazing pregnant body in photographs. We know how special this time in your life is, and we love to get to know you so that we can capture beautiful photos that yo will cherish for generations.
Interested in having us photograph your maternity pictures? Give us a call at 310-391-4500 and visit our website!