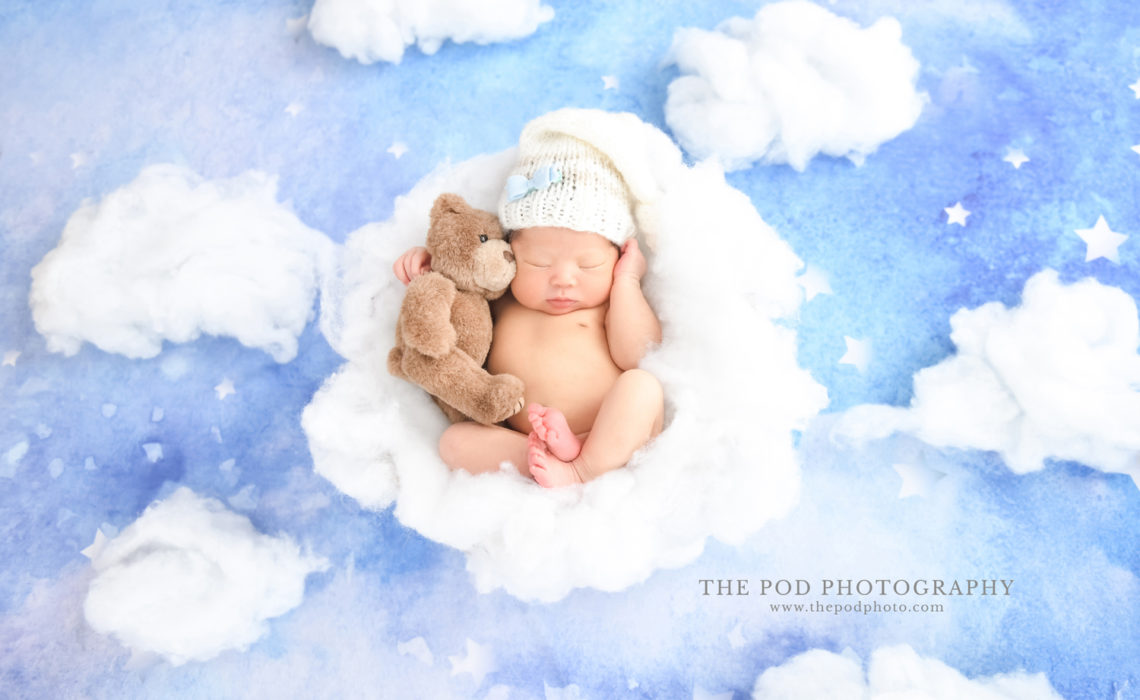 Here at the studio we hear "pink, pink, pink" all day long. Clients who bring their newborn babies to our Los Angeles photo studio often just want "pink" for their baby girl's photos. Even I am guilty of wanting  the stereotypical soft pink accent color when I photographed my daughter's newborn pictures. There is, after all, nothing cuter than a light, feminine color for a new little child.
We are happy to bring whatever vision our newborn clients have in mind – however, it is fun to have a different request! This particular client really loved purple as their accent color. We loved that and ran with it for the styling of their infant's photo session.
The first set we documented was what we call "fabric to infinity" with just a simple white fur on a beanbag. I always like to do some pictures with the baby's bum showing for those iconic naked baby photos. Then, we put a purple swaddle over her to give a little modesty and artistic flair. Next up was our iconic stuffed animals line up picture. We typically photograph this set with a white background – but of course we were bringing in the client's accent color so we used a purple seamless paper.
One of our most requested pictures of all time is the baby sleeping in the clouds. We came up with this set a couple of years ago as a response to lots of moms with boy babies loving the above shot floral wreaths that we do for girls. We brainstormed on what we could do that would be really special for boys, and this is the set we came up with. I would say 80% of the photo sessions we do at our Downtown Los Angeles photo session include this shot. It is so very popular! Of course, the mommy of this little girl saw this photo in our boy photo gallery and asked if we could do a feminine version for her daughter.
Whatever it is that you are looking for – we are excited to brainstorm and come up with sets and images that we truly unique to you! Give us a call at 310-391-4500 to talk about your baby's pictures and create beautiful photos of your baby's milestone newborn pictures.