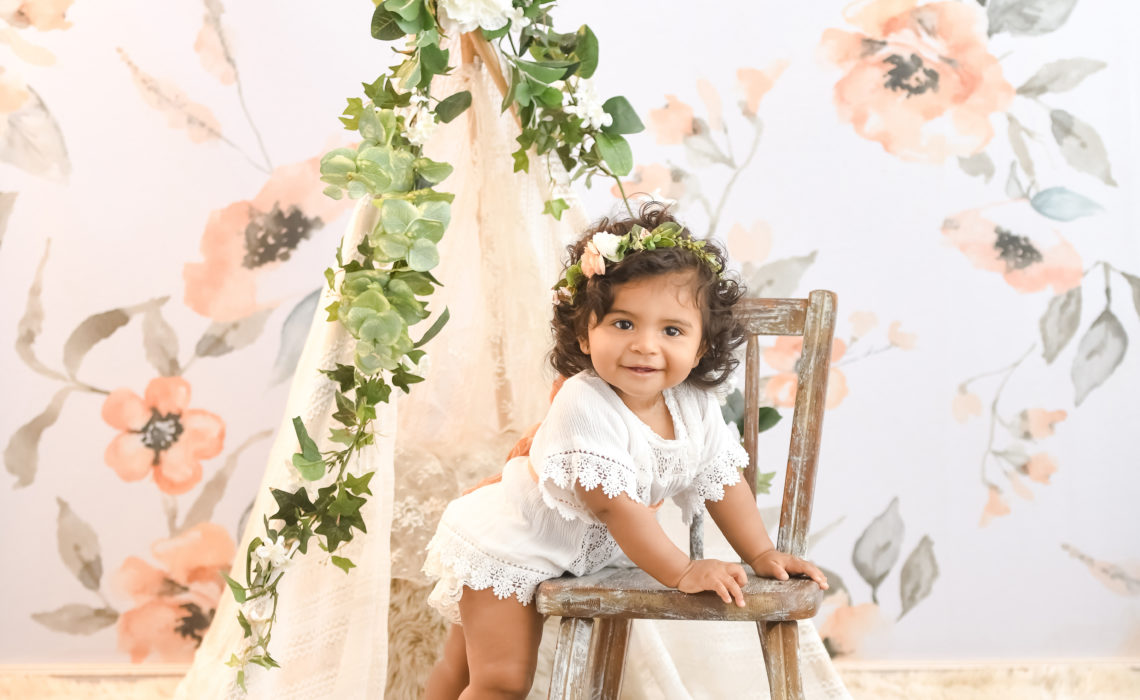 Every baby develops at different speeds, and for most 9 month babies, we have an idea of what to expect.  Developmentally speaking, 9 month babies are great sitters!  And so for [spring baby photos Los Angeles] sessions at this age, we know the kinds of cute photos we are going to get.  But this sweet little girl was so advanced and did so much for her session!  There were so many incredible photos from her session that we wanted to share – but the first setup is by far a favorite!  Especially for Springtime, this boho teepee is perfection!  It's rustic, modern, chic, and bohemian all in one!  The peach color tones were just the perfect touch of girly without being too over-powering.  And for her dress?  Believe it or not, we used a little girl's shirt and cinched it with a "belt" that we used a headband to make!  Needless to say, she is rocking this spring baby photos Los Angeles!
But wait, there's more!
Have you heard of the book 1 2 3 with Notorious B.I.G.?  Well, if you haven't and you are a hip hop fan, this is something you need to know about!  It's the cutest illustrated kids' book of hip hop artists from "A B to Jay Z" and so stinkin' cute!  Well, this little lady's parents are both big hip hop fans, and so they brought it as a prop for her spring baby photos Los Angeles shoot.  And her Wu-Tang Clan onesie was just perfect.
Take a look at some of our favorites below of these spring baby photos Los Angeles
Give us a call at 310-391-4500 to set up a consultation with your photographer.  Be sure to follow us on our Blog, Facebook, and Instagram  to see what we've been up to, or explore our YouTube page for more!