When I got the call from Access Hollywood Live that they wanted me to be a guest, my heart went straight into my stomach! My mouth was saying "yes, this sounds fun, I'm happy to do it" but my brain was screaming "how are you going to pull off talking to a national audience, live?!" Luckily, I calmed my brain and started the prep work. After all, they wanted me because I am a celebrity portrait photographer, author of "The Parent's Pocket Guide: Taking Kids & Family Photos" and have owned the largest Family Photo Studio in Los Angeles for over a decade. I told myself that I've got this!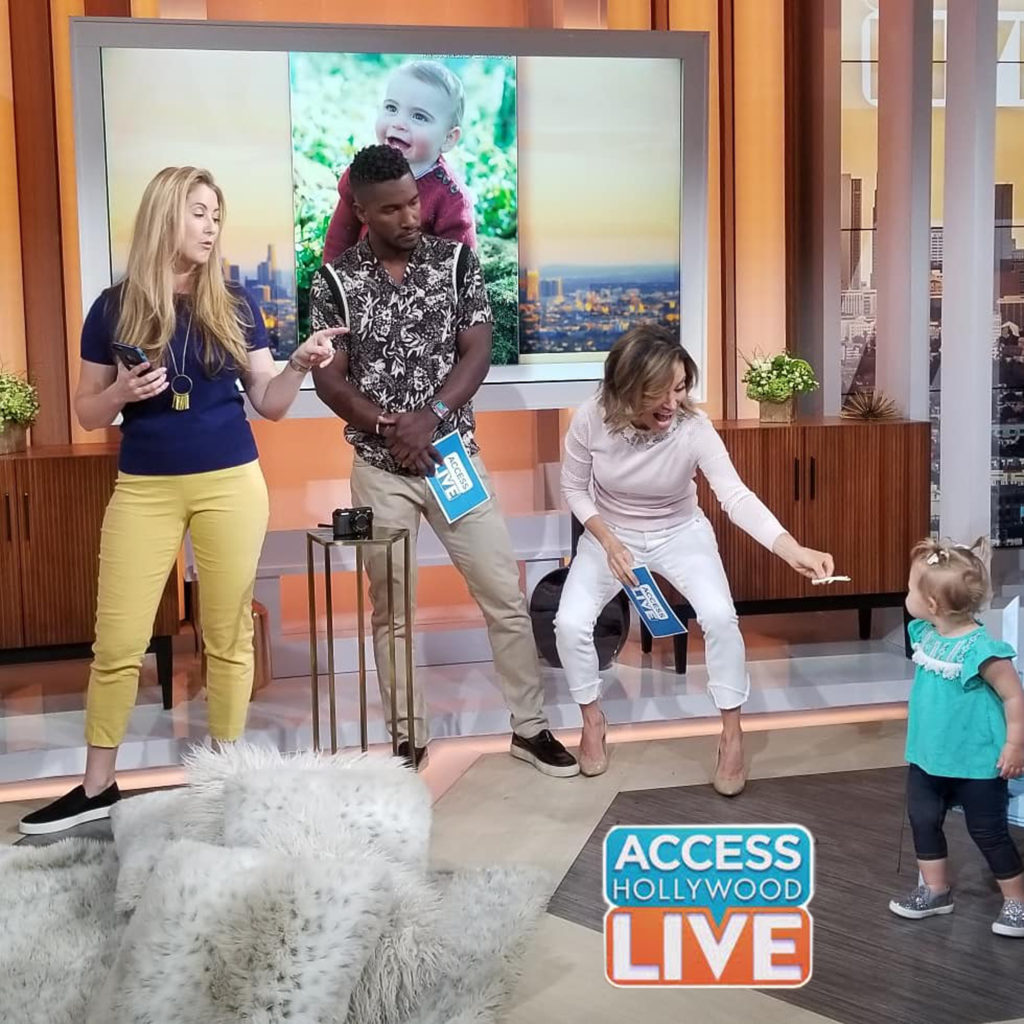 I was working with an awesome segment producer who helped me write out my talking points and get my flow going. The reason they wanted me on the show was because Kate Middleton released first birthday photos she took of her son Louis. They wanted me to talk about what mom's can learn from her photos as well as give tips on how moms can take better photos of their kids. The best part about it was that they wanted me to do a live demo with a child. The producer asked if I knew any babies around a year or a year and a half who could be my model. Yes, yes I did!! My little girl Sonoma Joy Clark is 17 months old and is a great performer in front of the camera. They booked her on the spot 🙂
I got the call at 10am on a Wednesday, and the show was filming at 8am the next day. Luckily Thursdays are the day I stay home with my daughter so I didn't have any clients or other appointments booked, it worked out perfectly! I rehearsed my talking points a few times before bed, and then called it a night.
The morning we taped, I had a 7am call time about a 45 minute drive from home. My alarm was set for 5am, but I was wide awake at 4:30am full of nerves. Once at the studio, we did a little run-through of my marks and lighting (which I appreciated as a professional photographer!) Then it was hair and makeup and soon out to the set.
Everything happened so fast that I didn't have a moment to panic! One on set with the hosts I just tried to be present, have fun and give some value to the viewers. Check out the segment above – I hope that you enjoy it!