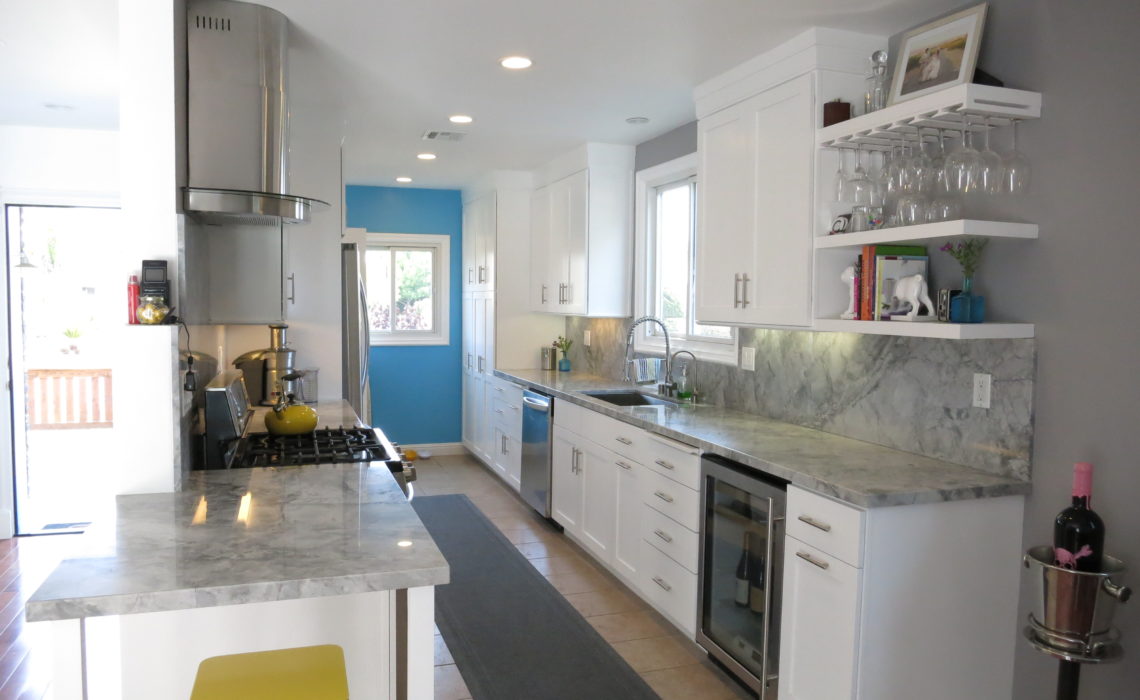 First of all, I would not wish a kitchen re-model on my worst enemy! The dust, dirt, planning, problems, not having appliances or a sink and eating out for three meals a day can be very overwhelming! Our 5 week kitchen renovation was a little intense, but we are now through it and are so beyond happy with our new kitchen.
When we moved into our house a few months ago we knew that the kitchen was at the top of our list of renovations. The old kitchen was dark, old fashioned, had rope themed cabinets and black appliances. Dark, upon dark, upon dark! My hubby and I love bright, fresh and airy (kinda like the photographs I create!!) and one of the thing we love the most about our house is how full of natural light it is all day long. The kitchen gets great morning and afternoon light, but you couldn't really appreciate it because the dark counter tops and back-splash were stealing all the attention.
The first step in brightening up our kitchen was to remove part of the wall that separates our kitchen from the living room. We wanted to create a peninsula bar to open up the kitchen to the living space as well as add seating for our much anticipated dinner parties. I didn't want to photograph the living room since that renovation is coming up in a future blog post – but the kitchen flows so beautifully into the living room to create an open floor-plan. We also removed our microwave and swapped it with a more open range hood to continue the open feel.
We opted for a beautiful natural quartzite counter-top because we love the veins in marble, but wanted the durability of a harder stone. Next up we re-faced our cabinets with bright white shaker and slab doors and ripped a bunch of the cabinets down. We accented the new brightness with stainless steel LG appliances, a new giant sink with industrial faucet and of course a pop of color with a blue accent wall. My favorite art of the kitchen is our open shelving.  I fought my hubby on this detail for months because I was worried that we would lose storage space – but he insisted that open shelves are more modern and would feel more cohesive (as opposed to bulky and obviously "kitchen" cabinets) since you would see the shelves from the living and dining rooms. He was right, they look great! We'll be finishing the floors and laying down hardwood in a few months…
We hope that you like it, and enjoy watching the progress as it all came together! I'll be blogging the dining room next week 🙂