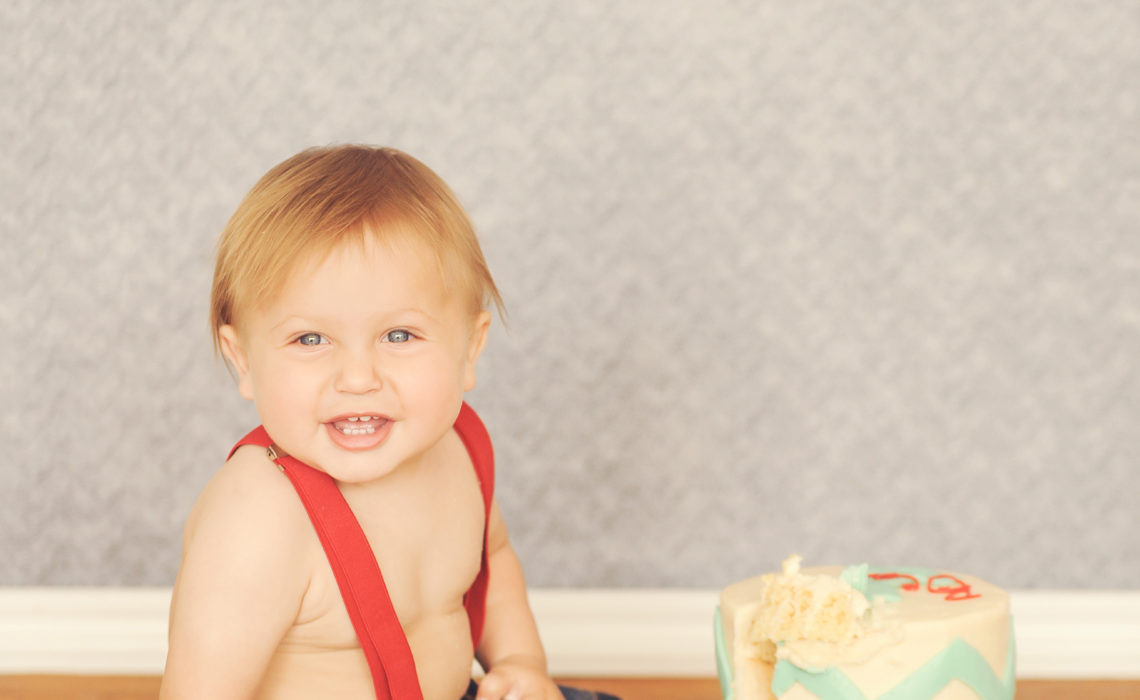 Before moving out to Arizona, this family wanted to document their little man's big milestone; his first birthday! This mom called us up so excited about Baby Beau's Birthday Cake Smash Session and from start to finish, it was so much fun working with them!
Since mom had a choo-choo-train themed birthday party all planned out, we decided to bring in some of the primary colors likes reds and blues into the shoot. One thing I always recommend for family photos, is that if you want to wear bright colors, have mom & dad wearing neutrals and the kids in the pop of color. This has all of the attention go to them! Beau's checkered blue shirt was perfect, and it definitely highlighted those stunning blue eyes of his!
For Beau's cake smash look, we paired together some bright red suspenders with a matching seersucker bow-tie and hat that made him look like a little train conductor. Beau was so smiley and cute and loved eating up his yummy chevron-patterned SusieCakes cake!
After his session, we had our designer, Natalie custom-make some adorable thank you cards to send out to all of the guests at Beau's party. They were such a hit, and mom loved them too! We just wish this family weren't moving away so we could see them more often and watch Beau grow up!  🙂
First birthday cake smash sessions are so much fun to photograph! We walk you through every step of the way including designing the perfect cake for your session, provide all of the outfits and styling for your little one, and party invitations. We'll even refer you to the best party planners in Los Angeles, such as Rise To The Occasions Events, and some of the best venues around town to host your party!
Give us a call at our Culver City photography studio at 310-391-4500 to schedule your consultation!