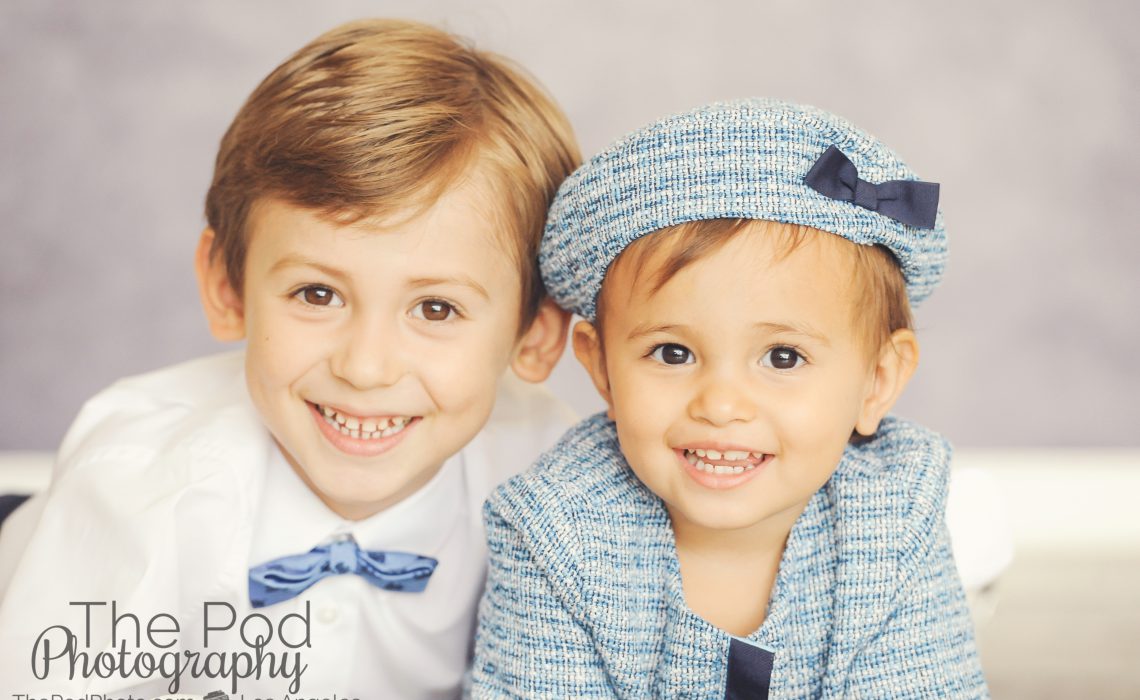 Holiday Season has begun for the photography world, and while most of us can hardly believe that Summer is over – let alone September being almost through – us girls here at the studio are in full swing holiday portrait mode!
One of my favorite things during this time of year is helping our clients pick their outfits for their holiday portraits. A lot of people are under the impression that you need to wear red and green for Christmas photos, or blue and sparkles for Hanukkah photos – but that's not the case! There are a lot of great dos and don'ts for family portraits in general, but especially this time of year.
Here's my theory: This is the time of year where the whole family gets together. Everyone is dressed their best, hair and make-up is all done-up and perfect, Dad is sucking it up and wearing whatever you tell him to, and the kids are all dolled up in those adorable new outfits you bought for them. When else does everybody look this good?! Of course you want a nice photo for your holiday cards to send out to friends and family (and we have some killer holiday card designs this year), but in our opinion, this is also the perfect opportunity for some gorgeous new wall art! Because honestly, why go through all the trouble of hiring a professional photographer and getting everybody looking picture-perfect just to send out a little 5×7 photo to people and share a web-resolution file on social media? You gotta show off this gorgeous family of yours!
Which brings me back to choosing your outfits. Unless your living room is decorated with reds and greens, I'm guessing that those colors probably aren't going to look so good hanging anywhere in your home. And, you probably don't want to display a "Christmas Portrait" on your wall year-round.
So.. our advice? Stick with the classics. Look around your home – what colors do you decorate with? Do you use warm earth tones? Clean lines with fresh whites and grays? Think about your family's style and your portraits literally hanging as artwork in your home. You can always "winter-up" a photo with sweaters, scarves, and other accessories for your holiday portraits while keeping it neutral to the rest of the year and representing your family's true style.
Take this family for example. Mom and I had gone back and forth on outfits and colors, and given that she had a blue color scheme throughout her whole home, I led her to look more into bringing blues into the shoot. I was super excited about our session when she sent me this photo:
She chose adorable Janie and Jack outfits for both of the kids, a gorgeous dress with a very flattering shape for herself, and a nice button-down for dad (men have it so easy!) Being that they have a more traditional and formal home, these outfits represented this family's style perfectly AND served as gorgeous framed artwork for their walls!
We used our super-cool wall art software PreeVu to design some wall art groupings for their home. They had the wall pictured below and a long hallway (not pictured) to decorate, and ended up going with the first frame grouping for the hallway. We love using this software because you can really picture your artwork before making any decisions!
We had such a great time with this family – from designing the session together, to photographing these gorgeous kids, all the way to designing beautiful artwork and holiday cards for them! Take a look at some of our favorites from the session here:
Want to capture your family's Holiday Portraits with us?  Give us a call at 310-391-4500 to schedule your consultation and begin planning your custom-designed photo session! Check out our website too!