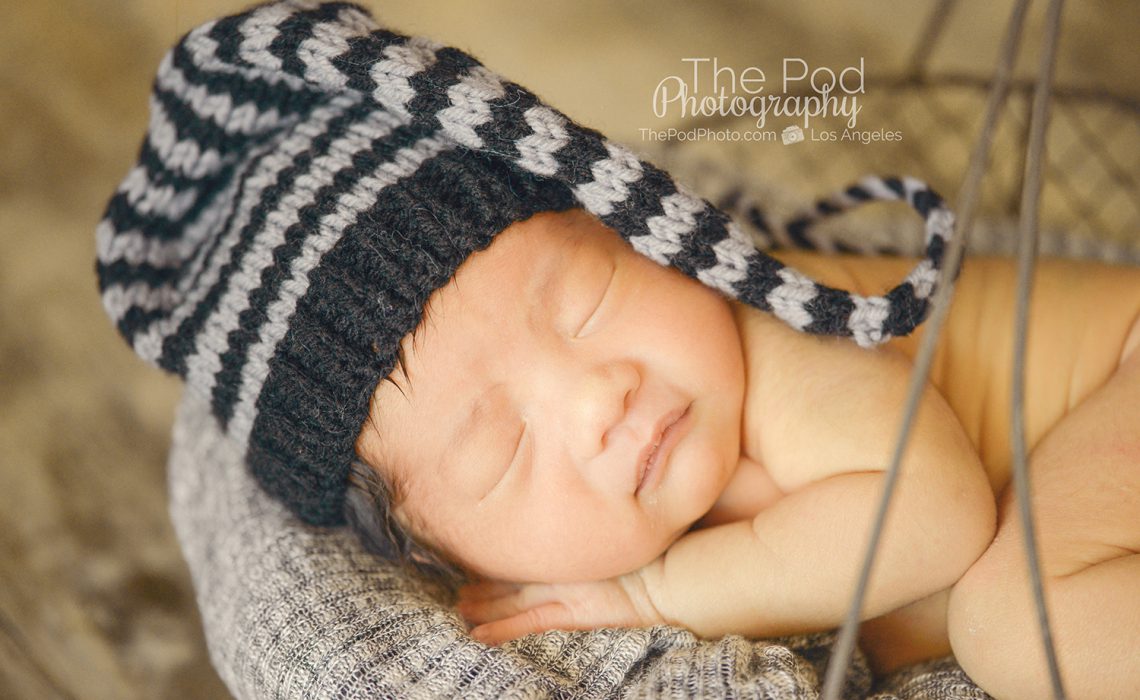 It's no secret that we ladies love photos more than men. It's generally the mom who calls us for their family's photos and then dad gets dragged along for his obligatory annual pictures. However, there's a funny thing that happens when dads come back to the studio to view the photos from their photo session: they LOVE it! Dad's love to see those tender moments between the kids, the big squeeze his son gave him – and even the tender way his lady has her arm around his waist. Dads are so important, and sometimes they need to see the love in a photograph to remind them!
That – however, was not the case with the parents of this little newborn baby! This dad was involved from the first moment he stepped foot in our Cheviot Hills adjacent photo studio. He had creative ideas flowing – and I love to hear those things that will make the session very personal for a family. This dad went to Ohio University – so we used his special football in one of the shots. My favorite, though – was the image of baby hunter asleep on dad's surgical texbooks to represent dad's profession as a heart doctor.
Here's this excited dad's Yelp review for us: "Stopped by for new baby photo shoot and Erika and her staff was wonderful and amazing X 1000!!! The way they work with your baby cannot be put into words!! Our baby was so fussy this morning I would have been happy with 2-3 sets but somehow she pulled off every set we wanted including some extremely challenging shots!!! I was more than impressed with her patience and professionalism and skill to make any picture essentially possible. Basically if you come here, you will get your money's worth because you will get exactly what you wish for and memory of a lifetime!!"
We would love to capture amazing photos of your newborn baby as well! Take a look at our website and the newborn baby section specifically for all the info. Give us a call at 310-391-4500 to start planning your special pictures 🙂
Our professional newborn and baby photographers service Cheviot Hills, Los Angeles and the surrounding West LA neighborhoods.