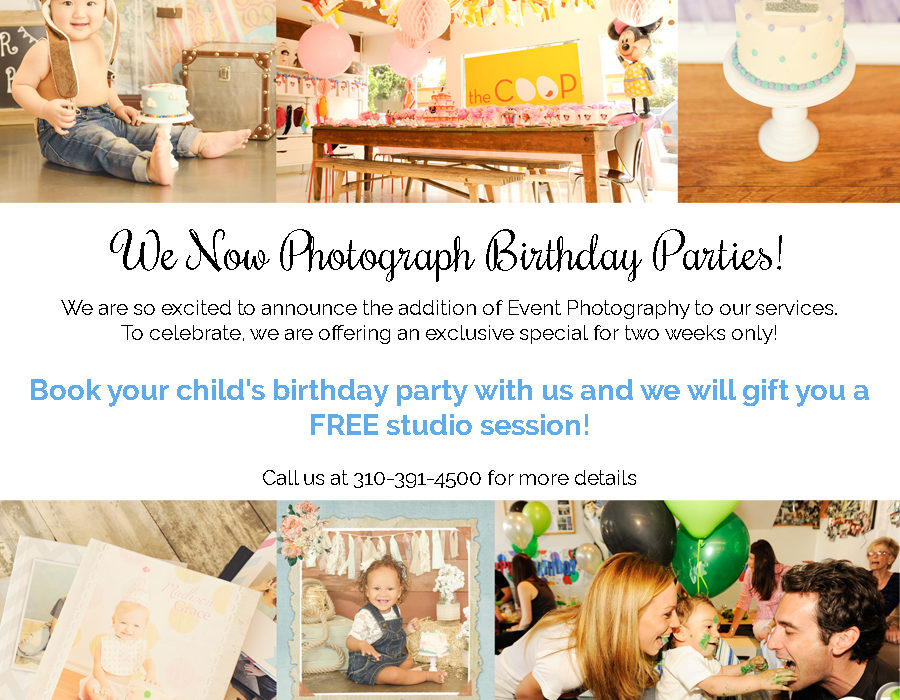 Let's Celebrate…
We Now Photograph Birthday Parties!
We are so excited to announce the addition of Event Photography to our services.
To celebrate, we are offering an
exclusive 
special for
two weeks only!
Book your child's birthday party with us and we will gift you a FREE studio session!

Why take photos at the studio before the party?
As a full-service portrait studio, we take care of every detail to document your big day:
– Personalized photo invitations
– One-of-a-kind party favors
– Gorgeous photos on display at the party
– Custom-designed albums of both your studio session and big event
– Beautiful archival framing and wall art
Click here for event pricing and photos!
Give us a call at 310-391-4500 to book your birthday party and get a FREE studio portrait session!
To take advantage of this exciting offer, all sessions and events must be
booked before June 21st, 2016. Offer does not apply to previously booked sessions or events. Free session is for an in-studio, weekday kids or family session with children 6 months and older.
Click here to learn more about first birthday cake smash sessions!