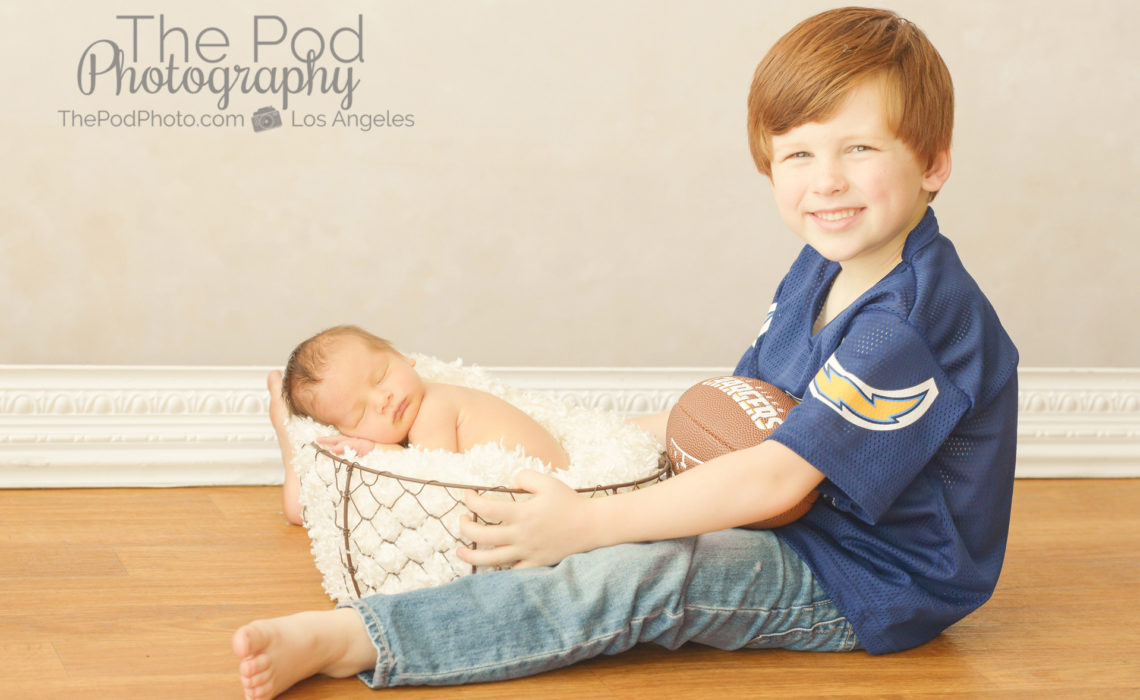 It is always a treat when older children accompany their newborn sibling to the photo session at our Los Angeles photography studio. Especially when there older sibling is 5 years or older!  As you can imagine, the most popular difference in age is about two years – so we see a ton of two year old siblings at newborn photo shoots. With toddlers they have a tough time sitting still, holding their babies or even just looking at the camera.  That's why we were so excited when this five year old big brother walked in and was super well behaved and ready to have fun with some photos with his new little brother. It was so exciting when he laid perfectly still while we settled and quieted his nine day old brother on his back. It looks like this baby boy is sleeping very deeply in the photo – but it definitely took a lot of soothing (of both baby and big brother!) with professional assistants focused on the baby's safety on both sides of them, to get this shot. It was one of the family's favorites – it's not difficult to see why!
Dad was not able to make it to this shoot – but he is a bug San Diego Chargers fan and we wanted to incorporate that into the photo shoot. So, mom brought some accessories, like a football and jersey for older brother, that we used for their second round of sibling photos. These images were, of course, dad's favorites and they are being framed as a triptych and hung in his' Los Angeles office so that he can show off his boys!
We specialize in newborn, baby, first birthday and event photography at our Los Angeles professional photography studio. We were voted "Best Photographer" by Mommy Nearest and we work hard to give our clients an exceptional experience, customer service and the highest quality images that they will cherish for generations.
Visit out website and give us a call at 310-391-4500 to learn more!