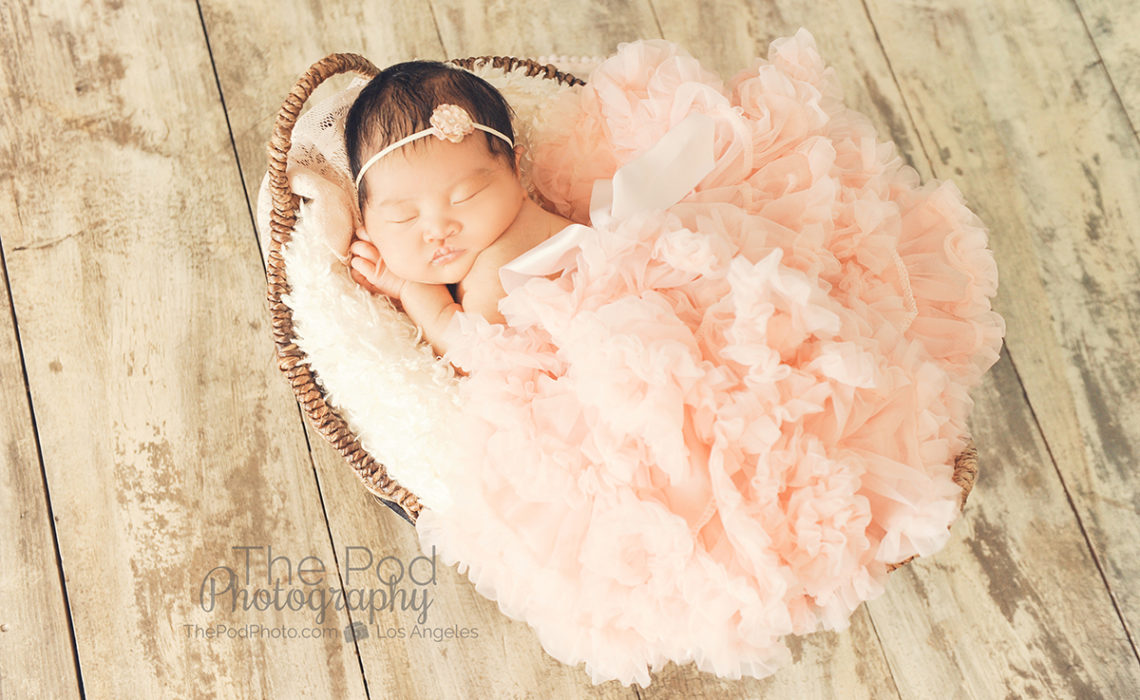 One of the fun things about having a little girl is – of course – playing dress up! That's why we stock a ton of baby outfits, headbands and other cute girly props at our photo studio. We have clients come from all over Los Angeles – but this Bel Air family was a big fan of girly style newborn photography – and we were happy to capture exactly what they wanted at their daughter's nine day old portrait photo session.
Writing about newborn pictures got me thinking about the history of the tutu – since that is the one item most requested by our clients who their prefer professional baby pictures are on the more feminine side.
Here's what Wikipedia has to say about tutus:
"The modern tutu is a skirt worn as a costume in a ballet performance, often with attached bodice.[1] It may be made of tarlatan, muslin, silk, tulle, gauze, or nylon. Modern tutus have two basic types: the Romantic tutu is soft and bell-shaped, reaching the calf or ankle; the Classical tutu is short and stiff, projecting horizontally from the waist and hip.[2]
The skirt that became known as the Romantic tutu made its first appearance in 1832 at the Paris Opera, when Marie Taglioni wore a gauzy white skirt cut to reveal her ankles, designed by Eugene Lami in La Sylphide.[5] From the late 19th century onwards, the tutu was steadily shortened, for ease of movement and to show off the dancer's legs,[6] culminating in the very short Classical tutu which leaves the whole leg free.
Fashion designers have often been involved in design for ballet.[7] Fashion designers Cecil Beaton in England, Christian Lacroix in France, and Isaac Mizrahi in the United States have all designed tutus. Among the leading makers of tutus around the world, few designers have matched the reputation of Barbara Karinska (1886-1983), costumer for the New York City Ballet for many years, She designed and constructed tutus of extraordinary beauty and durability.[8]
The Romantic tutu is still based on Marie Taglioni's original costume, though modern materials mean it is lighter and may be more transparent. The hem falls between the knee and ankle.
The Inverted Bell tutu is midway between the classical tutu and the Romantic tutu. It is made of several layers of tulle which jut out similar to a classical tutu, but the layers are longer and have a downward droop, usually to mid-thigh.
There are several versions of the modern tutu:
Classical tutu: a skirt made of 10-12 layers of stiff tulle sewn on to a pantie and basque at hip level. The lower, short layers of tulle support the top layers, making them jut out from the hip.
Pancake tutu: this tutu is supported by a hoop and is very flat, with few ruffles.
Platter tutu: similar to the pancake tutu but sitting at the waist instead of the hip.
American tutu (also known as the Balanchine, Karinska or powderpuff tutu): Very short ruffles of tulle are loosely sewn on to a pantie to give a soft effect."
Thanks for reading our blog and for your interest in our baby photography studio! We would love to capture your Bel Air, Los Angeles – check out our website and give us a call at 310-391-4500!