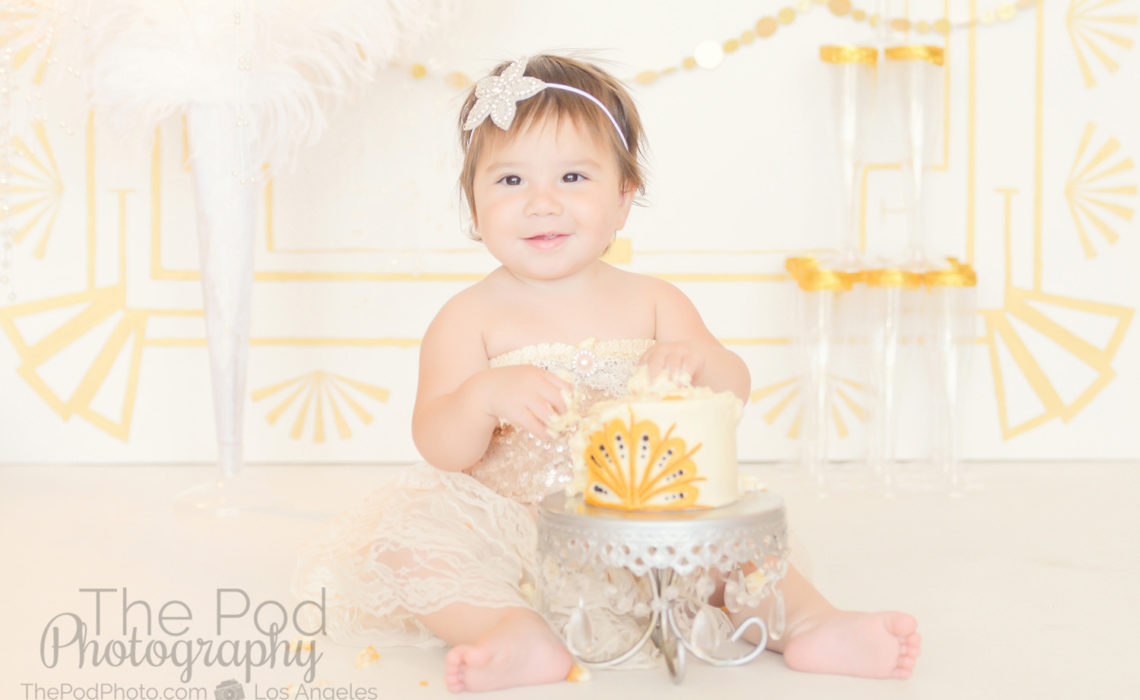 At our Los Angeles portrait studio, recently named one of the Top Five Photographers in Los Angeles by CBS Local, one of our favorite things to do is create custom sets for our clients. And perhaps that's one of the reasons why we're the best!!
Recently, we had a request to design a white and gold 1920s themed set for a baby girl's first birthday cake smash session. It was so much fun to create that we ordered a special little sequins top for her from one of our favorite Etsy shops, covered champagne glasses in glitter, and even hand-painted a retro background for her set!
And Baby Blake looked so perfect for her custom set!  The fresh whites with gold accents were so soft and feminine paired with a rhinestone headband and chandelier cake stand!
But even before Blake dug into her SusieCakes smash cake, we did a few other sets with her. This Anne Geddes inspired floral crown was so darling with a little purple tutu – and Blake certainly thought so when she saw herself in the mirror she was crawling on!!
And to top it off… what's a birthday without balloons? Blake was so excited about her pretty purple balloons on our adorable little grass set, we just love her giant smiles!!
Since we are total "prop junkies" at our Los Angeles professional photography studio, we have pretty much anything you'll need to customize a session, so most custom sets are free of charge!  With that being said, we always love a challenge and we LOVE bringing a specific vision to life – so if you have something super far out there, weird, creative, silly, fun, over-the-top, etc., you name it, we will bring it to life with a fun Pod flare!
Give us a call at our studio at 310-391-4500 to schedule a consultation with your photographer and begin planning your super custom photo session today!  We can't wait to meet you!
Be sure to follow us on our Blog, Facebook, Instagram and Google+ to see what we've been up to, or explore out YouTube page and Pinterest Boards for more!