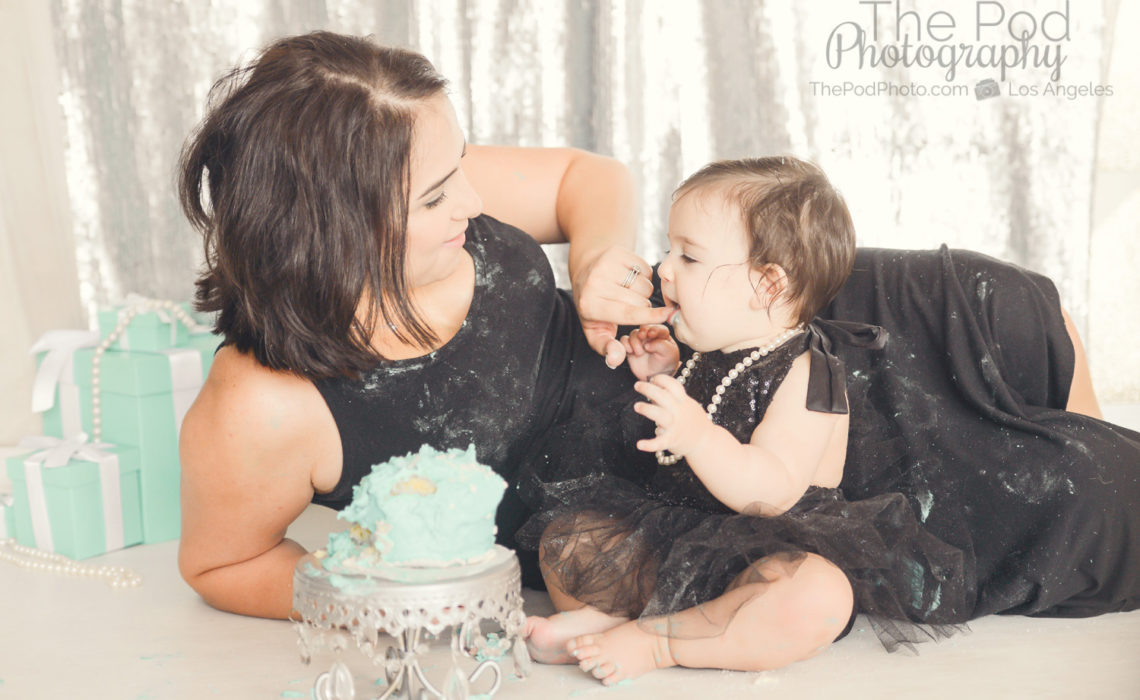 As some of you Pod fans may know, we absolutely love first birthday cake smash photo sessions here at our Los Angeles photo studio! Customizing each miniature set for one year old babies is not only fun, but absolutely adorable! And this little darling, (or should I say dahling), celebrated her first birthday in style with a "Breakfast At Tiffany's" theme, Baby Noor style!
Knowing how excited mom was about her baby girl's big milestone photography session, we custom ordered some little Tiffany's boxes that we knew would go perfect with our silver sequins background, and of course, a cake to match! But when we gave Noor her cake, she wasn't 100% sure that she liked sugar! It was a good thing that we had already taken family portraits at that point, because all this little sweetheart wanted was to hold on to her momma – so, mom risked getting messy and hopped on into the shoot!
Sometimes, just embracing whatever baby wants works out perfectly. These mommy and me cake smash shots are just too precious – we love the last one with mom snuggling her and she is cracking up! They made for such beautiful story-telling images in Noor's first birthday album – something she will cherish for years to come! Thanks for jumping in and getting messy, mom!
Have a birthday party sneaking up for your little one? Call our Los Angeles baby photography studio today at 310-391-4500 to begin planning and customizing your first birthday cake smash session! Be sure to follow us on our Blog, Facebook, Instagram and Google+ to see what we've been up to, or explore out YouTube page and Pinterest Boards for more!