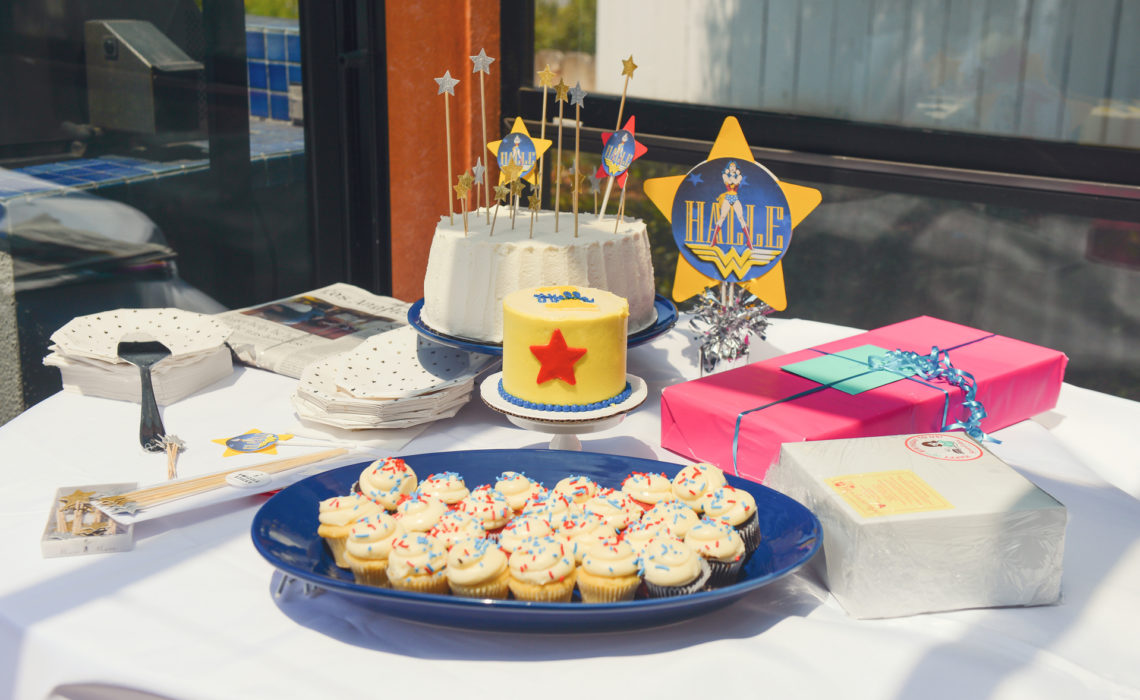 I had been looking forward to photographing Baby Halle's First Birthday Party ever since her mom shared with our Los Angeles studio that the one year celebration was Wonder Woman themed! Leah, our set designer and first birthday photographer, raced through all the amazing possibilities that could happen with this theme. In the end, she decided to go with a simple blue sequin background to keep the attention on Halle and her awesome crime fighting skills as she rocked her Wonder Woman dress while eating yummy cake! The best part about her studio cake smash session was that we planned it far enough in advance to make sure the photos were on display at her party. We all had so much fun at Baby Halle's first professional photo shoot, so why let the fun stop there?
We put together a "9-up" of Halle's best photographs from her cake smash session and printed it on our lovely luxe metal . It meshed perfectly with all the Wonder Woman decorations scattered around their Playa del Rey house to help decorate for the birthday party. It was so great to see how far they really took the party theme with all the awesome, well thought decorations! Halle's mom even ordered the exact same cake we ordered for the smash session since it was just so darn cute!
My favorite activity of the party was the musical drum circle. Interactive activities are always a great idea for children's birthday parties because it provides a learning experience as well as keeping the kids focused on something new! Parents love a few minutes to socialize with all the other parents! Party guests were also invited to join Halle in becoming a superhero for a day with capes and masks – so fun! Everyone also shared the birthday love, singing "Happy Birthday" to Halle's grandma as well and surprising her with a cake. She is one lucky grandma!
First birthday cake smash sessions are a great way to document your little one's milestone. Decorate your child's first birthday party with photo products to really go all out for a special celebration! We service all of Los Angeles including Studio City, Westlake Village, Westwood, Brentwood, Malibu, Santa Monica, Manhattan Beach and more. Call us at (310) 391-4500 or visit our website at www.ThePodPhoto.com to start planning your child's birthday party today!