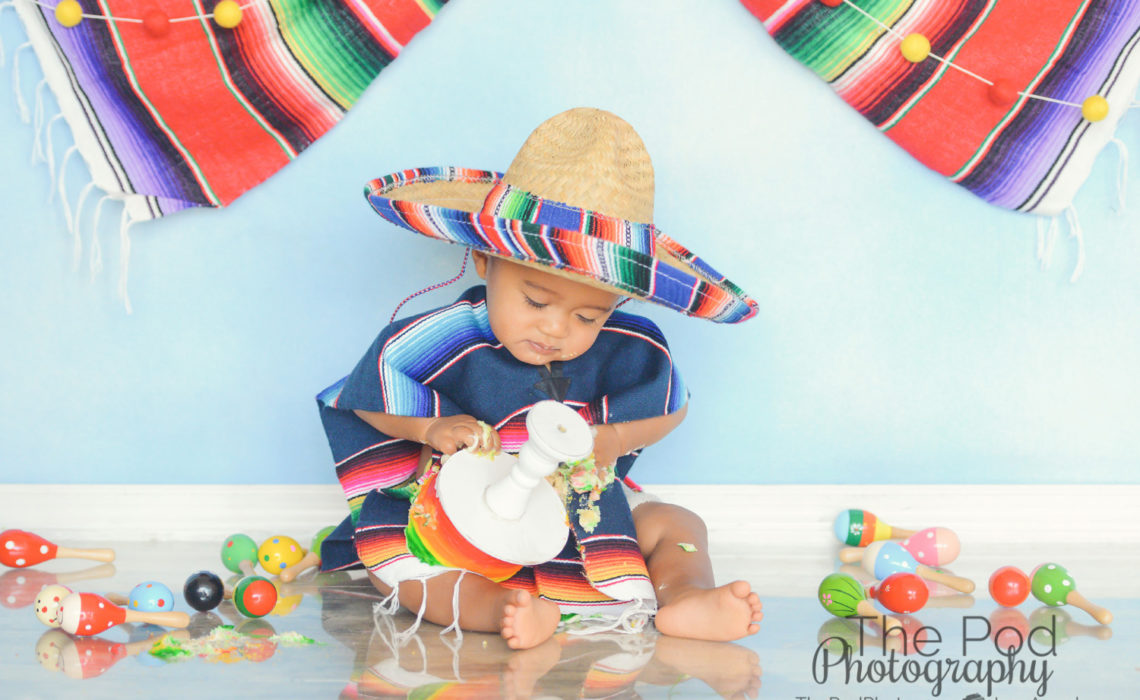 A lot of work goes into creating custom sets for our clients, and it's our absolute favorite thing to do – especially when we get to see the reaction that mom has to the final result, or how impressed dad is with the building and styling of the sets.
This handsome little dude below was having a Fiesta first birthday party, and we wanted to go all out to design something super colorful and unique for him. During our Design Session, mom said two magical words that inspired the rest of the entire design: baby sombrero.  Okay, I mean, the concept was amazing, but I didn't think we'd actually be able to find a baby sombrero! And then we did! I was so excited and started looking up baby ponchos and began designing a pinata cake and everything. Come shoot day, mom and dad roll into our Los Angeles portrait studio with an amazing Mexican blanket and a ton of miniature maracas – they were too perfect!
Vince was so funny with his cake too. Most babies are totally uninterested in smashing the cake, but Vince got right in there – we could barely even get his attention because he was so in the zone with his little SusieCakes smash cake! But with a team of four of us girls here at The Pod Photography, Los Angeles, we were able to bust out some tricks and get this little guys laughing and smiling for us.
All the hard work really pays off in the end when you get that perfect shot. And we love getting to be the ones to document these important milestones for our families.  🙂
Give us a call at 310-391-4500 to set up a consultation with your photographer and be sure to follow us on our Blog, Facebook, Instagram and Google+ to see what we've been up to, or explore out YouTube page for more!