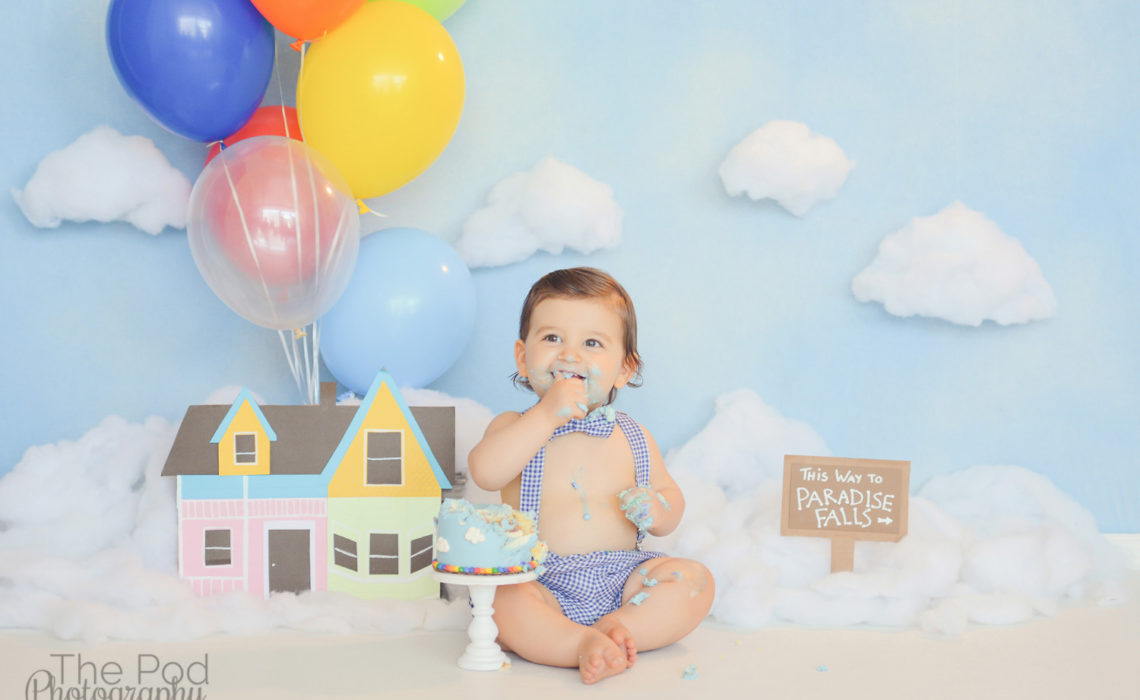 For first birthday cake smash photography, it's pretty well known that at our Los Angeles portrait studio loves to go all out!  Because, well, why not?  It's so fun to have amazing photos of your baby at this big milestone that actually go with and match the theme of their first birthday party.
That's why, for Baby Grayson, we did just that. And Grayson's Momma knows how to throw a party, so his photos HAD to be fabulous!  As you can see from the photos below, Grayson's party theme was Disney–Pixar's movie Up.  What's really cool about that, is about a year ago, we had a client come into the studio with their newborn baby, and the mom had actually done the casting for that movie!  Back then, we created a miniature model of the house from Up, and have had it at the studio ever since – just waiting for the request to use it again!  You can take a trip down memory lane with us by taking a look at Ellie's newborn session here.
We happened to have this little Janie and Jack blazer at the studio, as well as the little nerd glasses that Grayson sported for a few photos.  Both were the perfect addition to make Grayson look like the little old man from the movie! Take a look at some of our favorites from his cake smash session below:
Do you have a big birthday party or milestone coming up for your little one?  Trust the very best milestone photographers in Los Angeles to document your little peanut and give us a call at 310-391-4500 to set up a consultation with your photographer and begin planning all of the details of your session!
Be sure to follow us on our Blog, Facebook, Instagram and Google+ to see what we've been up to, or explore our YouTube page for more!