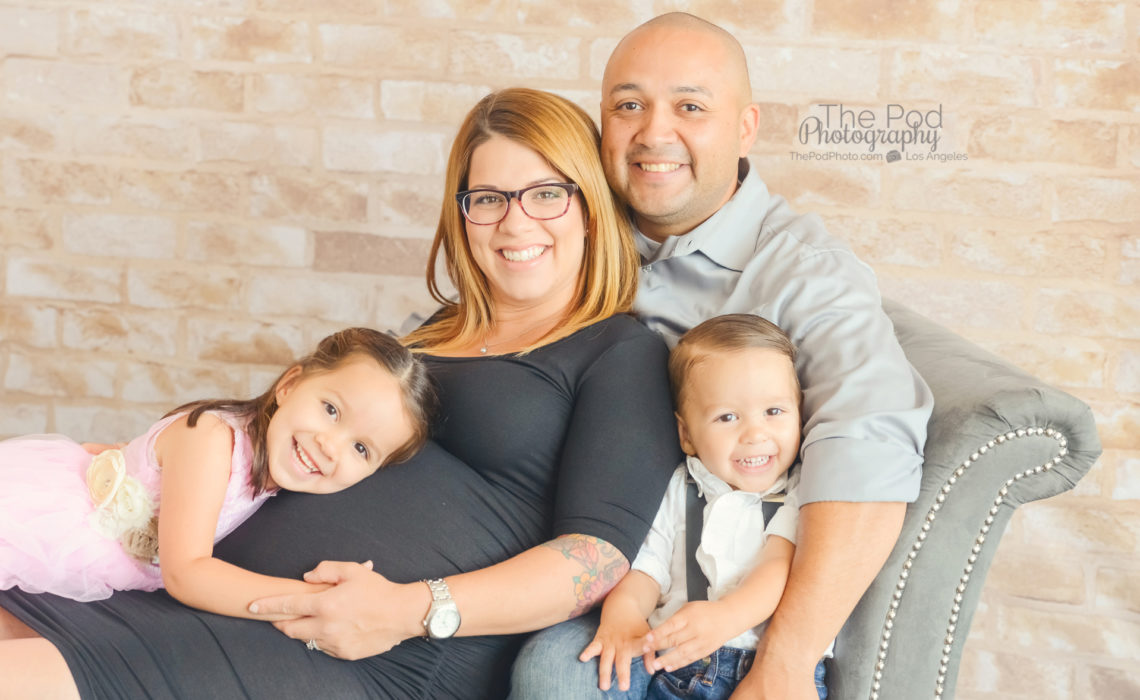 Having clients come back to us year after year is such a joy for us at the studio! We first met this couple when they came to us for their very first maternity photo session a few years ago. When we met them, they we first-time expecting parents who were really excited about their baby on the way! Since that time we have photographed each of their maternity and newborn photo shoots as the new additions have been added to the family. This time it was baby number three's turn for her belly pictures.
I personally think that maternity sessions as a big family are the most fun. I love to capture portraits of each of the older children and to document the relationship between parents and child. Of course, the mama to be also needs to be the center of attention – and so I always make a point of capturing some pregnancy pictures of the mama alone as well. This mama was a little shy about her photos alone and really valued her family photos and the images with her and the kids – so we spent the most time at our Woodland Hills maternity photography studio focused on those types of pictures.
Understandably, this family wanted to do exactly the same thing for the new baby that they had with their older children. For them, they have had us create wall art from each pregnancy photo shoot combined with the images from the newborn session. It took me a little time to blog these images – but this family has already been to our studio with their new baby girl for her newborn pictures. We feel so lucky that this family has selected us as their go to professional maternity and newborn photographer for the needs of their growing family!
Our maternity photographer services the Woodland Hills, California area as well as surrounding Los Angeles. Do you have a baby on the way? We'd love to meet you and document your belly pictures! Give us a call at 310-391-4500 and visit our website www.thepodphoto.com for more information about your pregnancy pictures!