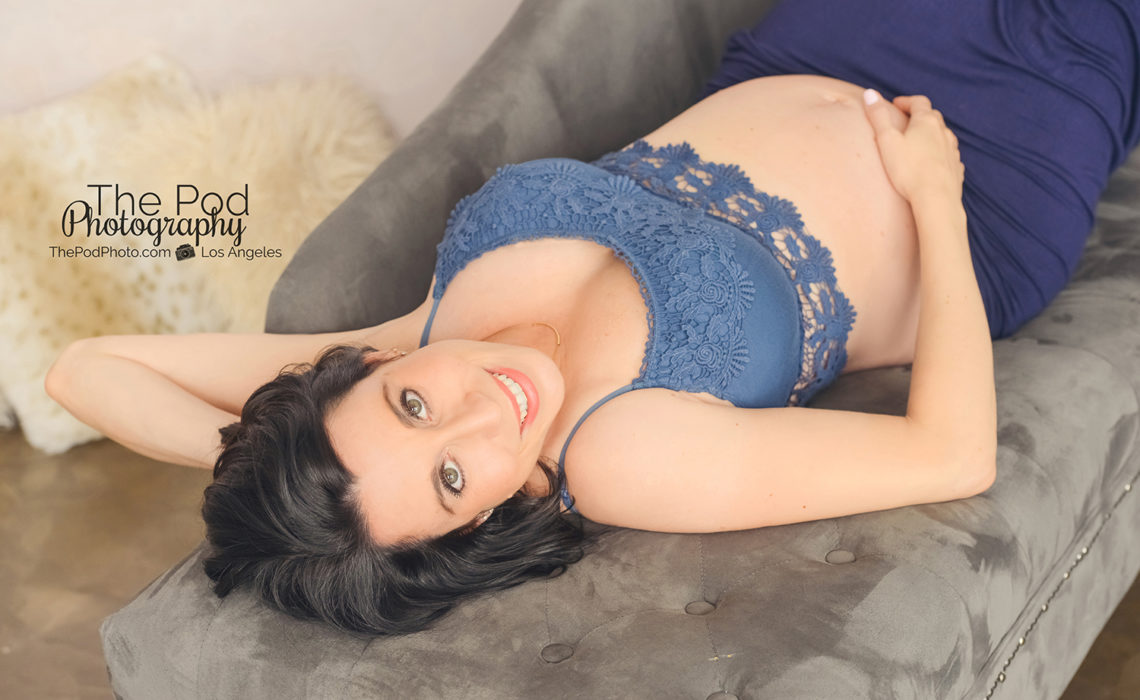 Maternity pictures are such a special and intimate time in a couple's life to capture – and at our Pacific Palisades photography studio we absolutely love to document these milestone pictures for our clients! Here's the five star review this glowing mama to be gave us on Yelp:
"Erika and her team were a delight to work with! They have such a great process for maternity photos that it takes the stress completely off of you to plan anything.  I loved that they even had dresses for you to wear in the studio so it was one less thing you had to buy or wonder what size to even order! Erika makes you feel so comfortable the whole time!"
With this client's photos – we wanted to document a range of personality and looks during her pregnancy pictures. Therefore, we dressed her in the studio's gorgeous a maternity gowns plus she brought her own for the more candid setup where she and and her husband wore white t-shirts. I love to have our pregnant mamas change outfits 2-3 times during their photo session so that we can show off the different sides of their personality! One other thing I like to keep in mind – and the reason we stock such a wide variety of maternity gowns, tops and skirts, fabric wraps and other accessories – is that everyone has different levels of comfort when it comes to showing skin. Some of my clients want to go full nude and embrace their amazing bodies, while others don't want to show off their bump skin at all. Our Pacific Palisades maternity photographer can walk you through all the different styles we have at our studio at your pre-shoot dress fitting appointment and have you try on all the dresses until we find the perfect ones to fit your personality and showcase your personal style.
Looking for the perfect photographer to document your pregnancy pictures? Give us a call at 310-391-4500! We are located in Los Angeles and service the Pacific Palisades area. Also visit us online at www.thepodphoto.com