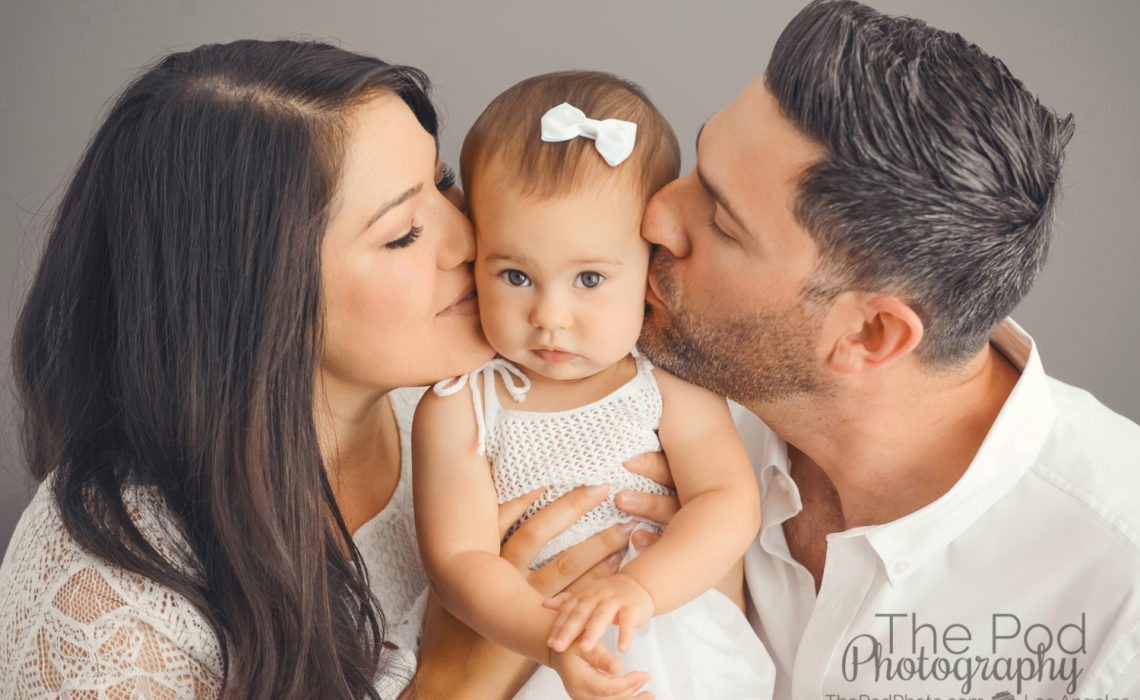 If you know The Pod Photography, you know that we are big fans of over-the-top, stylized sets full of props and accessories.  We love that kind of stuff, and really, it's something that sets us apart from other photographers.  However, not everyone wants that style for their family portraits, and lately, we have been getting more and more requests for a clean, classic and timeless look.  With that in mind, we painted one of the walls in our studio (located near Pacific Palisades in Los Angeles) a clean slate gray.  The results?  WE ARE OBSESSED!  The look is so stunning, simple and beautiful, and our first family that we photographed on this set were absolutely beautiful themselves!!
This family was not only incredibly attractive and photogenic, but also one of the sweetest families we've met.  Their one-year-old baby girl was an absolute angel – and those eyes of hers were just stunning!
But after capturing all of the family and baby portraits they they wanted and then some, mom still wanted to have a little bit of fun with a more stylized set.  Still keeping it simple, we brought in a little bohemian vibe with a custom built tee-pee and aztec inspired backdrop that we ordered specifically for this shoot.  The touches of green succulents with her soft baby blue bohemian romper (that we purchased on Amazon, believe it or not!), were the perfect subtle color pops to bring out those gorgeous eyes!
We absolutely loved meeting this Pacific Palisades family and documenting their baby girl's big one-year milestone.  Take a look at some of our favorites from their studio portrait session below:
Have us photograph your family at our Pacific Palisades portrait studio and have your memories and milestones documented!  Give us a call at 310-391-4500 to set up a consultation with your photographer and be sure to follow us on our Blog, Facebook, Instagram and Google+ to see what we've been up to, or explore our YouTube page for more!