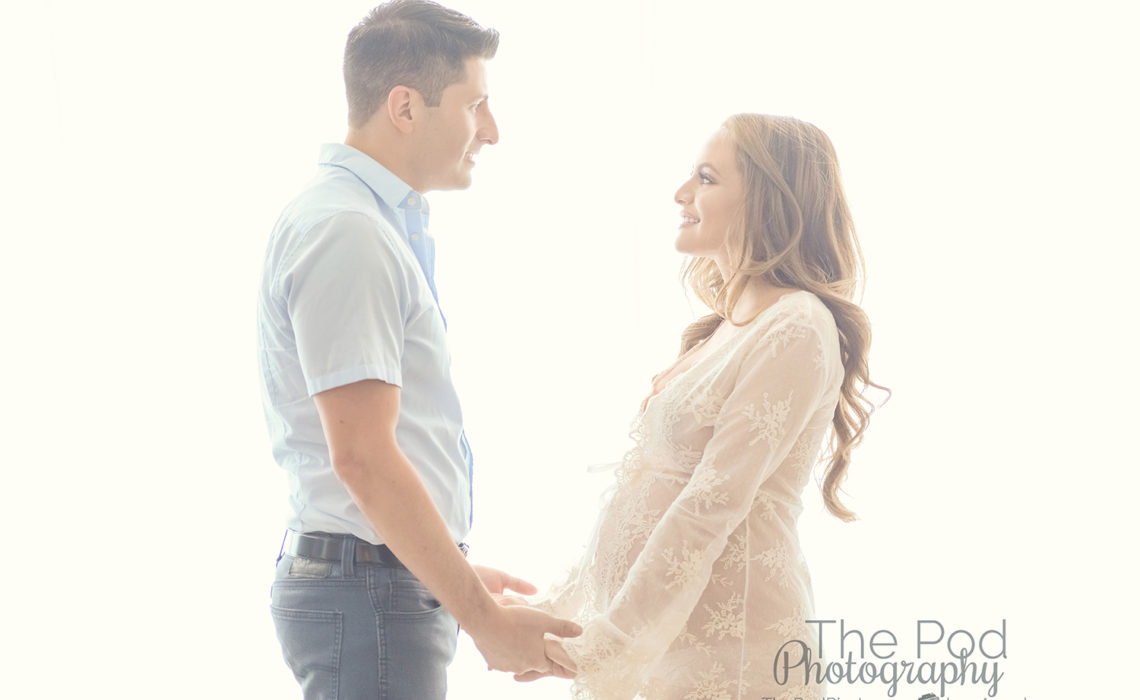 It is interesting how maternity  photography has changed and evolved over the years – and our professional Beverly Hills Maternity photographer stays on top of the trends! I am currently 36 weeks pregnant, and it is funny to hear the reactions from my mother and grandmothers about the outfits I'm wearing.
My Grandmother – who grew up in Communist Hungary in the early 1900's – was shocked when she saw the skin-tight dress that I wore to my bay shower. She told me "we wore mumus and baggy clothes when we were pregnant in my day, you definitely did not show off your bump!"
Fast forward 28 years or so until my mother had my brother – and the maternity style hadn't changed to much in the 1970's.  She has maybe one or two snapshots of her in a mumu, and one risque image she showed me of her standing in underwear in their living room that my father took – but as far as professional maternity pictures, well no one did those in her day. Not even when I was born in the early 1980's did it even occur to my mother to seek our a pregnancy photography studio – if they even existed!
These days, every pregnant woman takes pictures of her belly bump, be they selfies in the mirror, captured by a friend or by a hired professional maternity photographer.  Most women are not shy these days of baring their belly, and embrace the amazing changes their body is going through.
The beginning of maternity photography
According to this Metro.us article the rise and popularity of maternity photography started with Demi Moore's 1991 Vanity Fair Cover.  This is when awareness about maternity photography began and the demand has skyrocketed since that time.
At our Beverly Hills photography studio, we see several expecting parents every week and love to document this special time in their lives. For most pregnant women, this is the first time in their lives they are taking nude pictures or showing this much skin. We are purposefully a team of all women here at the studio so that our pregnancy clients feel comfortable, beautiful and powerful during their photo session.
This beautiful mama to be come to our studio feeling a little unsure about how much skin she really wanted to show during her photo shoot – and we always respect each client's personal vision for her pregnancy pictures. We did several setups and different outfits at our studio, and she looked stunning in each. At the end of the studio portion of the photo session, she wanted to do a few all-nudes. Those photos are absolutely gorgeous (but she asked that we not post them) and I am so happy that she felt empowered and comfortable enough to capture them.
Our professional Beverly Hills maternity photographer would love to speak with you about your maternity pictures and bring your vision to life! Visit our website www.thepodphoto.com and give us a call at 310-391-4500!