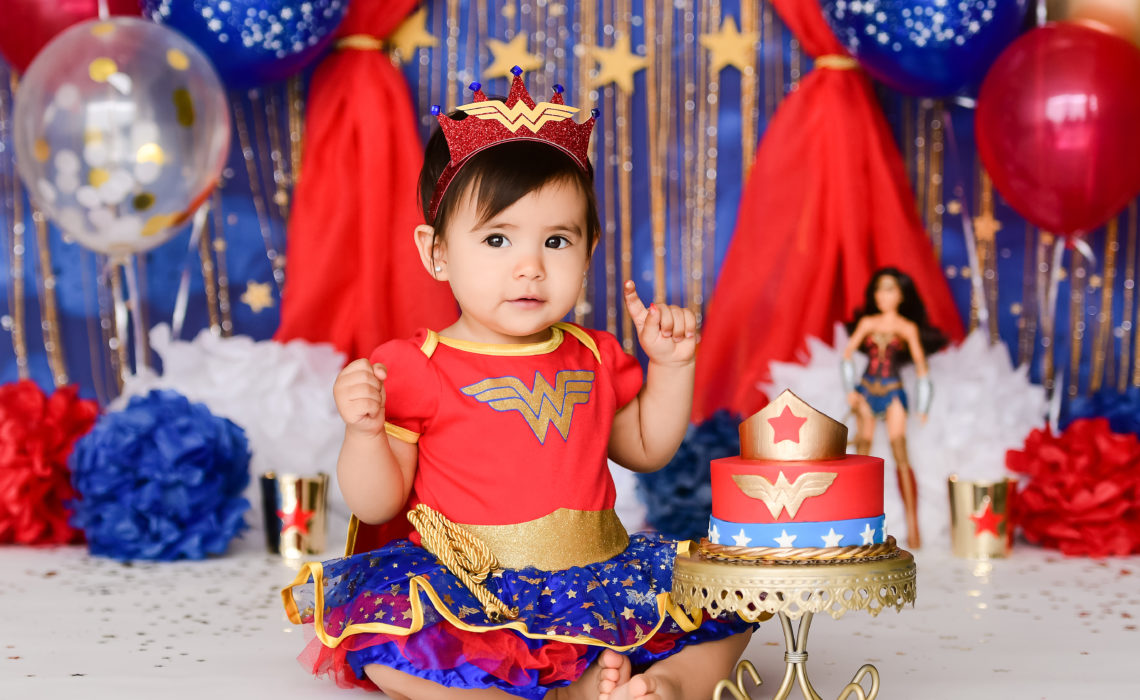 Wonder Woman Cake Smash
Okay, us girls here at The Pod Photography are obsessing. This Wonder Woman Cake Smash is everything!! We've been lucky enough to know Miss Clementine since she was just a newborn baby. And since then, we've seen all of the sweet little milestones in-between. So, for the big first birthday milestone, we started planning this at just six months old!
It's funny, because 90% of the time, we're planning the set design and concept with Mom. But Dad got really involved in the design concept this time! It was really sweet! It started with Instagram and Pinterest, saving images of his inspiration for his little girl's Wonder Woman Cake Smash. He had all kinds of adorable ideas, and we loved collaborating with him before the shoot!
The whole team here at our Los Angeles studio got behind it, too. At any given point during the the weeks leading up to her first birthday photoshoot, you could find us researching endlessly. We started looking on Amazon for Wonder Woman balloons, gold stars and confetti or checking out Etsy for custom outfits and headbands. Then of course, coordinating back and forth with our amazing bakers, Top Tier Treats. We were endlessly inspired by the theme!
Check out some of our favorites from this adorable Wonder Woman Cake Smash:
Clementine was the perfect baby for this Wonder Woman Cake Smash theme. The bold red, white, blue and gold color tones were perfect. So after the "smash," we wanted to do something a little softer for the "splash" portion of her first birthday portrait session.
We loved her soft and sweet personality. So we chose a pink and white peony mixed with cherry blossoms theme was what won us all over! The contrast of the bright and bold cake smash with the feminine tub photos gave Mom & Dad exactly the variety they were hoping for.
By the end of the session, we loved how delicate the photos turned out. Her sweet skin was gorgeous with the fresh and light color tones. Take a look below at some of our favorite photos from Clementine's bathtub session:
Give us a call at 310-391-4500 to set up a consultation with your photographer. Be sure to follow us on our Blog, Facebook and Instagram to see what we've been up to, or explore our YouTube page for more!