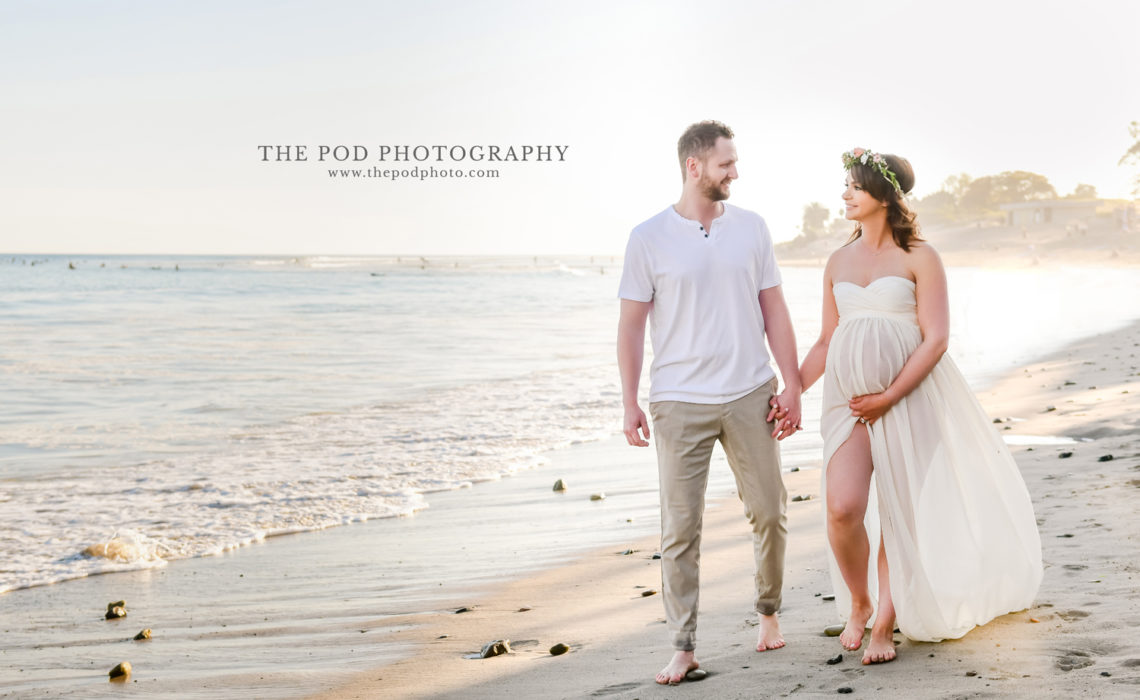 I am always on the search for new, interesting photo shoot locations – especially for my maternity clients. For pregnancy pictures, I am often hired for location photography since mamas-to-be like to connect with nature in their pictures.
This Malibu couple wanted the beach plus something a little bit different. Therefore, we selected the Malibu Pier as our photo shoot destination. The mama-t-be wore two of our maternity gowns, a sheer white one and then a bold coral. We went for a bohemian feel with both of these outfits – complete with custom floral headbands.
The fun thing about shooting at the Malibu pier is that there is a shop up top that makes for a very colorful background. Also, the angle of the light at sunset is awesome! After spending some time at the upper part of the beach location, we went down to the sand. In addition to the classic walking-hand-in-hand pictures of this couple, we had fun under the pier. The pier ads for a unique backdrop and interesting lighting. One thing I will forewarn other photographers about this spot is that the beach is very narrow here. Therefore, it is tough to get shots under the pier unless your subject is willing to get a little wet in the waves.
At the end, after I had captured lots of photos of this couple laughing, cuddling, and captured both candid and posed shots – it was time for those epic coral dress pictures. We layed out the dress on the sand, and captured the whole scene with the gorgeous beach and Malibu coastline in the background!
Interested in finding out more about our professional maternity photography? Visit our website and then give us a call at 310-391-4500!