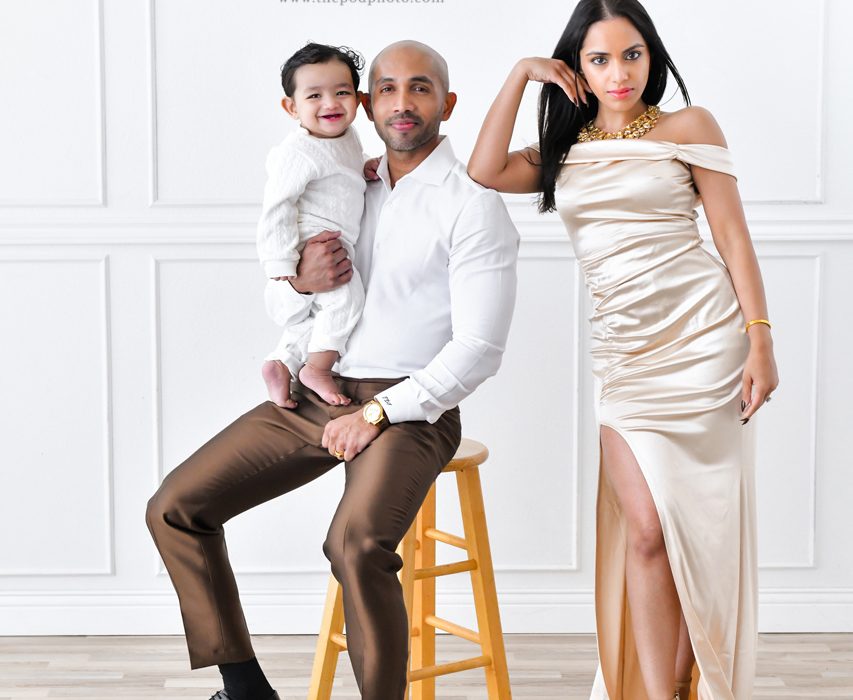 Family portraits do not have to be traditional. Many families choose to think outside the box and create their own unique photo shoot. This family, who visited our Hollywood, California portrait studio, did just that. They chose to add a bit of glam and sophistication to their family portrait session. We had so much fun at this family studio portraits session.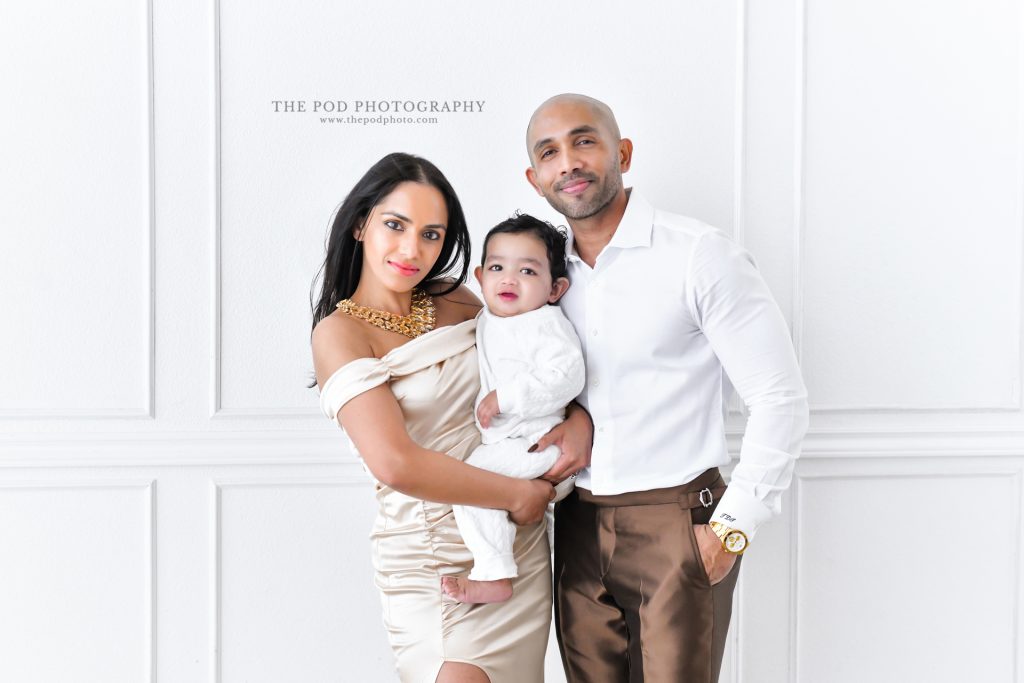 Outfit Choice
One great way to show off your personality is by choosing outfits that fit your unique style for your family portrait session. No one says you have to have bright colors! Even the most subtle colors can create a gorgeous portrait.
Here at The Pod Photography Hollywood, California studio, one of my favorite things to do as a photographer is to dress each participant in an outfit based on their personality as a family. We chose outfits that presented a taste of Hollywood glam for this portrait session. I chose minimalistic colors for their outfits which added a touch of sophistication to this portrait session. We dressed mom in a stunning long gown with a sexy split and a dazzling necklace to finish her glamorous look. Who says moms can't be sexy! For Dad, we chose a pair of shiny slacks to complement mom's gown and added a white shirt to finish off the sleek, dashing look. For baby, we decided on an all-white outfit. And, of course, no shoes because baby feet are so adorable!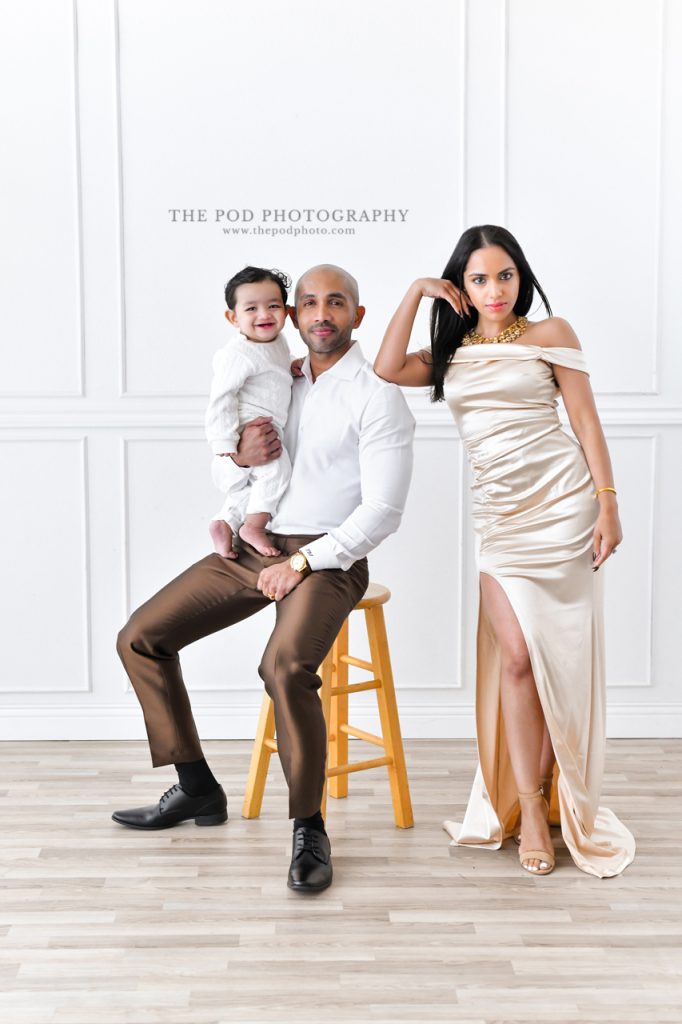 Photography Backdrop
A white background was perfect for this family portrait session. Sometimes simplicity is all that is needed to create the perfect portrait session. And this was spot on.
I also know it's crucial that the clients feel comfortable and at ease with their photographer. I have found that the more comfortable clients feel, the better their experience. This adorable family seemed to feel right at home in front of the camera. They rocked their portrait session. Their dynamic personality and family bond were easily captured in their portraits.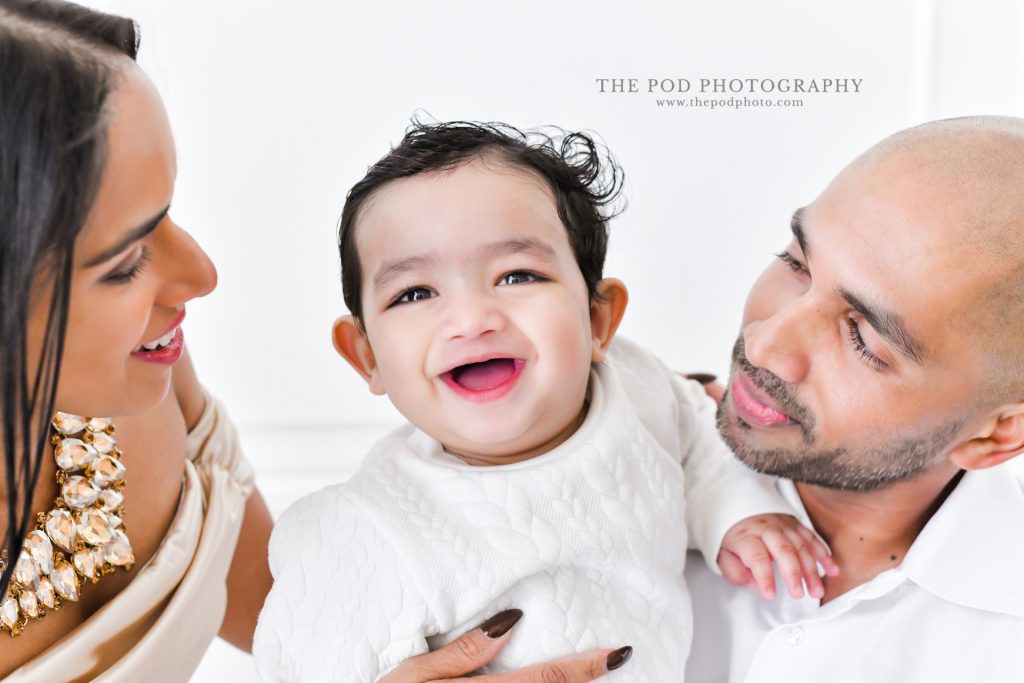 A few tips that I offer my clients to consider before showing up for their family studio portraits session. One is to make sure they show up for their portrait session well-rested. If the client has a baby to be included in the portrait session, try and schedule the appointment around the baby's schedule if at all possible. Doing this makes for a smooth and less stressful family portrait session.
Please be sure to check out our website, The Pod Photography, and learn more about our family portrait sessions. Feel free to browse the site. There are many different portrait sessions to choose from. We are confident that there is a perfect one for you! Keep in mind that you can also create your very own themed portrait session. Once you book, we have a brainstorming session to determine what type of theme is perfect for you!
We also offer location portrait sessions that allow you to choose a unique location for your photo shoot. You can see examples of our location portrait sessions on our Pinterest account.
Also, be sure to follow us on Facebook and Instagram. We also have a YouTube channel as well as a Pinterest account where we share all of our portrait sessions! Find one that inspires you and book with us today by calling 310-391-4500.