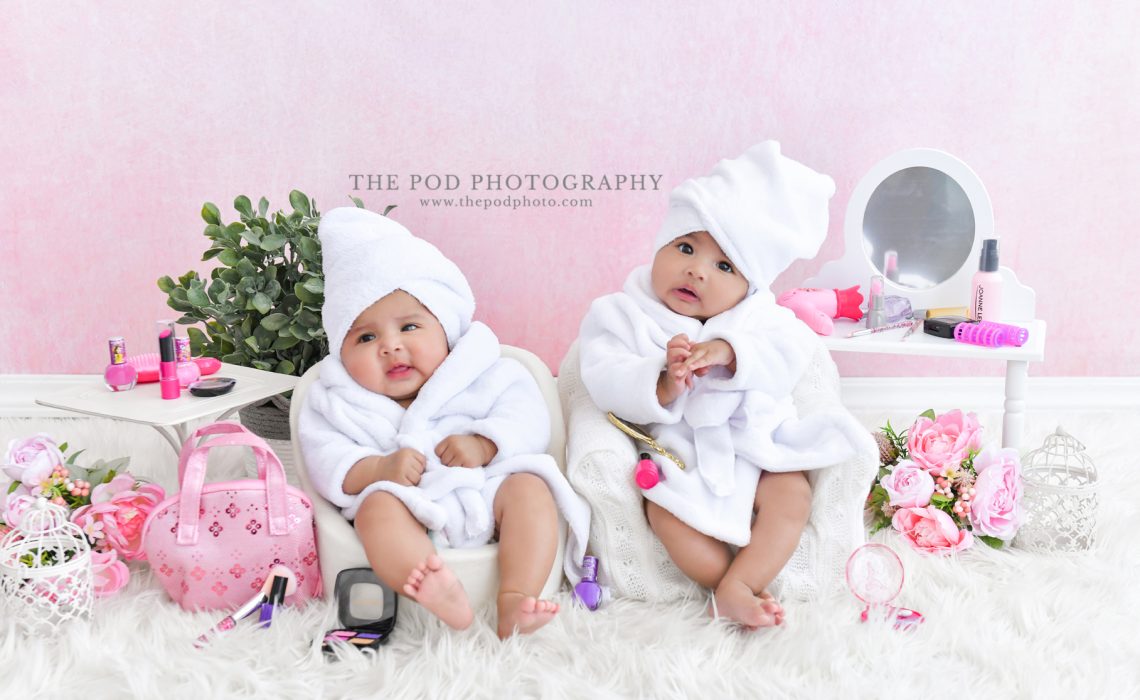 Twins have a special bond! They become best friends from the moment they're born. These adorable twins were a delight to have in the studio. Photographing twins means twice the smiles and twice the love. You could instantly feel the connection these two sisters shared.  Capturing a baby's milestones is something you can share with them when they are older.  Start your portrait documentation with your baby's newborn months, and continue documenting their growth through the toddler years with portraits.  We had so much fun at this twin baby girl portrait session!
Baby Milestones
Our photographers here at The Pod Photography studio in Venice Beach, California, are fortunate enough to photograph Josephine and Juliett as newborns and then again as toddlers.  These baby milestones are so important to document because babies change so fast.  You will see just how much based on these two portrait sessions!
Floral Wreath Newborn Twin Baby Girl Portrait Session
The twin girls were placed in the center of a beautiful floral wreath for their newborn portrait session. The floral wreath included pinks as well as purple flowers.  We wrapped the infant twin girls in an adorable muslin swaddle wrap, one in pink and one in purple.  Look how cute they are, snug as a bug together!  They each wore a floral headband to complete the floral vibe.  Both of them were sleeping, which made this even more beautiful.  We left their cute baby feet out of the wrap, so the memory of their tiny feet will show in this portrait.  Look at this closeup, cuteness overload!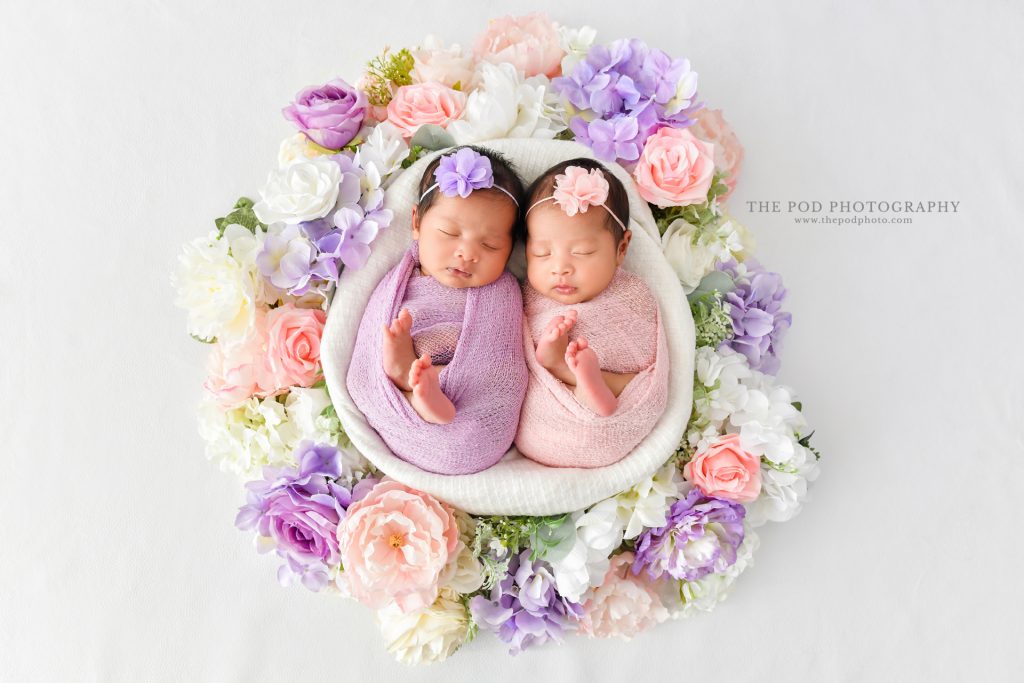 Individual Photographs
In the second portrait set, we photographed each twin by themselves.  They were placed in a dainty basket and propped up on their tiny hands.  We created a banner for each twin with their name for the backdrop.  A pink scarf was draped over their backside, one lightly colored than the other.  Each twin wore a precious headband with a little bow to match their scarf.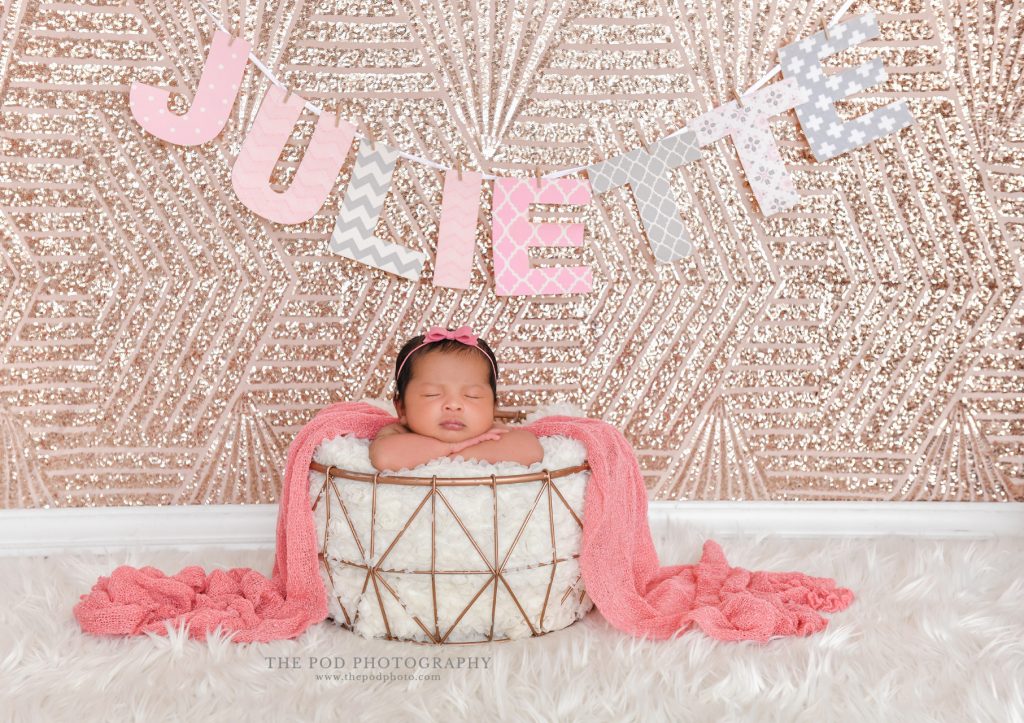 Toddler Milestone Twin Baby Girl Portrait Session
And just like that, look at how much they have changed!  Now out of the newborn stage and into the developing toddler stage, you can see the different changes that have occurred as they grow.  We created a custom set design for this portion of the session that replicates sisters getting ready for a night out!  The outfit of choice was a white robe and a white towel wrapped around their heads, just as if they walked out of the shower.  They had everything they needed with makeup, toenail polish, and vanity to look their best!  Of course, you must have your Starbucks iced coffee for that energy boost!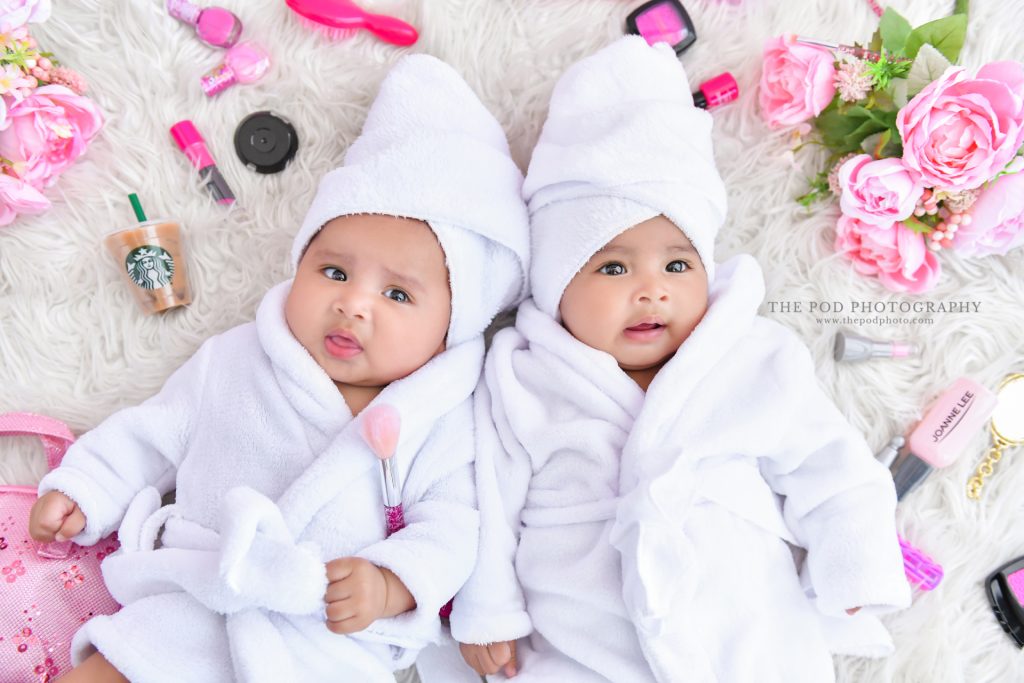 The close-up portraits of the girls are eye-catching.  You are instantly drawn to their beautiful brown eyes.  Looking at the two portrait sessions, you can see how much babies change in just a few months in these portraits.  That's why documenting every baby milestone is so important.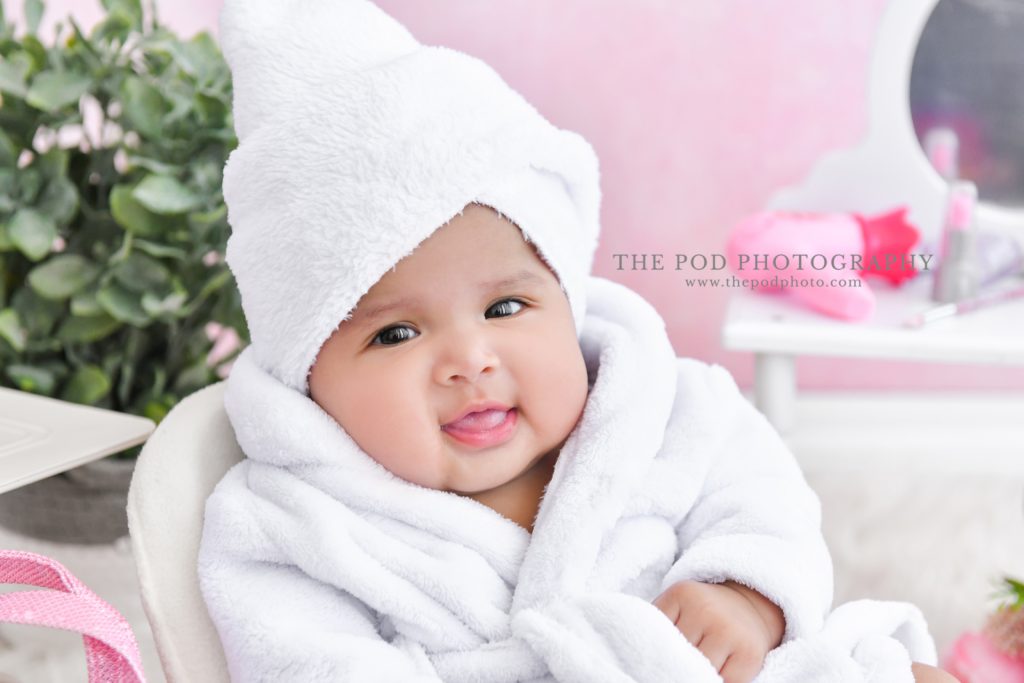 Book Your Session Today
If you're expecting twins, visit our website at ThePodPhoto.com and book a consultation with our professional photographers.  Start planning portrait sessions to document your baby twins' milestones so you can cherish those tiny feet and hands for years to come.  
For ideas and portrait inspiration, follow us on Facebook and Instagram.  And, if you love Pinterest, be sure to check out our Pinterest page, where we share our portrait sessions.  Get to know our photographers over on our YouTube channel as well.