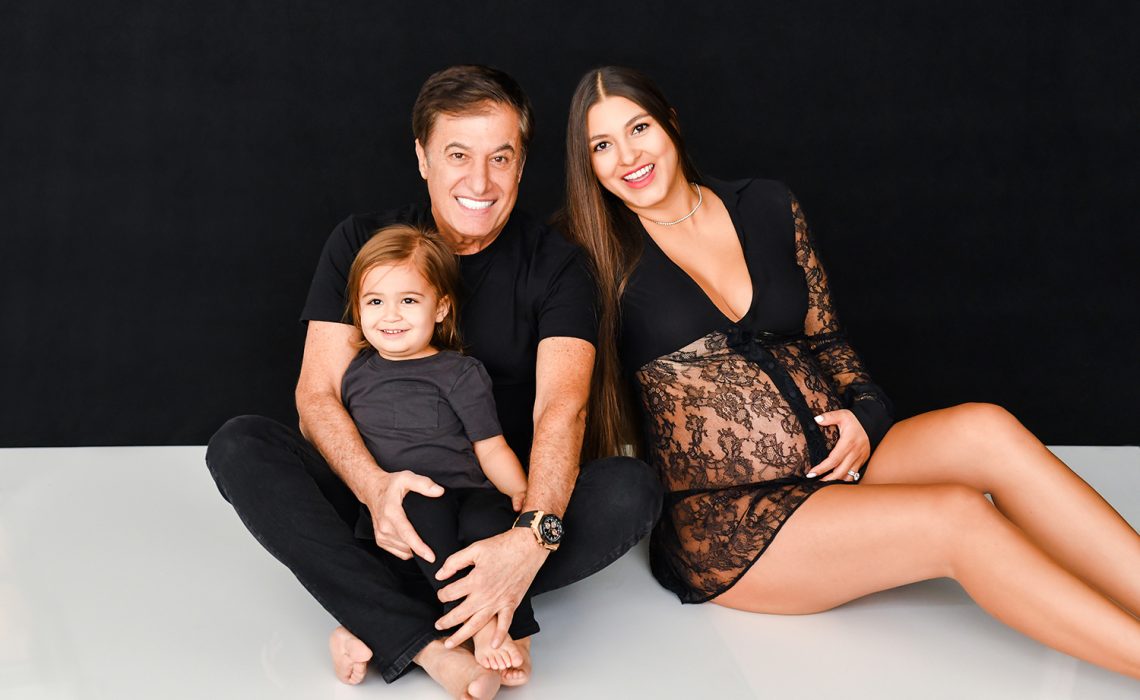 As expectant mothers, we don't always feel sexy or confident because of our growing bellies.  A maternity family portrait session can not only document this special time, but beautiful images can bring your natural pregnancy glow to life.  It is a great way to show the world you are beautiful and powerful.  Besides, you are bringing a new life into the world!
Full-Service Luxury Studio
The Pod Photography is a full-service luxury photography studio in Bel Air, California.  From the moment a mom-to-be steps through our doors, she is pampered and made to feel right at home.  We carry an extensive line of maternity outfits for our maternity portrait sessions.  Our collection includes elegant, long gowns to lacy and chic outfits that will outline your gorgeous baby bump.  All of our outfits will make you feel like a queen!
Maternity Portrait Session Outfit Choices
This gorgeous mom-to-be chose two beautiful gowns for her portrait session: one black and the other a deep feminine pink.  For the pink gown session, we had the mom-to-be safely kneel on the floor clutching a beautiful pink floral arrangement.  Her long, flowing hair added a bit of sophistication to her images.   Isn't she stunning!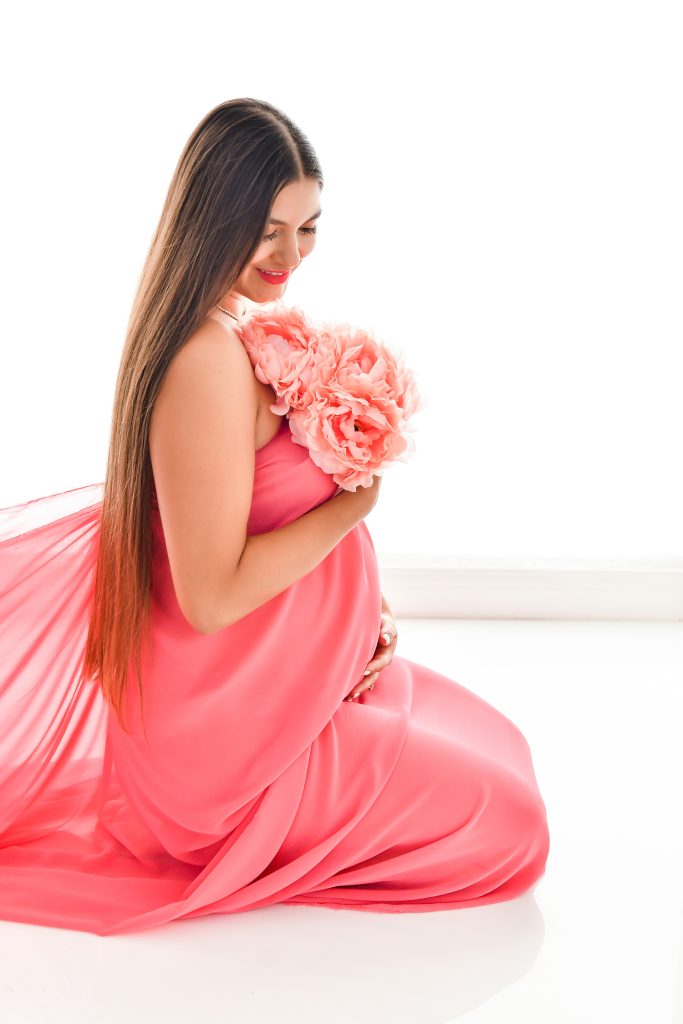 Mom-to-be then wore a long, black gorgeous gown for her next portrait set.  To achieve the flowy, air look, we tossed the dress into the air for the perfect shot. The turquoise necklace added a bit of color to complement the black gown.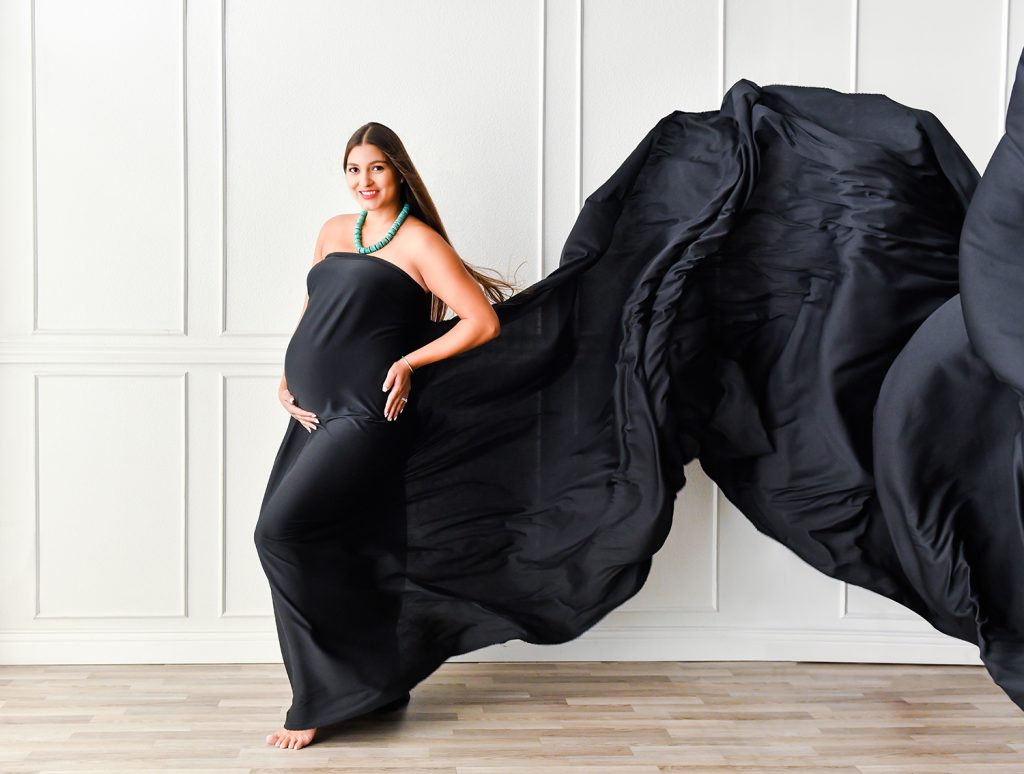 Simplicity At Its Best
Sometimes a simple outfit can be stunning.  We have some pregnant moms who love to pose in their undergarments.  We shot at a side angle for this set with mom's long hair slightly made to look like it was blowing in a breeze. The silhouette of her baby bump was gorgeous and drew your eye directly to her beautiful pregnant belly.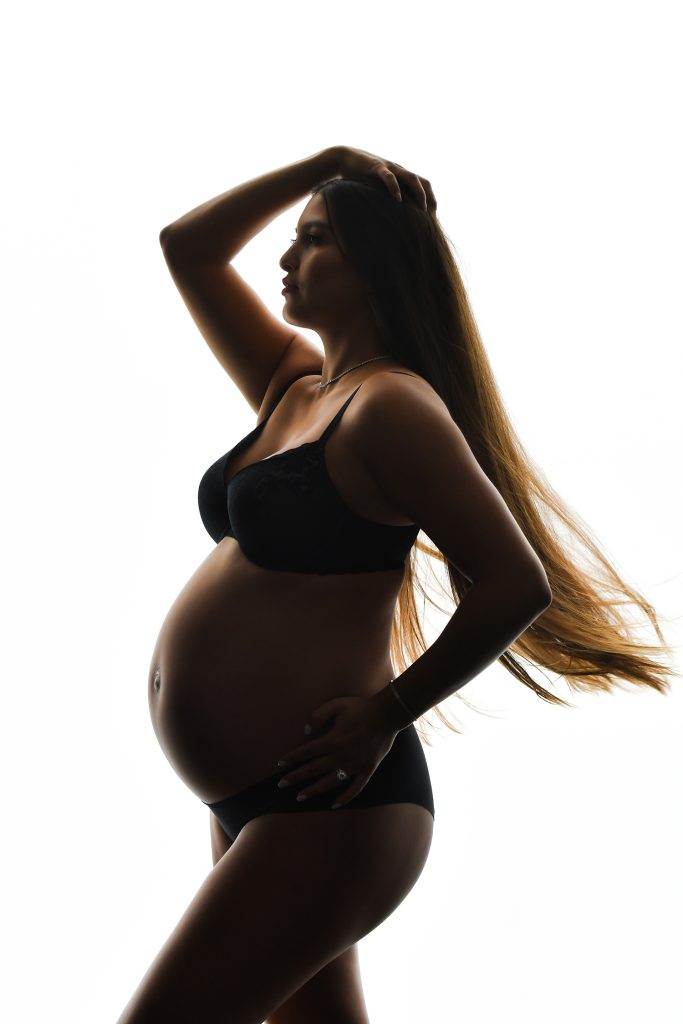 Include Family In Your Maternity Portrait Session
Maternity portrait sessions do not have to be all about mom-to-be. Including family members can make your maternity session even more memorable. Dad and son joined in for this part of the portrait session and added a bit of male energy!
Outfit Choice For Family Portrait Set
For the family portrait, the mom-to-be chose to wear a beautiful black sheer, laced top, while the father and son also wore dark, casual colors.  Lace adorned her baby belly and made for a chic yet modern portrait.  The black background made these portraits dramatic!  They look like powerful pieces of art!  Next up was mom and son; how adorable is he?  He certainly has mom's eyes, and he was so much fun!
Book With Us Today!
Here at The Pod Photography, we love photographing moms-to-be. Bring the entire family to participate and create beautiful portraits to admire for years to come. Call for your consultation today with Bel Air, California's best photographer, at 310-391-4500. Our professional photographers are standing by to help create the perfect portrait session.
For more maternity and family portrait inspiration, make sure you follow us on our Facebook and Instagram pages.  We also have a Pinterest page as well as a YouTube channel.  Our YouTube channel contains behind-the-scenes videos and an interview with the owner of The Pod Photography, Erika.  See what it is like firsthand before you visit our studios.  And watch a portrait session in action.