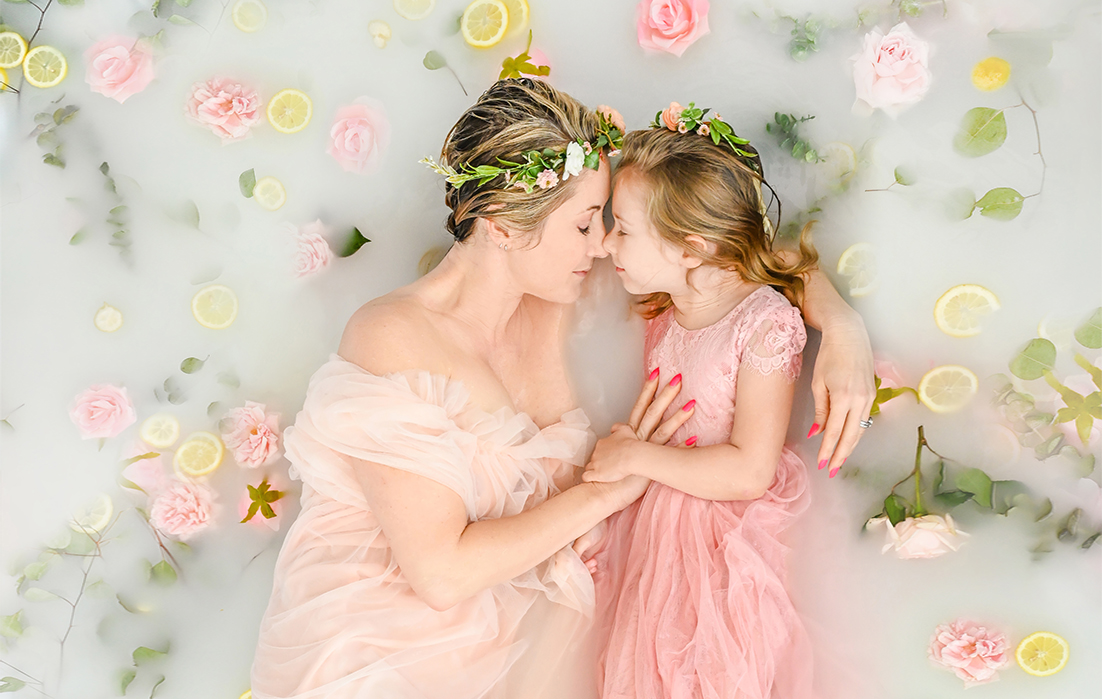 One of our special mini sessions for the month of April here at The Pod Photography studios in Los Angeles, California, includes a Mommy and Me Floral Milk Bath mini portrait session. These mini sessions are intimate as we place you and your child in a warm milk bath filled with silk flowers or colorful fruit! It is a perfect way for you and your child to relax and bond!
Milk bath photography creates a dreamy, more relaxed ambiance. The soft white color of the milk allows the portrait to focus on the subjects. Milk bath portraits take a more minimal, natural approach.
For this session, we photographed Erika and her daughter. These portraits turned out amazing! There is nothing like the bond of a mother and daughter.
Or, if you prefer, we can capture some fine art solo portraits of yourself or your child. Choose from white or black water and up to three floral or fruit color props!
These mini sessions are available April 1st-April 30th, 2023.
Mommy and Me Milk Bath Portrait Sessions
$200 Milk Bath Session setup fee added to the regular session fee of $350.00 for mommy and a child. If you prefer just portraits of your child, the session fee is $250.00 (single child).
Due to the wiggly nature of toddlers – children 11 months to 4 years are not recommended for this set. This set is not available as a family or grandparent session.
The Pod Photography offers beautiful portrait products in order for you to make beautiful gallery walls or display portraits in your home. You can also create a unique photo album! These photo albums make the perfect gift for grandparents, aunts, uncles, or other family members.
Are you ready to book your Mommy and Me Milk Bath Mini Portrait Session today? Give us a call at 310-391-4500 or visit our website! We are looking forward to having you in our studios.
If you have social media, please feel free to follow us on our Facebook and Instagram pages, where we share images from our portrait sessions. You can also find us on Pinterest and YouTube for more portrait inspiration. Visit our website at ThePodPhoto.com for scheduling information and portrait inspiration, and meet the photographers here at our luxury studio in Los Angeles, California.