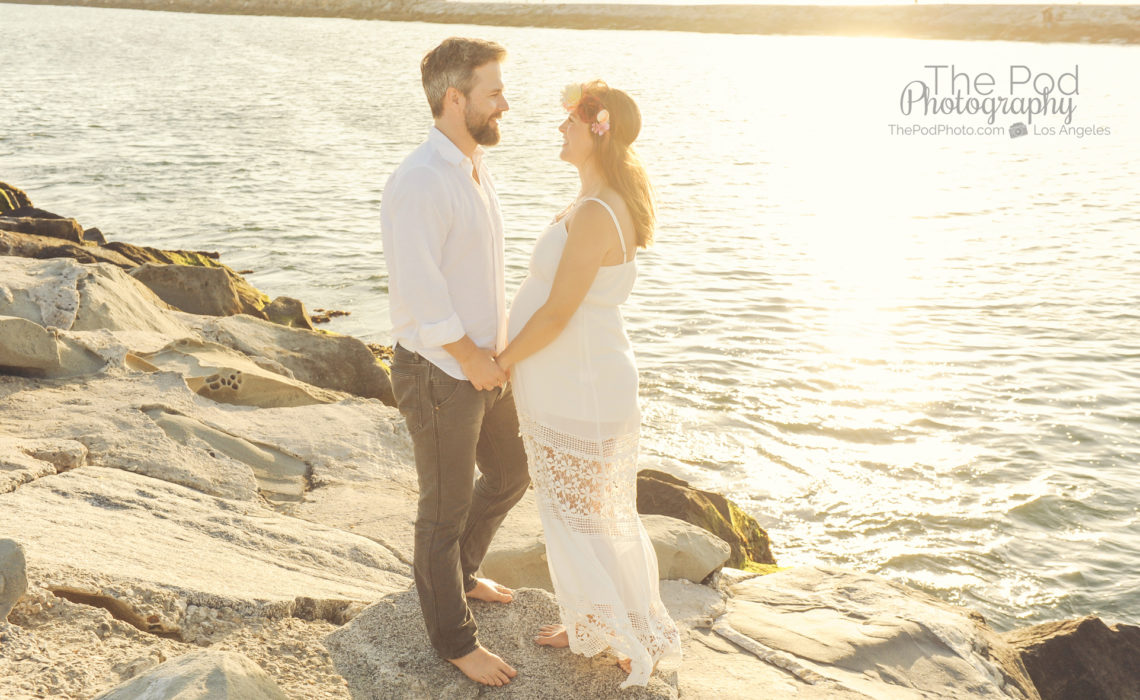 The beach is a lovely location for maternity photos, especially for Los Angeles transplants like this couple who didn't grow up near the ocean. In fact, they grew up in rival cities cheering for rival football teams before moving to Southern California. He's from Oklahoma and cheers on the Sooners from the University of Oklahoma, while she's a Texas girl who supports the Longhorns from the University of Texas. But what do you do when you fall in love with your rival – especially when you are expecting your first child?! Well these two sports fans couldn't resist donning their football shirts and posing for a few shots to support their teams.
My favorite idea they came up with was to bring two sets of baby booties to set on top of a football – we captured these football photos at Playa del Rey Lagoon Park across the street from Playa del Rey beach. This beach is probably my favorite spot to photograph at when clients want an ocean setting because there are so many options for backgrounds here. There's the park – which I always like to start at since we all know what havoc the wind reeks on our hair down by the water – and its lovey lagoon. Then there's the channel between Marina del Rey and Playa with a lovely little bridge and on weekends there is this charming little ice cream truck that I sometimes like to include in the photos. Along this channel there are always people fishing and sitting along the rocks, and the light that bounces off the water there makes for really beautiful, glowing silhouettes of my couple. Then of course there's the beach – I fear that the new Playa Vista phase two development will make this a more popular beach – but for now the place is always empty. It really is a magical location with so much variety – I'm a big fan 🙂
The baby will be arriving soon and I hear that there is more team rivalry in store for the newborn session – we can't wait!!