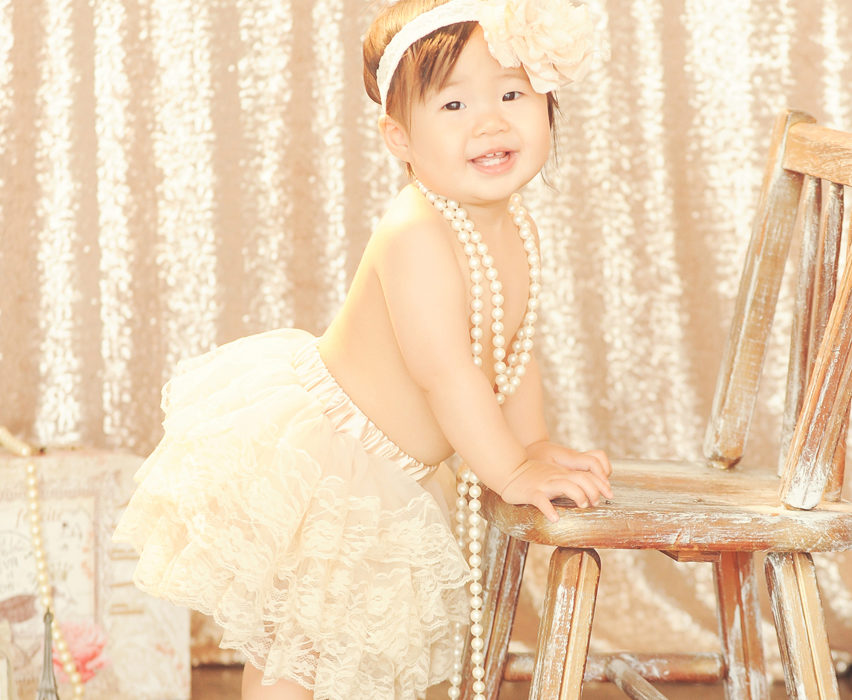 We really try not to play favorites when it comes to all of the babies that we meet every day, but sometimes we just can't help it!
Baby Makayla was such a little ray of sunshine from the second she walked into the studio with mom and dad for their portrait consultation. She was so excited to explore her new surroundings, check out all of the little props and accessories we have, and even pointed out some of the headbands from our collection that she wanted to try on!
For just having turned one, we were very impressed with how well Makayla communicated. Though babies at this age don't really talk all that much yet, I don't think we have ever met a little lady like this who answered all of our questions with "yes" and "no" head-nods along with pointing to the things that she wanted. I never knew how helpful that could be in a photo shoot! One of my favorite moments was near the end of the session. I remember saying "Aw, c'mon Makayla, can we please just have one more smile?" She immediately went from an almost-meltdown into a nodded "yes" and followed that up with (not even joking) turning around and freezing for the camera with the biggest baby super-model smile I've ever seen!
Take a look at some of our favorites of this smiley girl during her family and first birthday photo shoot:
One year is such an amazing milestone to document with family portraits. Families come visit our Culver City portrait studio from all over Los Angeles, but especially in areas such as Mar Vista, Westwood, Santa Monica, Venice Beach, Beverly Hills, Brentwood, Marina Del Rey and Pacific Palisades.