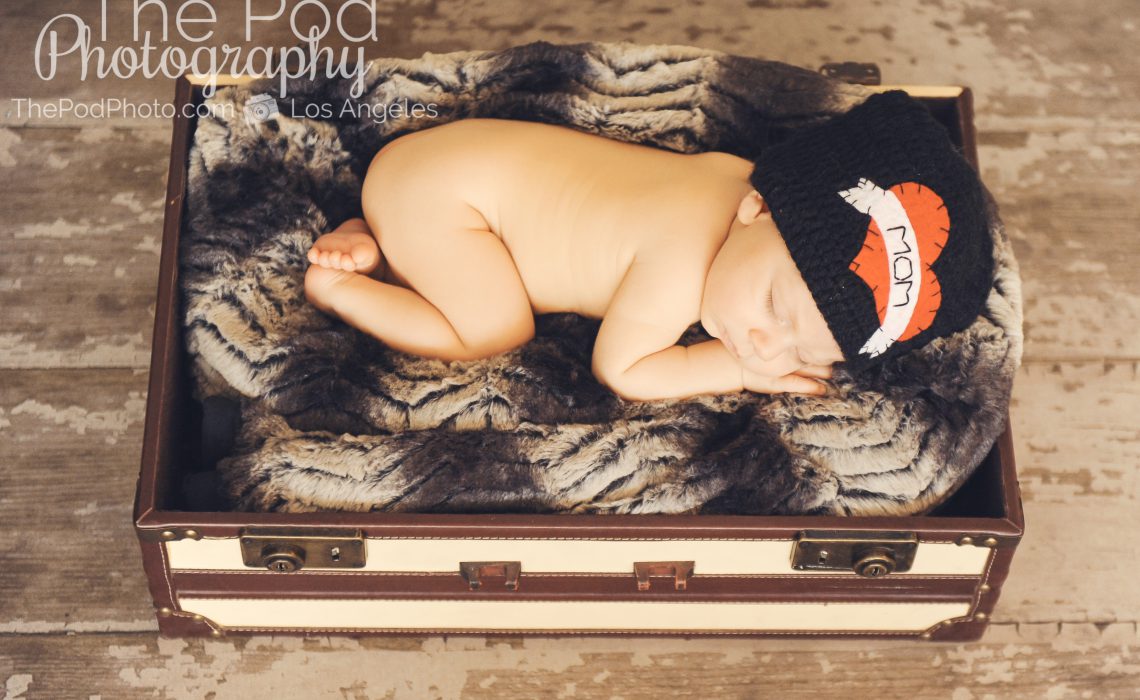 We love it when we we become "the" photographer for a family or particular mom group.  It is so nice because we get to know people on a deeper level and it's fun to learn about them in the context of the bigger group that they belong to.  Baby Tristan's two cousins have been to us for their photos and – as the newest addition to the family – of course they brought him to us!
This mom wanted each of Tristan's photos to be highly styled to showcase different hobbies  and passions of theirs.  My favorite setup was our Nirvana (one of mom's favorite bands) rock and roll setup. She wanted something a little edgy and so we used darker colors as well as a Nirvana flag that she brought. Then, of course he had to wear our little "Mom" hat for a few! My second favorite setup was a nod to dad's baseball playing past. For this one we used vintage baseballs and a bold red color popping Coke crate plus dad's actual bat. Tristan's Pacific Palisades room is baseball themed – complete with custom full-wall baseball mural – and so the plan was to create a setup during his newborn session that would match his room and become artwork for it.
Dad unfortunately could not make it to the newborn session – but he had one request from the photos: that Tristan be photographed laying on jerseys from his three favorite teams: the Lakers, the LA Kings and the Dodgers. These jerseys looks pretty legit, so I opted to put a diaper cover on Tristan just in case we had any, er, accidents. Check out more of our baby photos on our website!
We love the Pacific Palisades and service many clients who live there. Give us a call at 310-391-4500 to chat about your photo session!