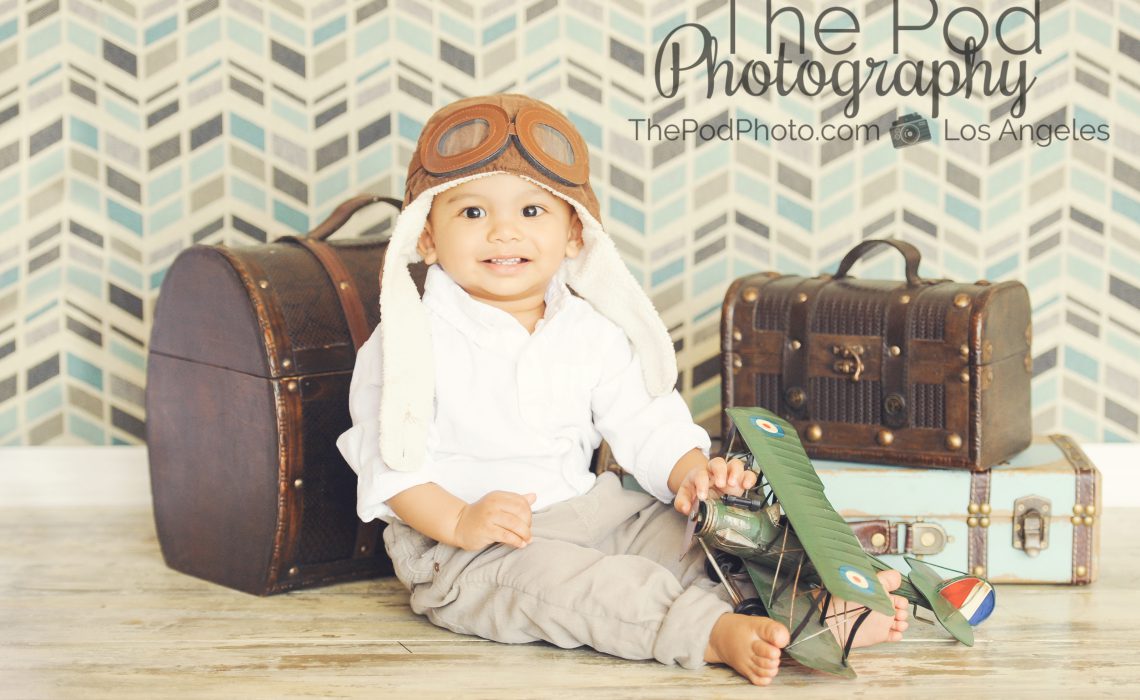 Can you believe how cute this little dude is?! Us girls at the studio have been big fans of Baby Eli since he was just a newborn baby, and you can see tons of his photos throughout his first year of portraits all over our website. Eli rocks it out for every one of his sessions, so we were really excited to be capping off his 12 month session with bright colors and cute boy-themed sets!
Mom wasn't super into doing a cake smash for Eli's one year session, however she did want to incorporate his party theme which was Airplanes & Travel – so we figured our number one requested Traveler Set would be perfect for him! I love photographing this age in the studio (as opposed to on location) because it is so cute to style up babies with little props and accessories for them to interact with! It's really great since their attention spans only last for so long. 🙂
One thing I love about photographing boys is that you really do get to play up more of the themed sets for them. Sure, girls get all the fun, girly stuff like ruffles and lace, tutus, pearls and headbands, but boys get the fun story-telling sets! In addition to our Traveler Set, Eli showed off his casual, beach bum style on our Bohemian Camper Set. (How ridiculously cute is he with that surfboard?!) and has also rocked The Nautical Set in previous sessions with us. Thanks for all of your great smiles, Eli!
It's so important to document babies during their first year of life, and we love that we get to watch little ones go from being inside mommy's tummy, to the delicate newborn phase, expressive three month age, sitting up at six months, and the big personalities coming out at one year! We see babies throughout their first year who visit us from all over Los Angeles including Marina Del Rey, Playa Vista, Venice Beach, Santa Monica, and Brentwood.
Give us a call at 310-391-4500 to document your little one's changing and developing personality!