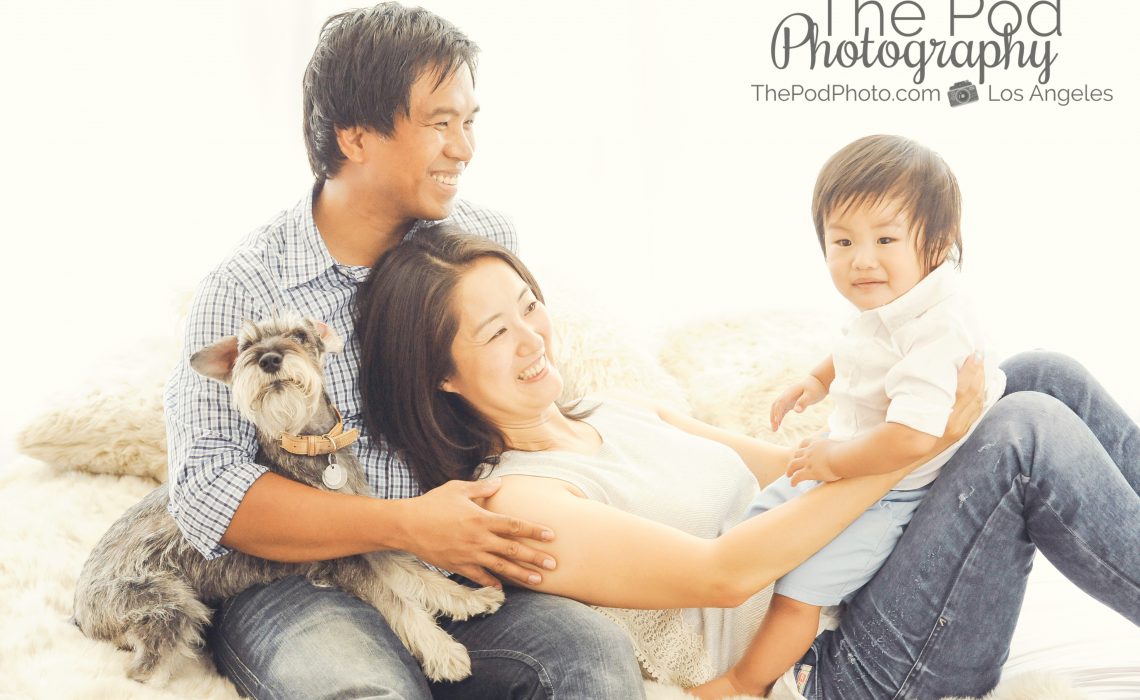 One of the coolest things about being a portrait photographer is getting to know all kinds of families, hearing each of their personal stories, and watching them grow! We met this adorable family a little over a year ago, when mom was pregnant with Baby Skyler and Erika documented their precious, doggie-kissing-belly maternity portraits.
As some of you may know, we here at the studio are VERY pet-friendly, and so every time a furry friend comes in to visit us, we have a ton of fun. Even without pups in the picture, it's always a team effort creating the perfect family photo; you've got myself or Erika behind the camera, Natalie peek-a-boo-ing with the baby, Halley making sure mom's hair is 100% perfect, and then to throw in sqeekers, treats, and anything else to get a doggie's attention… whew! You can just imagine how entertaining and chaotic walking into the studio at that exact moment would be! (Side note: This is also why we schedule everything by appointment only!)
We were so excited to hear from this family to document Skyler's big one year milestone – and we couldn't believe it had already been a year! I loved talking with mom about all of the styling for the session. We wanted to do a throw-back to their maternity shoot, so we did their family portraits in the window, snuggled up on our cozy bed.
For Skyler's birthday party, mom had planned a whole "Sky" theme – so we thought it would be perfect to do a classic airplane setup to subtly tie in the theme. I really loved how clean and simple this set was for him. The perfect mix between masculine and cutesy!
And of course, as it always is… my favorite was his cake smash! Mom brought in an adorable cloud banner and matching pants, while the celebration specialist at SusieCakes and I designed the cutest cake we've had yet! (And we've seen a lot of cute cakes!) Skyler totally went to town on his cake, smashing it to smithereens and smiling up a storm! We got such an amazing story-telling series for his album, gorgeous wall art for this family's home, and great portraits to show off at his birthday party.
Want to find out more about cake smash, Korean first birthday, baby, or family sessions? Give us a call at 310-391-4500 to schedule your consultation and begin planning your shoot! We see families, babies, kids, (and pets!) from all over Los Angeles and surrounding neighborhoods such as Culver City, Marina Del Rey, Playa Vista, Mar Vista, Venice Beach, Santa Monica and more!