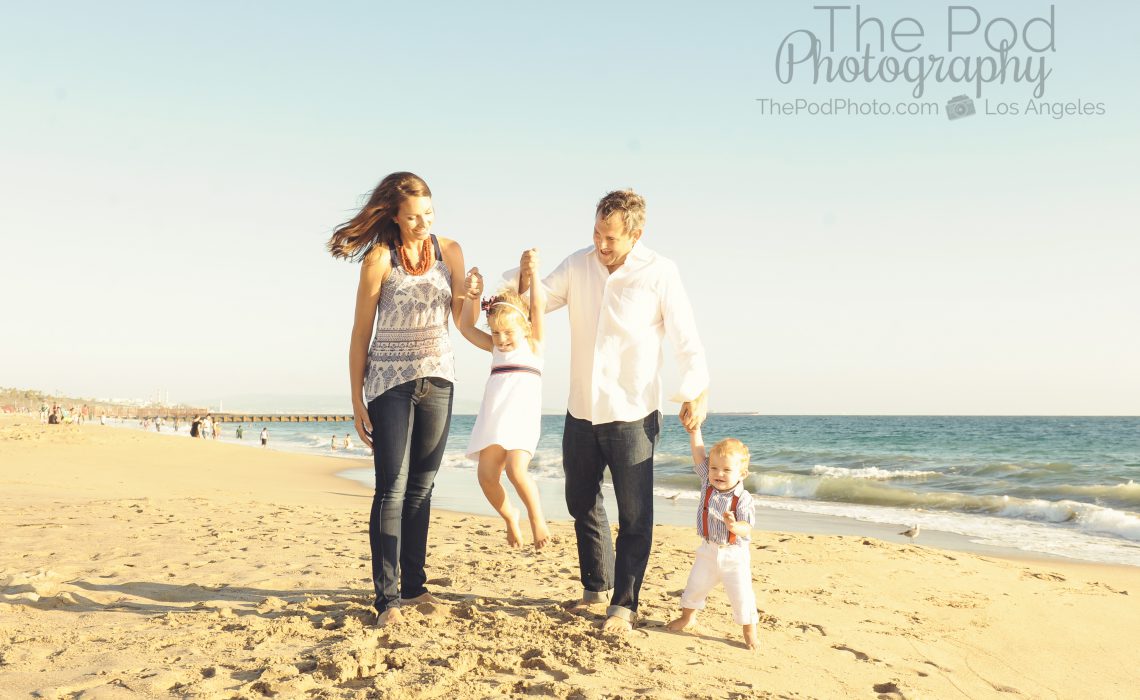 Capturing your family's portraits at Playa Vista or any beach can be a tricky thing! Between the wind, the sand, trying to get everything before the sun goes down…. getting a great family photo is no easy feat! Here are my tips for your next beach photo session:
Beach Portrait Photo Tip #1: Always shoot at sunset. We like to start our photo sessions 90 minutes before sunset since that gives us the perfect length of time (kids and parents alike will melt down after about 45 minutes, but we like to allow a little extra time for snacking and the occasional late client.) At sunset the light is easier on your eyes, and the shadows aren't as harsh on your face. Plus that orange glow you get as the sun sets is oh so flattering!
Beach Portrait Photo Tip #2: Don't expect your kids to behave. The beach is a playground of excitement for little ones! They are used to digging in the sand, running in the water and getting all messy.  Kids don't generally understand that this particular time "mommy doesn't want you to mess up your hair." For this reason, we at The Pod Photography always shoot in teams. There's always a photographer and then at least one team member whose only job is to entertain and make the kids smile. That way you can worry about yourself and actually capture a portrait where you look good (as opposed to the typical mom pose where your mouth is slightly open whispering "just look at the camera!")
Beach Portrait Photo Tip #3: Embrace the candids. Your hair will be blown to a mess, there will be sand in all the kids crevices, you may have to rescue one of the kids from the water and the wind will inevitably be blowing your hair smack into your face no matter how many times we swap positions. This is the nature of the beach. Embrace that some of your favorite photos might be of you walking, a silhouette of everyone looking out at the ocean, or one of the kids being thrown up in the air in a fun family moment. The beach isn't about perfection, it is about the fun of the outdoors and joy of family.
Beach Portrait Photo Tip #4: If you absolutely insist on capturing your family's photos at the beach in December – dress appropriately.  I can not tell you how many shivering babies – their lips turning blue – have cut a shoot short and ruined a family's portraits. So many people want to believe the myth that it's always warm in Los Angeles and so they believe that they should be able to wear shorts and a tank top in December (so that they can rub it in their East Coast friends' faces.) Sadly it doesn't work that way. Even when it's a mild day – once you get close to the ocean at sunset those chilly winds start rolling in and it is cold! Therefore, if you want to do a beach photo shoot in the Winter, do yourself a favor and wear a sweater, or at least have it right outside of the camera's frame so that you can grab it quickly between shots!
We absolutely love shooting at Playa del Rey Beach. I probably shouldn't tell people about it because it is a really special location! There's the most amazing Del Rey Lagoon across the street from the sand, and I always start there since it is sheltered from the wind and my lovely subjects can get a few photos of their hair looking fantastic before their curls fall 🙂
Interested in having us capture your family's portraits? Give us a call at 310-391-4500 and check out our website.