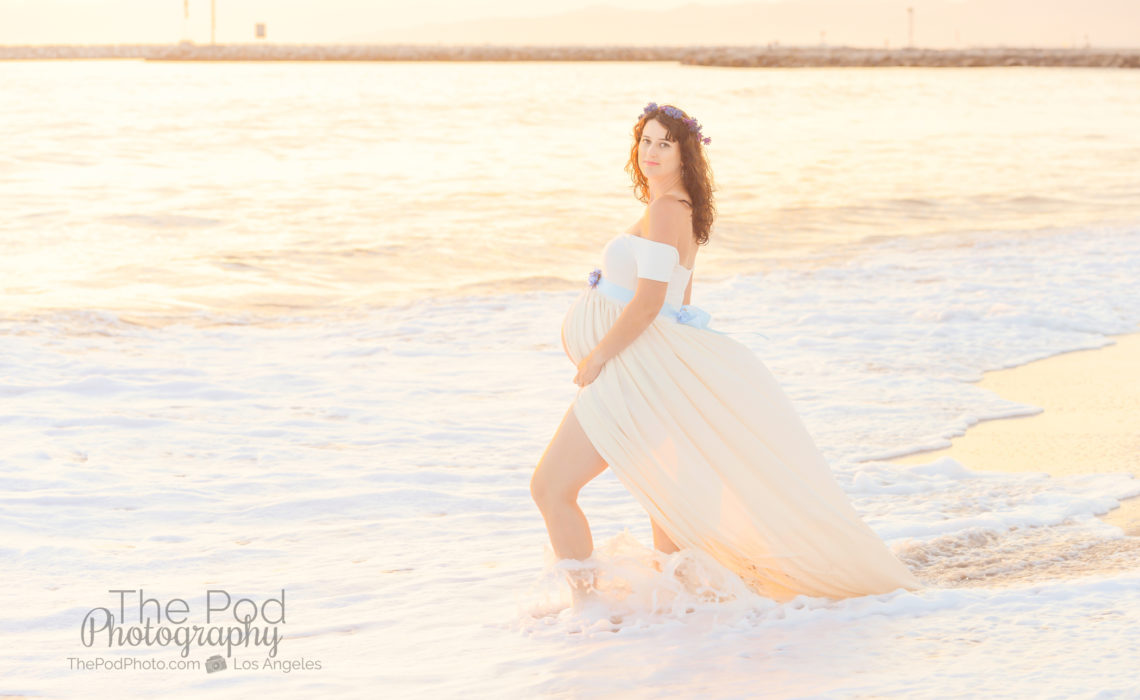 Mother and child maternity pictures are some of my absolute favorites! There is just something so incredibly sweet and about an older child hugging or kissing mom's belly – it is so special to be able to document that unique relationship!
Dad decided to sit out the pregnancy shoot (but was very involved with the newborn photo shoot we did once the baby was born last week) so it was just mother an son. Mom wanted to do something a little bit playful and edgy for her pictures, and so she wanted to go in the ocean wearing one of our maternity gowns.  I reminded her that it was November and that the water would be freezing – but she said she was committed! We selected Playa del Rey Beach in Playa Vista for the session and luckily, we got an unusually warm day and the water wasn't too cold. I know this because I had to stand in the water to get one of the angles 🙂 True to her word, mom walked into the water and looked like a graceful goddess in the beautiful sunset glow.
Her little son photo-shoot companion, however, started to get antsy and wanted to run all over the place toward the middle of the session. Luckily, Leah – our kids and family photographer – knows how to handle squirmy toddlers! She ran around with him and kept him out of the water while I focused on mom's portraits…. which was all good until I needed her to hold mom's dress for that angelic wind blown look. But of course, the second Leah focused on mom – our little toddler ran straight toward the ocean.  So, being a true multi-tasker, Leah hoisted him up on her shoulders to keep him occupied and held mom's dress  for me so that I could get the shot. The scene was too funny to not take a picture of, so I did 🙂
We would love to capture your maternity pictures either at a location  of your choice or at our Playa Vista photography studio. Check out our website www.ThePodPhoto.com and give us a call at 310-391-4500!