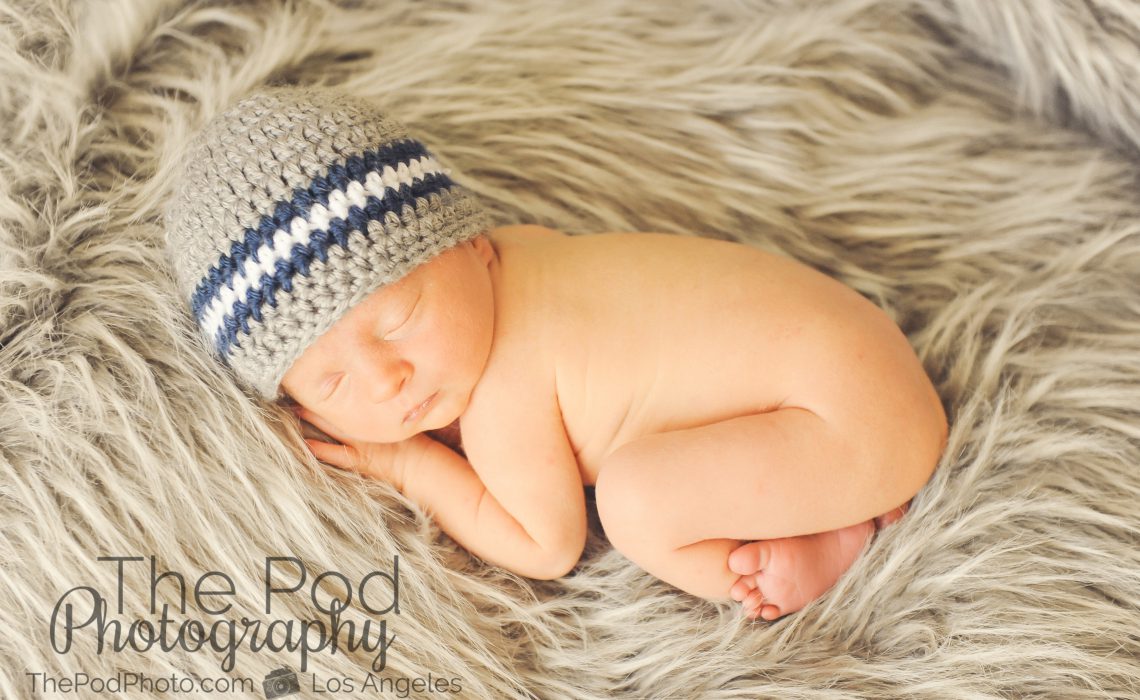 This mama to be came to our session design appointment prepared with a long list of ideas for her son's newborn photo session. We have design meetings with each of our newborn clients before their session since we love to get to know each family, their style, their hobbies and just generally meet people face-to-face before they hand off their precious week-old babies to me. We generally have these design meetings about a month before a mama's due date.
One of the most important ideas this mama really wanted to incorporate into the baby's shoot were a pair of teeny tiny cowboy boots she had purchased. She is from the "country" and wanted to incorporate that side of his heritage. We love to do these kinds of funny photos and bring a little humor into newborn photography 🙂
Next up, the family lives in Manhattan Beach – so we wanted to incorporate their beachy life with a nautical themed set. Of course our little boat and nautical accents were perfect for this little guy – and he even gave us a super long head hold so that we could capture both a close up and full lengths on the set.
I'm not sure if many photo studios are dog friendly – but we sure are! We love doggies and encourage them to be a part of the photo session whether it is at the studio or on location. Therefore big sister Anna the doggie joined in for one of the sets.
My favorite setup though – were the family photos! As with many new moms – this lovely lady did not want to be in any photos so soon after giving birth. However, she was happy to volunteer her husband to take his shirt off for photos!!  We've done newborn photos with dads and tattoos many times – but this setup was extra special.  If you look closely – this dad has the word "family" on his bicep and "Dawn" (the mom's name) on his shoulder – so not only were the tattoos and baby skin beautiful, they also had a lot more meaning with the words tattooed on him.
Our newborn baby portrait studio services Manhattan Beach, CA since we are just a 20 minutes North of the Manhattan Beach city center. Take a look at our newborn baby photography on our website here.