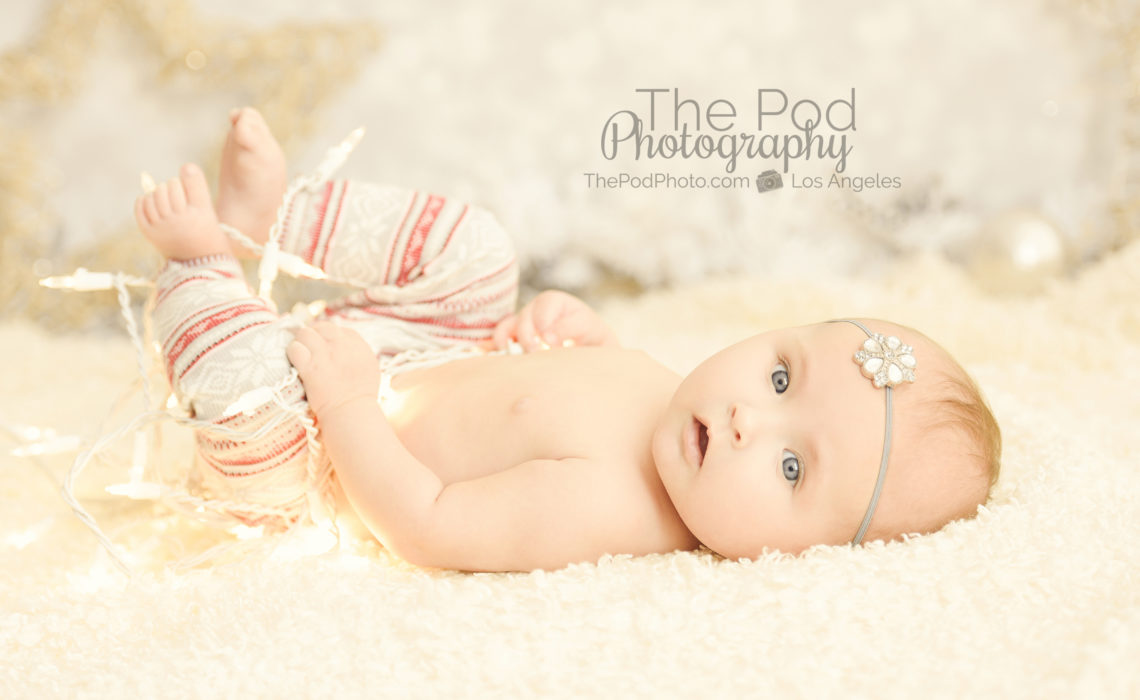 There's just something about "firsts" and the specialness that comes with a "first"milestone. We record in our baby books the first time she rolled over, took a step and said that first word. First birthdays, first Christmas, first food… there is such joy in these celebrations and a new freshness.
So many of our clients love documenting their baby's first year with amazing portraiture, and parents go all out for First Birthday cake smash sessions and of course baby's first Christmas photos.
This particular baby girl's mama was so excited about this milestone holiday for five month old baby Chloe that she had outfits and cute ideas galore! We loved her creative snow bunny outfit – the little bunny tail and leg warmers are just beyond sweet!
This mama also had a vision of Chloe tangled up and playing with Christmas lights in a kind of classic setup. We get requests for this type of baby and lights setup pretty often and I've learned a couple of tricks for getting the best holiday lights photos that I am happy to share.
Get the old-school string lights, not the LED lights. The new strands might be much more energy efficient – but since they flicker – you will not get a consistent light output and the brightness of the lights can go from a one glow in one picture to totally dark in the next.
Use small lights – not the big Edison style bulbs. The reason for this is pretty obvious: those big lights get hot!
When capturing these holiday light photos – it's best to set baby up in a shady spot indoors, during the day, about 5-10 feet from a large window.  You don't want to set him up in the bright sun (you won't see the lights) nor at night (capturing non-blurry photos at night is a challenge!)
For those of you who know a little bit about putting your camera on manual – keep your shutter speed ideally at 1/125 or 1/250 at the very fastest to ensure that you get that big bright glow from the Christmas lights.
If you are interested in learning more about how to capture fantastic photos of your little one, take a look at Erika's book on Amazon: It makes a great stocking stuffer 🙂
Also take a look at more baby photos taken at our Los Angeles baby portrait studio at www.ThePodPhoto.com