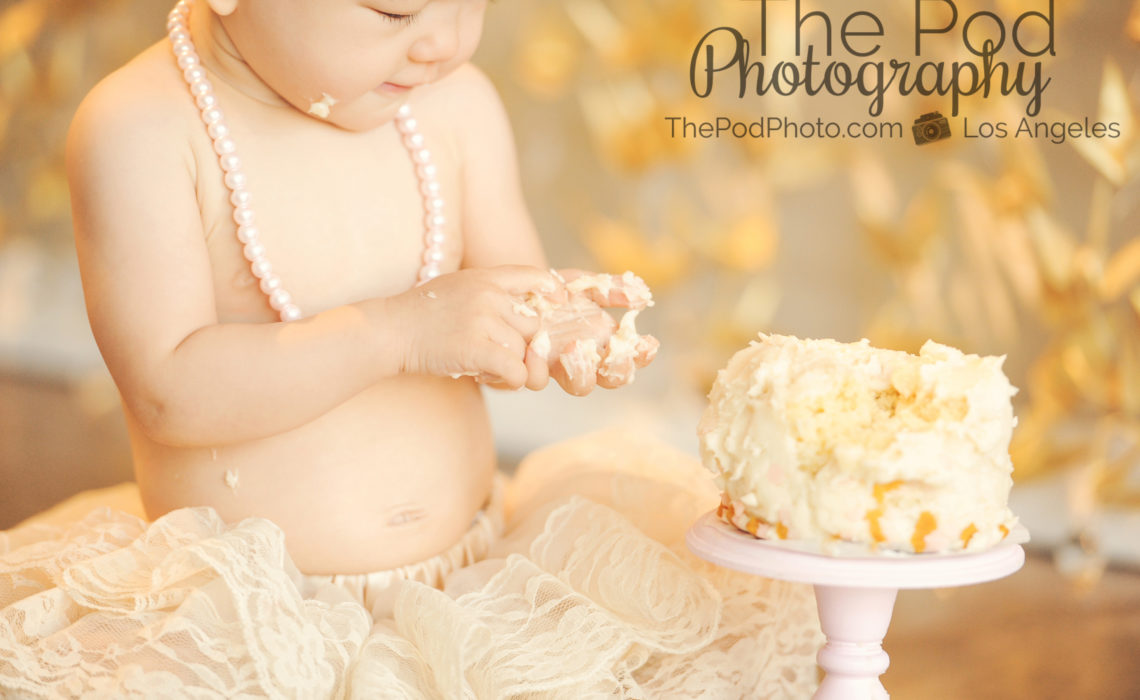 When it comes to custom designing each photo session, one of my absolute favorite things to do is incorporate something personal into the shoot. So when this Los Angeles PodMom showed me these 1,000 paper cranes that she had hanging in her home as a piece of artwork, I knew they were going to be such a special addition to Chloe's photoshoot.
The story behind these 1,000 paper cranes is pretty cool.  Grandma had actually handmade these cranes for Mom & Dad's wedding. HANDMADE!  "According to Japanese tradition, anyone with the patience and commitment to fold 1,000 paper cranes will be granted their most desired wish, because they have exhibited the cranes' loyalty and recreated their beauty." You can read a little bit more about the legend behind "Sadako and the Thousand Paper Cranes" here.
With a little added PodGlow, these gold cranes looked so stunning as the backdrop for Chloe's cake smash. What I love most is now Chloe not only has amazing photos to look back on for her big one year milestone, but also her personal story is told directly through her portraits.
Interested in having our Los Angeles portrait studio capture your family's pictures? Take a look at our website and give us a call at 310-391-4500! We love to capture your family's precious memories and document your little one! Our specialty is candid, natural light photography at our studio, but we also go on location to capture more storytelling pictures. In Los Angeles, we love to shoot at Griffith Park since the observatory has so many interesting natural and architectural elements. We also specialize in documenting Korean First Birthday portraits and event photography.