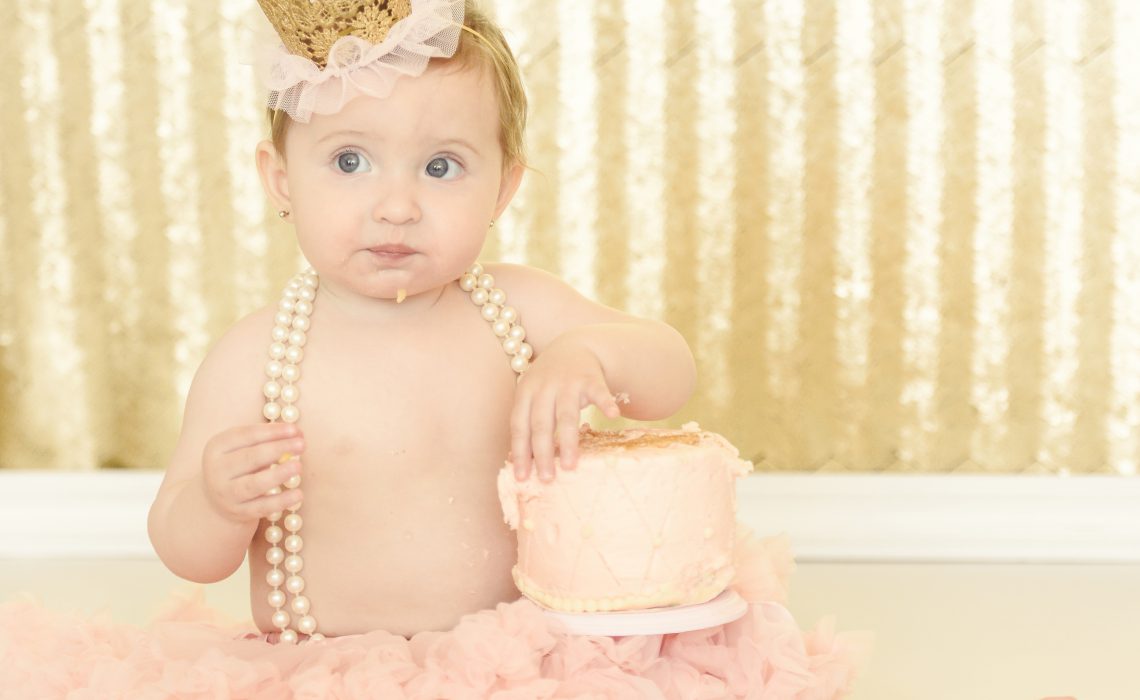 We have been having so much fun with all these little kiddos turning one lately! Miss Kylie looked so classic and beautiful with her pink and gold cake smash set that we couldn't resist creating a little first birthday celebration film for her!
It is always so interesting to see how babies will react to their cake, and believe it or not, most babies kind of hate it. Though, you would never guess that by looking through our first birthday gallery on our website! All it takes is that split-second of excitement (and, well, lots of experience knowing what kind of tricks work for babies this age) to get that amazing first birthday shot that you need. But in my experience, most parents are under the impression that their baby is going to be SUPER excited to get messy and smash their first birthday cake, when quite frankly, most of the time they won't be into it. So parents, don't be discouraged! Here are some suggestions to ensure your little one has a fun cake-smash experience (or at least have resulting photographs that look like they had a blast!!)
Have a practice round first. Most of the time, this is baby's first time having sugar. So before your photo session, give them a little taste and get them familiar with the new flavors and textures.
Keep baby wipes close by. You would think babies like being messy! But this is far from the truth. The second there is frosting covering those squishy cute little fingers, baby is going to freak! Babies do not like having gooey things all over their hands, so keep baby wipes close by to wipe those little fingers down.
Have their favorite snacks ready. Again, since they may not be used to these new flavors, be sure to have little cheese puffs, cheerios, or any small finger-food kind of snacks. Even if they don't actually eat the cake, it will at least look like they are eating cake!
Be ready to sing. Have a little library of songs in your head. Wheels on The Bus, Happy and You Know It, Itsy Bitsy Spider, you name it. Music is exciting for these little ones!
Move quickly! Have lots of tricks ready. Babies at this age will get bored with you pretty quickly, so you have to keep the pace up and keep them engaged and excited! Songs not working? Be ready with peek-a-boos, tickles, bubbles, toys, etc. and keep moving from one thing to the next until something works!
Our Los Angeles Portrait studio specializes in  cake smash, Korean First Birthday, events, birthday parties, family, kids, babies, newborn and maternity photography. Give us a call at 310-391-4500 to find out more and schedule your consultation. We can't wait to meet you!