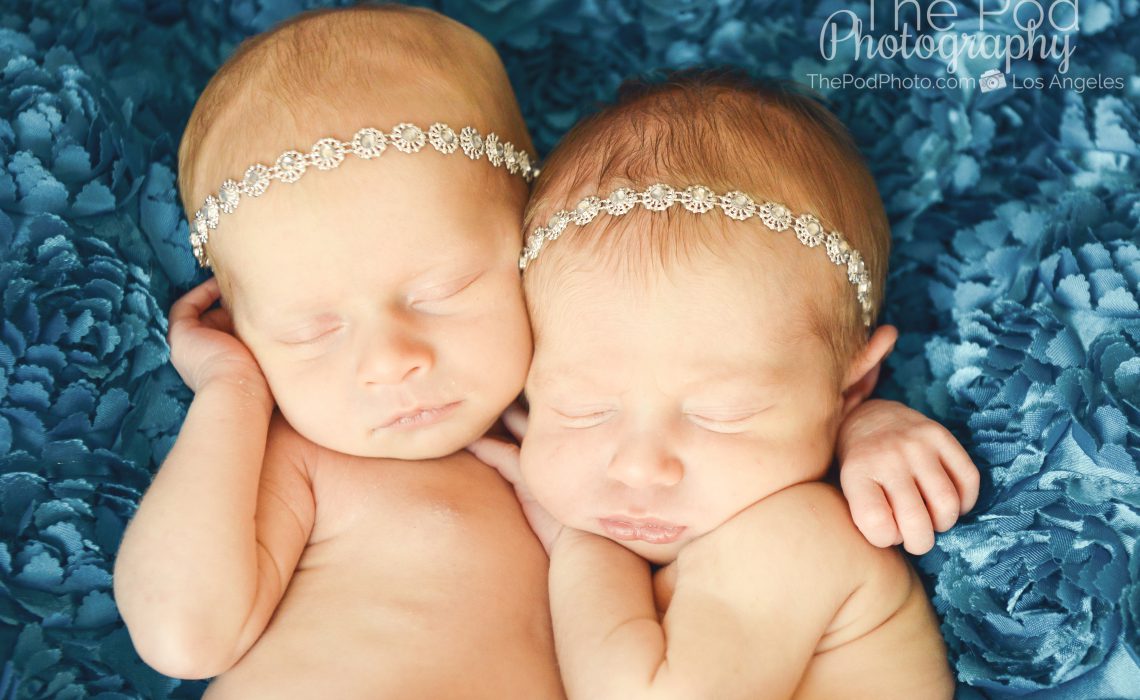 I can't help but get excited when we know that newborn twins are on their way to our studio. There's something so exciting about the sessions, and I find myself just smiling the whole time and saying "this is fun!" even while I hand off a crying baby to her parents. Maybe it's the challenge of getting two babies to be asleep at the same time, maybe it's the fun of noticing differences in their features – either  way, I love photographing twins of any age!
These two baby girls came to our Los Angeles photography studio for their newborn session eleven days after birth.  These two were exceptionally healthy girls and each weighed over six pounds.
My absolute favorite photo from this session is the pic of the two girls in the stat box on with their heads propped on their tiny elbows.  It took Leah and I at least 10 minutes of adjusting the girls and skillfully balancing each of their heads so that we were able to capture this shot in camera. No re-touching was needed on this image because we were able to get them to both balance perfectly and old their heads long enough for Halley to snap the picture. That's why there's always a team that works with me on each newborn session – it definitely takes lots of helping hands to get  these cute little babies perfectly photographed!
We would love to talk to you about your own twin babies, children, or maybe you are thinking of some family photos? Either way, take a look at our website wwww.ThePodPhoto.com and give us a call at 310-391-4500. We service the greater Los Angeles Area area.